Green Goliath
First Normal Release

Mystical Warriors of the Ring Glyos-compatible figure
Item No.: n/a
Manufacturer: Fantastic Plastic Toys
Includes: 9 pieces
Action Feature: n/a
Retail: $6.00
Availability: January 2015
Other: Technically the debut release but the second version to go on sale

PREVIOUS
RSS
NEXT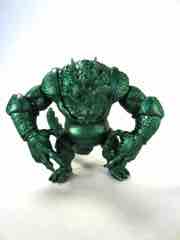 The Mystical Warriors of the Ring have been around as specially-cast figures and as non-articulated figures in the proud tradition of M.U.S.C.L.E. and O.M.F.G.. This Green Goliath is the line's first take on a Glyos-compatible figure, even though the big guy remains in scale with the rest of the non-articulated slug figures. He's made up of 9 pieces and swaps out very nicely with Armorvors and Kabuto Mushi figures - I assume customizers are going to have a blast with this one.
At 2-inches tall, this figure isn't particularly tall - but he's very wide. The arms are bent and spread out about 3-inches wide, with big clawed open hands which swap out easily with those of the Armorvor. This is notable because the pegs for the hands on the Armorvors, Ggripptoggs, and Goliath are all swappable and the end result is delightfully goofy. Of course, you'll probably just want to leave it as it is because the sculpting is really something. Each hand has fingerless gloves, and the elbow pad has a great sculpted gator icon on each one. Marvelous.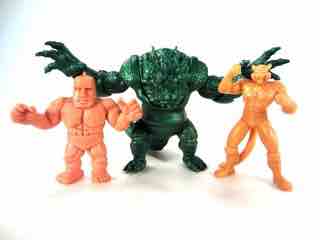 The skin sculpting is similarly fantastic, with scales and rather sharp spines coming off his back. His gnashing teeth and angry expression all make this a wonderful figure that would be a heck of a lot better had it came fully painted... but that's life. The metallic green plastic is perfect for bringing him to life for his first non-test shot release, and the customs I've seen painted up so far all look pretty spectacular too. The only real gripe I have are that the shoulder joints aren't quite as perfect and sturdy as other Glyos-compatible figures, so you'll notice a little wobble when rotating them around. The neck, tail, hips, and wrists are all perfect though. One other big notable point - this is, as far as I can tell, the first Glyos figure to feature any sort of trademark or copyright information on the actual figure. The sole of the right foot reads "FOT 2014."
When futzing around with this figure, I was swapping parts with one of the Armorvors I had on my desk. I suggest popping off the backpack and putting the Goliath head there, while swapping the arms and rotating around the torso. It's a weird, new look that breathes a lot of life into the existing mold. That's one of the great things about these figures if you're a customizer, unfortunately it seems like it would be unlikely or impossible to do a mass-produced official release swapping around parts from multiple figures to make something truly bizarre. I expect to see great things in the customs boards as more of this figure gets produced in other colors over time.
I like this figure, and I also snagged some of the non-jointed figures at the same time. The sculpts are very nice and the sizes aren't bad - hopefully we'll see many more in the coming months. For a big goofy alligator that looks like it might be a lost mascot from an early 1980s Nintendo arcade game nobody ever played, it's a keeper. I don't know if I can do much with the tail, but I appreciate the articulation and heft in such a small release. Given the price (and similarity to the size of Rise of the Beasts) you animal figure collectors really ought to snag one of these if you get the chance. For six bucks, it's really something - and it's a heck of a lot cheaper than the brown test shots they were selling last year.
--Adam Pawlus
Additional Images


See more Glyos system compatible figures in Figure of the Day:
Day 7: Onell Design Glyos System Gears Edge Pheyden Action Figure
Day 20: Onell Design Glyos System Silver Gobon Action Figure
Day 48: Four Horsemen Outer Space Men Infinity Edition Inferno Action Figure
Day 66: Four Horsemen Outer Space Men Alpha Phase Xodiac the Man from Saturn SDCC Exclusive Action Figure
Day 67: Four Horsemen Outer Space Men Beta Phase Xodiac the Man from Saturn NYCC Exclusive Action Figure
Day 68: Sucklord Glyos-Compatible Sucklord Grey Helmet Head
Day 72: Four Horsemen Outer Space Men Beta Phase Astro-Nautilus the Man from Saturn NYCC Exclusive
Day 85: Four Horsemen Outer Space Men Infinity Edition Xodiac Action Figure
Day 92: Four Horsemen Outer Space Men Holiday Edition Metamorpho Action Figure
Day 93: Four Horsemen Outer Space Men Holiday Edition Inferno Action Figure
Day 95: Four Horsemen Outer Space Men Beta Phase Inferno the Man from Mercury NYCC Exclusive
Day 110: Four Horsemen Outer Space Men Infinity Edition Astro-Nautilus Action Figure
Day 116: Four Horsemen Outer Space Men Beta Phase Metamorpho Action Figure
Day 128: Four Horsemen Outer Space Men Holiday Xodiac Action Figure
Day 139: Four Horsemen Outer Space Men Holiday Astro-Nautilus Action Figure
Day 144: Four Horsemen Outer Space Men Infinity Edition Metamorpho Action Figure
Day 204: Onell Design Glyos The Rig Volkriun Division Action Figure
Day 206: Four Horsemen Outer Space Men Alpha Series Alpha 7 Action Figure
Day 227: Four Horsemen Onell Design Exclusive Outer Space Men Xodiac Glyaxia Command Special Edition Action Figure
Day 228: Four Horsemen Outer Space Men Alpha Phase Inferno the Flame Man of Mercury SDCC Exclusive
Day 230: Onell Design Glyos Esedeth Desert Assault Team Glyan Action Figure
Day 231: Onell Design Glyos Standard Pheyden Action Figure
Day 241: Four Horsemen Outer Space Men Alpha Phase Astro-Nautilus the Man from Neptune SDCC Exclusive
Day 245: Rawshark Studios Callgrim Norisar Ambush Action Figure
Day 252: Onell Design Glyos Heavy Armored Rig Relgost Wing Divison Action Figure
Day 253: Onell Design Glyos Crayboth Action Figures Set 2
Day 255: 1SHOT Toys Glyos-Compatible He-Man Thermal Color Change Head
Day 258: Four Horsemen Outer Space Men Alpha Series Electron+ Action Figure
Day 262: Onell Design Glyos Task Force Volkriun Extra Set
Day 269: Onell Design Glyos Relgost Wing Division Glyan Action Figure
Day 270: Four Horsemen Outer Space Men Alpha Series Mystron Action Figure
Day 281: Onell Design Glyos Glyaxia Command Elite Glyan Action Figure
Day 288: Four Horsemen Outer Space Men Alpha Series Commander Comet Action Figure
Day 291: Four Horsemen Outer Space Men Beta Series Mystron Action Figure
Day 298: Onell Design Glyos Reforged Govurom Action Figure
Day 299: Four Horsemen Outer Space Men Galactic Holiday Electron+ Action Figure
Day 304: Four Horsemen Outer Space Men Beta Series Alpha 7 Action Figure
Day 307: Callgrim Grim Squad Armodoc Action Figure
Day 316: Four Horsemen Outer Space Men Beta Series Commander Comet Action Figure
Day 321: Onell Design Glyos Task Force Volkriun Sarvos Action Figure
Day 325: Spy Monkey Creations Doppelganger Armory Series 1 Accessory Pack
Day 330: Four Horsemen Outer Space Men Infinity Edition Commander Comet Action Figure
Day 331: Four Horsemen Outer Space Men Galactic Holiday Alpha 7 Action Figure
Day 337: Four Horsemen Outer Space Men Galactic Holiday Mystron Action Figure
Day 340: Four Horsemen Outer Space Men Cosmic Creators Mel Birnkrant Inferno Action Figure
Day 361: Four Horsemen Outer Space Men Galactic Holiday Commander Comet Action Figure
Day 379: Four Horsemen Outer Space Men Infinity Edition Electron+ Action Figure
Day 388: Four Horsemen Outer Space Men Galactic Holiday Alpha 7 Action Figure
Day 393: Callgrim The Order Triton Action Figure
Day 407: Four Horsemen Outer Space Men Infinity Edition Mystron Action Figure
Day 409: Onell Design Glyos Comrado Sarvos Action Figure
Day 416: Four Horsemen Outer Space Men Cosmic Creators Mel Birnkrant Xodiac Action Figure
Day 425: Onell Design Glyos Zorennor Exploration Division Crayboth Senyrith Action Figure
Day 431: Four Horsemen Outer Space Men Cosmic Creators Mel Birnkrant Astro-Nautilus Action Figure
Day 442: Onell Design Glyos Phaseon Gendrone Unpainted Black Action Figure
Day 461: Onell Design Glyos Zorennor Exploration Division Commander Sullkren Action Figure
Day 469: Onell Design Glyos Venjorun Armorvor Action Figure
Day 475: Four Horsemen Outer Space Men Cosmic Creators Mel Birnkrant Metamorpho Action Figure
Day 477: Four Horsemen Outer Space Men Alpha Phase Gemini Action Figure
Day 480: Four Horsemen Outer Space Men Cosmic Creators Four Horsemen Metamorpho Action Figure
Day 497: Onell Design Glyos Hades Mimic Armorvor Action Figure
Day 505: Onell Design Glyos Zed Rig Runner Vehicle
Day 509: Onell Design Glyos Nonilla Pheyden Action Figure
Day 510: Spy Monkey Creations Weaponeers of Monkaa Empyreus Action Figure
Day 511: Four Horsemen Outer Space Men Alpha Phase Orbitron Action Figure
Day 512: The GodBeast Customs Glyos Dark Purple Crab Head Glyos Accessory
Day 521: Banimon Red Army 51st Corps Action Figure
Day 523: Onell Design Glyos Glyaxia Outer Battalion Glyan Action Figure
Day 527: Onell Design Glyos Hades Pheyden MK II Action Figure
Day 532: The GodBeast Customs Glyos Green CyberGator Head Glyos Accessory
Day 537: Onell Design Glyos Stealth Armorvor Action Figure
Day 539: Four Horsemen Outer Space Men 2.0 Inferno Action Figure
Day 547: Four Horsemen Outer Space Men Cosmic Creators Four Horsemen Xodiac Action Figure
Day 553: Onell Design Glyos Verexxan Armorvor Action Figure
Day 554: Callgrim Fragarian Action Figure
Day 555: The GodBeast Customs Glyos Green Glyos-Compatible Skull Head Glyos Accessory
Day 572: Onell Design Glyos Neo Voss Crayboth Action Figure
Day 581: Four Horsemen Outer Space Men Cosmic Creators Four Horsemen Astro-Nautilus Action Figure
Day 588: Four Horsemen Outer Space Men Cosmic Creators Four Horsemen Inferno Action Figure
Day 592: Onell Design Glyos Task Force Volkriun Core Block Action Figure
Day 594: Four Horsemen Outer Space Men Beta Phase Cyclops Action Figure
Day 599: Four Horsemen Outer Space Men 2.0 Astro-Nautilus Action Figure
Day 600: Seth Longmire Custom Glyos Glyan Squad Verihex Action Figure
Day 604: Four Horsemen Outer Space Men 2.0 Metamorpho Action Figure
Day 607: Onell Design Glyos Neo Nebula Armorvor Action Figure
Day 609: Onell Design Glyos Syclodoc Neutralizer Action Figure
Day 611: Four Horsemen Outer Space Men Galactic Holiday Orbitron Action Figure
Day 612: Banimon Fire Eaters (Red Army Men) Action Figure
Day 613: Spy Monkey Creations Weaponeers of Monkaa Palidar Action Figure
Day 617: Onell Design Glyos Crayboth Nuldireus Action Figure
Day 619: Four Horsemen Outer Space Men Beta Phase Orbitron Action Figure
Day 621: Onell Design Glyos Naspoth Sarvos Action Figure
Day 627: Onell Design Glyos Neo Legion Pheyden Action Figure
Day 631: Onell Design Glyos Neo Nebula Pheyden Action Figure
Day 636: Four Horsemen Outer Space Men Alpha Phase Cyclops Action Figure
Day 638: Onell Design Glyos Mordireus Sarvos Action Figure
Day 640: Four Horsemen Outer Space Men Infinity Edition Orbitron Action Figure
Day 648: Four Horsemen Outer Space Men Galactic Holiday Gemini Action Figure
Day 649: Onell Design Glyos Gold Crayboth Action Figure
Day 650: Onell Design Glyos Red Swing Joint Set
Day 654: Four Horsemen Outer Space Men Infinity Edition Gemini Action Figure
Day 656: Onell Design Glyos Armorvor Infection Action Figure
Day 657: The GodBeast Customs Glyos Grey CyberRhino Head Glyos Accessory
Day 659: Onell Design Glyos Gendrone Legion Gobon Action Figure
Day 665: Onell Design Glyos Sonesidar Mimic Armorvor Action Figure
Day 668: Four Horsemen Outer Space Men Beta Phase Gemini Action Figure
Day 672: Onell Design Glyos Syclodoc Syclowave Action Figure
Day 676: Onell Design Glyos Task Force Volkriun Glyan Captain Ruger Action Figure
Day 682: Spy Monkey Creations Weaponeers of Monkaa Close Combat Armory Accessories
Day 686: Onell Design Glyos Ullexono Pheyden Action Figure
Day 688: Four Horsemen Outer Space Men Galactic Holiday Cyclops Action Figure
Day 695: Onell Design Glyos Ivorinium Noboto Action Figure
Day 696: Four Horsemen Outer Space Men Infinity Edition Cyclops Action Figure
Day 701: Onell Design Glyos Reydurran Operations Unit Mini Blocker Rig Action Figure
Day 704: NiStuff 481 Universe Outlander Silas Action Figure
Day 705: Banimon Banigoth Horde Ghost Troopers (Assassination Squad) Action Figure
Day 706: Onell Design Glyos Standard Crayboth MK II Action Figure
Day 709: Four Horsemen Outer Space Men Alpha Phase Colossus Rex Action Figure
Day 710: Onell Design Glyos Neo Aves Exellis Action Figure
Day 711: Four Horsemen Outer Space Men 2.0 Xodiac Action Figure
Day 712: Spy Monkey Creations Weaponeers of Monkaa OMFG Gohlem Action Figure
Day 716: Four Horsemen Outer Space Men White Star Astro-Nautilus Action Figure
Day 719: Onell Design Glyos Traveler Urballim Pheyden Action Figure
Day 726: Four Horsemen Outer Space Men Cosmic Creators Mel Birnkrant Edition Blue Angel Commander Comet Action Figure
Day 726: Onell Design Glyos MVR Standard Gobon Action Figure
Day 729: Four Horsemen Outer Space Men Alpha Phase Terra Firma Action Figure
Day 737: Onell Design Glyos Armorvor Engineer Mimic Action Figure
Day 739: Four Horsemen Outer Space Men Alpha Phase Gamma X Action Figure
Day 743: Onell Design Glyos MVR Standard Noboto Action Figure
Day 744: Four Horsemen Outer Space Men Cosmic Creators Mel Birnkrant Edition Alpha 11 (Alpha 7) Action Figure
Day 749: Onell Design Glyos Crayboth Pack 5 Red and Green Aura Action Figures
Day 760: Four Horsemen Power Lords Power Soldier Action Figure
Day 765: Onell Design Glyos Lost Sincroid Army Genesis Corps Action Figure
Day 769: NiStuff 481 Universe NV Subject Action Figure
Day 774: Onell Design Glyos Mordireus Gobon Action Figure
Day 781: Four Horsemen Outer Space Men White Star Inferno Action Figure
Day 784: Four Horsemen Power Lords Power-Con Exclusive Elite Power Soldier Action Figure
Day 788: Four Horsemen Outer Space Men Alpha Phase Horroscope Action Figure
Day 789: Onell Design Glyos Standard Pheyden MK IV Action Figure
Day 790: ToyFinity Robo Force Genesis Edition Action Figure
Day 793: Onell Design Glyos Neo Gatekeeper Reverse Mimic Armorvor Action Figure
Day 798: ToyFinity Mordles Imbalance of Blood Vinyl Figure
Day 800: Banimon Custom Corps Series 1 #11 Action Figure
Day 804: NiStuff 481 Universe Zeta Force Dig Crew Action Figure
Day 805: Four Horsemen Outer Space Men Cosmic Creators Mel Birnkrant Edition Fire and Ice Electron+ Action Figure
Day 806: Onell Design Glyos Dark Traveler Rift Breaker Action Figure
Day 807: Four Horsemen Power Lords New York Comic Con Exclusive Ggrapptikk Grunt (Pink) Action Figure
Day 808: Four Horsemen Outer Space Men Beta Phase Colossus Rex Action Figure
Day 814: Banimon Red Army Muscle Men Action Figure
Day 823: Four Horsemen Outer Space Men Beta Phase Terra Firma Action Figure
Day 836: Onell Design Glyos Ecroyex Guardian Syclodoc Action Figure
Day 840: TheGodBeast Kabuto Mushi Standard Pearlescent Brown Action Figure
Day 841: Onell Design Glyos Gendrone Rebellion Gobon Action Figure
Day 854: Four Horsemen Power Lords Slate Zone Elite Power Soldier Action Figure
Day 859: ToyFinity Mordles Geihoza Vinyl Figure
Day 864: Onell Design Glyos Gendrone Rebellion Mimic Armorvor Action Figure
Day 866: TheGodBeast Kabuto Mushi Mini-Mushi Swarm 4-Pack Assorted Colors Minifigures
Day 864: Onell Design Glyos Gendrone Rebellion Mimic Armorvor Action Figure
Day 869: Onell Design Glyos Gliporian Crayboth Action Figure
Day 875: Onell Design Glyos Argen MK X Action Figure
Day 879: Spy Monkey Creations Glyos Crayboth Eaglet Action Figure
Day 881: Onell Design Glyos OMFG Mimic Armorvor Action Figure
Day 888: Four Horsemen Power Lords Barlowe Color Concept Ggripptogg (Grey and Black) Action Figure
Day 889: TheGodBeast Customs Glyos Red Sharkorvor Head Glyos Accessory
Day 890: Onell Design Glyos Ecroyex Mimic Armorvor Action Figure
Day 891: Four Horsemen Outer Space Men White Star Metamorpho Action Figure
Day 892: NiStuff 481 Universe Maigus Action Figure
Day 896: ToyFinity Mordles Quinhozs Vinyl Figure
Day 897: Onell Design Glyos Gendrone Ultra Corps Mimic Armorvor Action Figure
Day 901: Four Horsemen Outer Space Men Cosmic Creators Mel Birnkrant Edition Red Devil Mystron Action Figure
Day 908: NiStuff 481 Universe Spectre Leyden Action Figure
Day 911: Onell Design Glyos Gendrone Spectre Force Gobon Action Figure
Day 912: Onell Design Glyos Spectre Armorvor Action Figure
Day 915: Four Horsemen Outer Space Men Infinity Edition Colossus Rex Action Figure
Day 917: Four Horsemen Outer Space Men White Star Xodiac Action Figure
Day 919: Onell Design Glyos Crayboth Hanosyric Action Figure
Day 927: Four Horsemen Power Lords Ophidian Squad Soldier Action Figure
Day 928: Four Horsemen Outer Space Men Infinity Edition Ohpromatem Action Figure
Day 930: Four Horsemen Power Lords New York Comic Con Exclusive Ggrapptikk Grunt (Purple) Action Figure
Day 933: Onell Design Glyos Neo Gatekeeper Viyer Sarvos Action Figure
Day 939: Four Horsemen Outer Space Men Infinity Edition Gamma X Action Figure
Day 944: Four Horsemen Outer Space Men Infinity Edition Terra Firma Action Figure
Day 947: Four Horsemen Power Lords Ggrapptikk Sergeant Action Figure
Day 953: Four Horsemen Outer Space Men Infinity Edition Horroscope Action Figure
Day 957: Onell Design Glyos Neo Sincroid Gendrone Legion Action Figure
Day 958: Four Horsemen Outer Space Men Infinity Edition Jack Asteroid Action Figure
Day 959: Four Horsemen Power Lords Ophidian Squad Elite Power Soldier Action Figure
Day 960: Four Horsemen Power Lords Lord Power Action Figure
Day 961: Onell Design Glyos Crayboth Gryganull Action Figure
Day 965: Four Horsemen Power Lords Ggrapptikk Action Figure
Day 966: Four Horsemen Outer Space Men Alpha Phase Jack Asteroid Action Figure
Day 971: Four Horsemen Outer Space Men Beta Phase Gamma X Action Figure
Day 973: Four Horsemen Outer Space Men Alpha Phase Ohpromatem Action Figure
Day 975: ToyFinity Mordles EGD Vinyl Figure
Day 979: Four Horsemen Outer Space Men White Star Alpha 7 Action Figure
Day 982: Onell Design Glyos Glyan Glyaxia Standard Action Figure
Day 983: Onell Design Glyos Super Crayboth Standard Action Figure
Day 988: Onell Design Glyos Crayboth Grellanym Action Figure
Day 989: Four Horsemen Power Lords Ggripptogg Action Figure
Day 996: Onell Design Glyos Armorvor Glyaxia Command Mimic Action Figure
Day 1,012: Onell Design Glyos Armorvor Neo Phase Action Figure
Day 1,026: ToyFinity Mordles Night Mordle Vinyl Figure
Day 1,035: Plastic Imagination Rise of the Beasts Gold Rhino and Scorpion
Day 1,044: Onell Design Glyos Armorvor Rig Crew Mimic Action Figure
Day 1,046: Plastic Imagination Rise of the Beasts Action Figure Test Shots
Day 1,050: Plastic Imagination Rise of the Beasts Cahriv - Metallic Black Scorpion with Orange Paint
Day 1,056: Four Horsemen Power Lords Adam Power Action Figure
Day 1,057: Plastic Imagination Rise of the Beasts Gaamik - Metallic Black Rhino with Grey Paint
Day 1,064: Onell Design Glyos Super Crayboth Mordireus Action Figure
Day 1,075: Onell Design Glyos Redlaw Phanost Action Figure
Day 1,079: Onell Design Glyos Crayboth Disruptor MK II Action Figure
Day 1,081: Plastic Imagination Rise of the Beasts Scorpion - Flesh
Day 1,088: Plastic Imagination Rise of the Beasts Rhinoceros - Silver Mail-Away Redemption
Day 1,093: Onell Design Glyos Crayboth Cultivator Action Figure
Day 1,098: Four Horsemen Outer Space Men Beta Phase Jack Asteroid Action Figure
Day 1,105: ToyFinity Robo Force Basic Edition Action Figure
Day 1,109: Plastic Imagination Rise of the Beasts Bal Kharn - Green Rhino with Grey Paint
Day 1,114: Onell Design Glyos Neo Granthan Vrylless Action Figure
Day 1,121: Onell Design Glyos Ecroyex Dark Traveler Strelleven Action Figure
Day 1,128: Four Horsemen Power Lords Slate Zone Power Soldier Action Figure
Day 1,132: Fantastic Plastic Toys Mystical Warriors of the Ring Green Goliath Action Figure
Day 1,134: Banimon Red Army T-011 Bunkerbuster Tank Vehicle
Day 1,136: Onell Design Glyos Standard Ecroyex Glyan Action Figure
Day 1,141: Onell Design Glyos Skeleden Standard Action Figure
Day 1,143: Onell Design Glyos Neo Granthan Cliffstalker Action Figure
Day 1,144: Plastic Imagination Rise of the Beasts Cerula - Green Scorpion with Grey Paint
Day 1,160: Onell Design Glyos Neo Granthan Pyrotellica Action Figure
Day 1,176: Onell Design Glyos Crayboth Marauder MK II Action Figure
Day 1,177: TheGodBeast Kabuto Mushi Hunter Mushi Action Figure
Day 1,178: Onell Design Glyos Rykurra Sarvos Action Figure
Day 1,184: October Toys Skeleton Warriors Bone Titan Skeleton Action Figure
Day 1,191: October Toys Skeleton Warriors Baron Dark Action Figure
Day 1,214: October Toys Skeleton Warriors Glow-in-the-Dark Titan Skeleton Action Figure
Day 1,245: Onell Design Glyos Skeleden Ullcroth Mutation Action Figure
Day 1,246: Four Horsemen Outer Space Men White Star Electron+ Action Figure
Day 1,254: Four Horsemen Power Lords Ggrabbtargg Action Figure
Day 1,256: Onell Design Glyos Argen MK XVII Electric Revenant Action Figure
Day 1,258: Onell Design Glyos Skeleden Nemica Icewave Action Figure
Day 1,274: Onell Design Glyos Brown Crayboth Action Figure
Day 1,282: Four Horsemen Outer Space Men Beta Phase Horroscope Action Figure
Day 1,346: Onell Design Glyos Glyarmor Hades Trooper Action Figure
Day 1,351: Onell Design Glyos Neo Granthan Gatorrior Mercenary Action Figure
Day 1,376: Onell Design Glyos Hades Pheyden MK IV Action Figure
Day 1,384: Onell Design Glyos December 2015 Stowaway Crayboth Action Figure
Day 1,437: Onell Design Glyos Armorvor Keytrius Action Figure
Day 1,437: Onell Design Glyos Armorvor Keytrius Action Figure
Day 1,466: Onell Design Glyos Armorvor Neo Nonilla Action Figure
Day 1,470: Onell Design Outer Space Men Orbitron Diversus
Day 1,476: Four Horsemen Power Lords Ggrapptikk Grunt Action Figure
Day 1,492: Onell Design Glyos Crayboth Diversus
Day 1,497: Onell Design Glyos Protoclone Marezioc Guard
Day 1,504: Onell Design Glyos Armorvor Cosmic Wave
Day 1,507: Four Horsemen Outer Space Men White Star Mystron Action Figure
Day 1,510: Bit Figs Ninja Series 1 Ku Mini Figure
Day 1,522: Toy Pizza Knights of the Slice Integer Knight Action Figure
Day 1,525: Outer Space Men LLC Outer Space Men Infinity Edition Colossus Rex 2.0 Action Figure
Day 1,529: The Outer Space Men, LLC Outer Space Men Cosmic Radiation Edition Gamma-X Action Figure
Day 1,531: Bit Figs Mega Bit Pheyden Trophy Set
Day 1,535: Onell Design Outer Space Men Alpha 7 Zekroyas
Day 1,541: Four Horsemen Outer Space Men Chrome Accessories Set
Day 1,546: The Outer Space Men, LLC Outer Space Men Cosmic Radiation Edition Colossus Rex Action Figure
Day 1,551: Bit Figs Animal Series 1 Pup Mini Figure
Day 1,552: Plastic Imagination Rise of the Beasts Rhino - Flesh
Day 1,553: Onell Design Glyos Gendrone Force Defender Villser Core
Day 1,554: RawShark Studios The Order Bobaran Action Figure
Day 1,555: Bit Figs Mega Bit Pheyden Standard Set
Day 1,556: Onell Design Glyos Crayboth Zekroyas
Day 1,559: Onell Design Glyos Pheyden Frontier MKII
Day 1,571: Spy Monkey Creations Battle Tribes DX Crimson Spikesaurian 2.0
Day 1,593: Onell Design Glyos Noboto Ao
Day 1,600: The Outer Space Men, LLC Outer Space Men Cosmic Radiation Edition Cyclops Action Figure
Day 1,603: Onell Design Outer Space Men OSM Gemini Ulstriax - Fugitive from Algol
Day 1,611: Four Horsemen Outer Space Men White Star Commander Comet Action Figure
Day 1,615: The Outer Space Men, LLC Outer Space Men Cosmic Radiation Edition Orbitron Action Figure
Day 1,630: Onell Design Glyos Pheytron
Day 1,635: The Outer Space Men, LLC Outer Space Men Cosmic Radiation Edition Gemini Action Figure
Day 1,638: Onell Design Glyos Skeleden Keldorac
Day 1,640: Onell Design Glyos Quallerran Lingrem
Day 1,646: Onell Design Glyos Glyninja Runmaru
Day 1,651: Onell Design Glyos Vector Jump Outpost Odesskar
Day 1,655: The Outer Space Men, LLC Outer Space Men White Star Cyclops Action Figure
Day 1,665: Onell Design Glyos Rayexx
Day 1,666: Onell Design Glyos Neo Granthan Gladiator Action Figure
Day 1,674: Onell Design Glyos Quallerran Waimog
Day 1,678: Onell Design Glyos Glyarmor Cytechion DX
Day 1,682: The Outer Space Men, LLC Outer Space Men Cosmic Radiation Astro-Nautilus Action Figure
Day 1,689: Bit Figs Mega Bit Pheyden Flesh Set
Day 1,690: Onell Design Glyos Phanoid
Day 1,702: Onell Design Glyos Capture Pheyden
Day 1,703: The Outer Space Men, LLC Outer Space Men Cosmic Radiation Commander Comet Action Figure
Day 1,708: Onell Design Outer Space Men OSM Cyclops Zardurac
Day 1,720: Onell Design Glyos Aurustell Elite Armorvor
Day 1,724: Onell Design Glyos Neo Granthan Skaterriun Mimic
Day 1,725: The Outer Space Men, LLC Outer Space Men Cosmic Radiation Mystron Action Figure
Day 1,735: Onell Design Glyos Neo Granthan Rocker
Day 1,742: The Outer Space Men, LLC Outer Space Men Cosmic Radiation Electron+ Action Figure
Day 1,743: Onell Design Glyos Pheyden Zardurac
Day 1,758: Onell Design Outer Space Men OSM Mystron Demonula
Day 1,769: The Outer Space Men, LLC Outer Space Men White Star Orbitron Action Figure
Day 1,771: Onell Design Glyos Armorvor Bopper
Day 1,775: Onell Design Glyos Neo Granthan Reptoriun
Day 1,779: Bit Figs Trophy Set
Day 1,788: The Outer Space Men, LLC Outer Space Men White Star Ohpromatem Action Figure
Day 1,775: Onell Design Glyos Neo Astrovos
Day 1,800: Bit Figs Matryx Pheyden
Day 1,805: Bit Figs Mega Bit Spectre Pheyden
Day 1,806: The Outer Space Men, LLC Outer Space Men Cosmic Radiation Alpha 7 Action Figure
Day 1,825: The Outer Space Men, LLC Outer Space Men Cosmic Radiation Inferno Action Figure
Day 1,866: Onell Design Glyos Fireyden
Day 1,876: Onell Design Glyos Traveler Xycoss Clone
Day 1,882: Onell Design Glyos Sarvostar
Day 1,885: The Outer Space Men, LLC Outer Space Men Cosmic Radiation Metamorpho Action Figure
Day 1,895: The Outer Space Men, LLC Outer Space Men White Star Gemini Action Figure
Day 1,900: Onell Design Glyos Astro-Nautilus Redborg Syndicate
Day 1,910: Onell Design Glyos Optivos
Day 1,915: The Outer Space Men, LLC Outer Space Men Cosmic Radiation Xodiac Action Figure
Day 1,924: Onell Design Glyos Alphaden
Day 1,933: Onell Design Glyos Copper Crayboth
Day 1,944: Onell Design Glyos Piloden
Day 1,958: Onell Design Glyos Glyninja Ukoro Action Figure
Day 1,977: Onell Design Glyos Glyrecon Action Figure
Day 1,993: Onell Design Glyos Retro Altrovos
Day 2,004: Onell Design Glyos Vlixden
Day 2,015: The Outer Space Men, LLC Outer Space Men Cthulhu Nautilus Action Figure
Day 2,019: Onell Design Glyos Mechabon Gendrone Revolution
Day 2,025: The Outer Space Men, LLC Outer Space Men Astrodite Action Figure
Day 2,029: Onell Design Glyos Pheyalien
Day 2,038: Onell Design Glyos Glyceptor
Day 2,041: The Outer Space Men, LLC Outer Space Men Zero Gravity Action Figure
Day 2,044: Onell Design Glyos Greeden
Day 2,050: Onell Design Glyos Pheytooth
Day 2,055: Onell Design Glyos OSM Cthulhu-Nautilus Rlyehzoth
Day 2,056: Onell Design Glyos Traveler Suraisu
Day 2,061: Just Toys Intl. Fallout Mega Merge Nuka T-51 Power Armor
Day 2,067: Onell Design Glyos Hammerden
Day 2,069: The Outer Space Men, LLC Outer Space Men Sofubi Glow in the Dark Cthulhu Nautilus Action Figure
Day 2,073: Toy Pizza Desert Rat LRDG Version Action Figure
Day 2,084: Onell Design Glyos Walruden
Day 2,088: Toy Pizza Mikros Set BLT Version Action Figures
Day 2,093: Onell Design Glyos Mutant Evolver Pheyaos Hyper Mordireus Fusion
Day 2,097: Onell Design Glyos Searsden
Day 2,105: Spaced Out Design Geodraxus Grannikor
Day 2,106: The Outer Space Men, LLC Outer Space Men White Star Zero Gravity Action Figure
Day 2,107: Onell Design Glyos Enigma Fusion Pheyaos Enigma Fusion
Day 2,110: Onell Design Glyos OSM Colossus Rex Tyraxsis
Day 2,112: Onell Design Glyos Spectre Armorvor MK II
Day 2,114: Toy Pizza Regen Capsule Carrying Case with Lime Material Boy Action Figures
Day 2,115: TheGodBeast Cerulestar Nemesis Action Figure
Day 2,118: Toy Pizza Forest Capsule Carrying Case
Day 2,123: Onell Design Glyos Rift Renegade Construct
Day 2,127: Onell Design Glyos Gobon Renegade Hunter
Day 2,129: Toy Pizza Rift Killer Cola Action Figure
Day 2,130: The Outer Space Men, LLC Outer Space Men Cosmic Radiation Zero Gravity Action Figure
Day 2,138: Onell Design Glyos Skullboto Soldier
Day 2,140: Onell Design Glyos Armorvor Neo Wyverillian
Day 2,143: Plastic Imagination Rise of the Beasts Rhino and Scorpion - Blue and Green Glow
Day 2,143: Onell Design Glyos Armorvor Kugarrec
Day 2,157: Healey Made Raider (Shadow) Action Figure
Day 2,160: Toy Pizza Chakan the Forever Man Glow Version Action Figure
Day 2,166: Onell Design Count Dracuden
Day 2,172: Onell Design R-Toolio
Day 2,174: Onell Design C-Ps&Qs
Day 2,176: Toy Pizza Zoner Capsule Silver Vehicle Mode
Day 2,177: Onell Design Lost Sincrodrone Beta
Day 2,182: Onell Design Phaseon Renegade Hybrid Caliber
Day 2,184: Onell Design Armorvor Athrodak Parasitic Clone
Day 2,186: Onell Design CyMa Queen Kirallius
Day 2,187: Toy Pizza Meteor II Action Figure
Day 2,189: The Outer Space Men Bluestar Inferno Action Figure
Day 2,198: The Outer Space Men, LLC Outer Space Men Bluestar Astro-Nautilus Action Figure
Day 2,207: Onell Design Armorvor Cerrek Commando Gorellux
Day 2,209: Healey Made Raider (Hunter) Action Figure
Day 2,215: The Outer Space Men, LLC Outer Space Men Bluestar Metamorpho Action Figure
Day 2,221: Onell Design Lost Sincrodrone Eta
Day 2,225: The Outer Space Men, LLC Outer Space Men Bluestar Xodiac Action Figure
Day 2,233: Onell Design Delphi Ryllcedia
Day 2,247: Outer Space Men White Star Cthulhu Nautilus Action Figure
Day 2,251: Cappy Space Legion Lead Crayboth
Day 2,268: Onell Design Glyan Glyorian
Day 2,280: Onell Design Star Marshall Sincroid Superior
Day 2,304: Cappy Space Scaravasze Scout Crayboth
Day 2,314: Onell Design Sincroborg Buildriun
Day 2,323: Onell Design Pheydenstein
Day 2,334: Healey Made Assassin (R-Complex) Action Figure
Day 2,346: Onell Design Quallerran Ulstriax
Day 2,366: Onell Design Glyos Traveler Simiod Clone
Day 2,371: Outer Space Men Luna Eclipse Action Figure
Day 2,376: Onell Design Glyos Pheyaos Rothan
Day 2,383: Healey Made Raider (Revenge) Action Figure
Day 2,386: Onell Design Glyos Syclodoc Glyaxia Command Sentinel
Day 2,404: Nemo's Factory x Cappy Space A/V Robot Glowing Being
Day 2,406: Healey Made Raider (GID) Action Figure
Day 2,410: Onell Design Glyos Rift Killer Hyper Mordireus
Day 2,418: Healey Made Assassin (GID) Action Figure
Day 2,450: Onell Design Glyos Pheyden Quidnecim Action Figure
Day 2,456: Healey Made Assassin (Trando) Action Figure
Day 2,461: Onell Design Pheyden Imhoden Pheydotep Action Figure
Day 2,467: Onell Design Glyos Skeleden Hallowden King
Day 2,478: Outer Space Men Cosmic Radiation Ohpromatem Action Figure
Day 2,484: Onell Design Glyos Crayboth Cosmic Wave Action Figure
Day 2,499: Onell Design Glyos Alien Aberration Kaisyriax Action Figure
Day 2,502: Healey Made Trooper (Bulloch) Action Figure
Day 2,505: The Outer Space Men, LLC Outer Space Men Galactic Holiday Cebbriac of the Voidrillion Command Orbitron Action Figure
Day 2,508: The Outer Space Men, LLC Outer Space Men Galactic Holiday Cobaltus of the Voidrillion Command Colossus Rex Action Figure
Day 2,515: Onell Design Glyos Crayboth Infection Action Figure
Day 2,519: Toy Pizza Knights of the Slice Frankenslice Crowkin Action Figure
Day 2,523: The Outer Space Men, LLC Outer Space Men Galactic Holiday Voidrillia of the Voidrillion Command Luna Eclipse Action Figure
Day 2.527: ToyFinity Manglors Manglord - Standard Action Figure
Day 2,531: Onell Design Glyos Rift Killer Grayvec Action Figure
Day 2,535: Onell Design Armorvor Ryllcedia Gorellux Action Figure
Day 2,539: The Outer Space Men, LLC Outer Space Men Galactic Holiday Darkoneth of the Voidrillion Command Cthulhu Nautilus Action Figure
Day 2,543: Onell Design Glyos Glyarmor Andromeda Action Figure
Day 2,547: Onell Design Glyos Versirran Pheyden Action Figure
Day 2,551: Toy Pizza Zoner Capsule GITD Vehicle
Day 2,555: Cappy Space Guardian Diver Action Figure
Day 2,559: Healey Made Trooper (Shadow) Action Figure
Day 2,563: Onell Design Glyos Bio Phantom Pheyden Action Figure
Day 2,567: The Outer Space Men, LLC Outer Space Men Cosmic Radiation Astrodite Action Figure
Day 2,571: Toy Pizza Noir Knight and Apotheosis Capsule Set
Day 2,575: Onell Design Glyos Armorvor Arthrodak Dark Nebula Action Figure
Day 2,579: Onell Design Glyos Gendrone Legion Phaseon Action Figure
Day 2,583: Healey Made Raider (Shadow V.2) Action Figure
Day 2,587: Onell Design Glyos Noboto Diversus Mutant Action Figure
Day 2,591: Cappy Space Mischievers Standard Phibian Action Figure
Day 2,595: Onell Design Pheyden Ignelleun Action Figure
Day 2,599: The Outer Space Men, LLC Outer Space Men Cosmic Radiation Terra Firma Action Figure
Day 2,603: Healey Made Assassin (Shadow) Action Figure
Day 2,607: Toy Pizza Green Ghost Capsule Carrying Case
Day 2,611: Onell Design Gauss Armor Relgost Fugitive Action Figure
Day 2,615: The Outer Space Men, LLC Outer Space Men Bluestar Colossus Rex Action Figure
Day 2,619: The Outer Space Men, LLC Outer Space Men Bluestar Maximilian Gravity Action Figure
Day 2,623: Rawshark Studios Warp Bike Firespray
Day 2,627: Onell Design Traveler Gearius Granthan Drifter Action Figures
Day 2,631: Onell Design Traveler Stowaway Light Blue 2023 Pheyden Action Figures
Day 2,635: The Outer Space Men, LLC Outer Space Men Bluestar Gamma-X Action Figure
Day 2,639: Healey Made Trooper (THX) Action Figure

See more Mystical Warriors of the Ring figures in Figure of the Day:
Day 1,132: Fantastic Plastic Toys Mystical Warriors of the Ring Green Goliath Action Figure

See more Fantastic Plastic Toys figures in Figure of the Day:
Day 1,132: Fantastic Plastic Toys Mystical Warriors of the Ring Green Goliath Action Figure