Silver Zoner Capsule
First mass-produced capsule v2

Toy Pizza Vehicle
Item No.: n/a
Manufacturer: Toy Pizza with development by Mechazone
Includes: Case
Action Feature: Opens, closes
Retail: $18.00
Availability: Pre-order November 2019, Deliver January 2020
Other: Dented, Hidden Power Droid Eyes

PREVIOUS
RSS
NEXT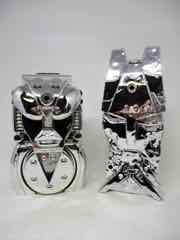 When the pre-order went live for the Zoner Capsule Silver Vehicle Mode I figured it'd be a good purchase - and then forgot I ordered it. The previous Regen Capsule [FOTD #2,114] was a nifty nod to things like the Micronauts Pharoid and the C-3PO carry case, but the new one goes a bit farther. You can open it at the hinged joint to store a figure, or lay it on its belly for a vehicle mode. There's more going on here - it hints at moai styling while also recalling bits and pieces of vehicles like the Batmobile. There's a lot going on here - including a fully-detailed interior with a monitor and various buttons that are clearly modeled after the Kenner Power Droid "face" of old. The two-mode toy owes a lot to Mattel's Hot Wheels Zombot [FOTD #803] - it can be two things, depending on how you orient it on your shelf. This is a toy for toy fans.
Despite there being dozens of Glyos molds from several makers, one thing we rarely see is metal. For what may well be the first time, this Glyos-compatible vehicle incorporated wheels with what feels like metal pins. It's a different kind of toy - the three wheels spin fairly well, and the metal blends in perfectly with the silvery finish. Your fingerprints don't blend in so well, and this thing picks them up like nobody's business.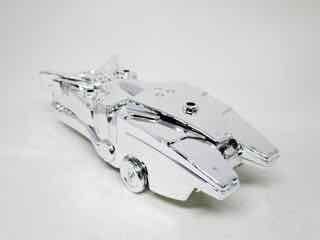 In either mode, the "ancient" capsule is covered in intentional indentations. This looks kind of weird on the chrome silver finish, but I assume customizers are going to have a field day when it comes time to start painting these things. There are lots of strange mechanisms, like hidden gears and other greeblies that would make Takara's sculptors proud. There's even a spoiler - or chin - on the bottom end of the face that adds to the car mode. For added fun, there are three big Glyos ports on the front to cram in arms or heads or whatever you got.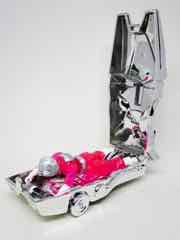 The 5 1/2-inch thing has an amazingly detailed interior - it's a bit tougher to open than the previous version, but it's worth a look inside. The padded seat is topped by a headrest that could also be a monitor. You can pose the arms on the figure's side, or lay a figure on its belly and put its arms forward like it's reaching for controls. You'll even find some nifty droid-inspired controls off to the side. Thanks to the big central rear wheel, it's unlikely you'll fit a lot of your old Kenner figures in here - but anybody with a wider stance should fit just fine.
I'd recommend it! I might buy another one in a different color since this one gets fingerprinted-up real easily, but it's gorgeous and loaded with cool details. I'd be curious to see if the wheels roll more smoothly without the metal plating, and I commend the Toy Pizza team for coming up with a really neat vehicle that has actual vehicular functions and detailing beyond "it opens and you can put things in it." This is a good template for other vehicles, and I'd love to see more things like this - with seating and all - for other sizes of Glyos figures.
--Adam Pawlus
Additional Images

See more Toy Pizza figures in Figure of the Day:
Day 1,522: Toy Pizza Knights of the Slice Integer Knight Action Figure
Day 2,073: Toy Pizza Desert Rat LRDG Version Action Figure
Day 2,088: Toy Pizza Mikros Set BLT Version Action Figures
Day 2,114: Toy Pizza Regen Capsule Carrying Case with Lime Material Boy Action Figures
Day 2,118: Toy Pizza Forest Capsule Carrying Case
Day 2,123: Onell Design Glyos Rift Renegade Construct
Day 2,129: Toy Pizza Rift Killer Cola Action Figure
Day 2,160: Toy Pizza Chakan the Forever Man Glow Version Action Figure
Day 2,176: Toy Pizza Zoner Capsule Silver Vehicle Mode
Day 2,186: Onell Design CyMa Queen Kirallius
Day 2,187: Toy Pizza Meteor II Action Figure
Day 2,305: Creative Beast Beast of the Mesozoic Glow-in-the-dark Dinosaurs Zuniceratops Action Figure
Day 2,519: Toy Pizza Knights of the Slice Frankenslice Crowkin Action Figure
Day 2,531: Onell Design Glyos Rift Killer Grayvec Action Figure
Day 2,551: Toy Pizza Zoner Capsule GITD Vehicle
Day 2,555: Cappy Space Guardian Diver Action Figure
Day 2,571: Toy Pizza Noir Knight and Apotheosis Capsule Set
Day 2,607: Toy Pizza Green Ghost Capsule Carrying Case

Click here to see more Glyos Compatible figures in Figure of the Day.