Adventure in the Mystery Mansion Playset
Redundant heroes but plenty of playset

Scooby-Doo! Set
Item No.: No. 70361
Manufacturer: Playmobil
Includes: Fred, Daphne, Vampire, Scooby-Doo, cat (mine had 2), bones, mice, spiders, bear rug, pizza box, money, gold bars, spider web, electronic coffin, hot dog on a stick, bats, luggage, book, bookends, flashlight, chandelier, table, ladder, chair, newspaper, grandfather clock, and lots of other stuff
Retail: $99.99
Availability: August 2020
Other: Coffin battery box acts as a monster projector and sound effects box, there's also a smart phone projector

PREVIOUS
RSS
NEXT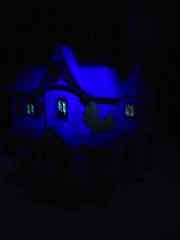 When I was a kid watching reruns of the then-aging Scooby-Doo, Where Are You? I didn't see many toys. I'm pretty sure I didn't notice any Scooby toys until the late 1990s or early 2000s, when action figures started to pop up on the regular as toymakers started realizing parents would buy things for their kids if that meant they could also force their own childhood obsessions on the new generation. We've since seen multiple toy lines in a variety of formats - before Playmobil we had stuff from Mattel, LEGO, Funko, Equity Marketing, Character, and others I am no doubt forgetting.
I've always wanted a Playmobil haunted house, and a Scooby-Doo playset of some sort, and this scratches both itches. Despite decades of ghosts and monsters, Playmobil's only haunted houses were a tiny play box and a slightly bigger take-along house - I wanted something more like the Victorian dollhouse, but spooky. Same molds would've been fine - but it never happened. Instead, we got this pretty sizable mostly-seemingly-new toy house with a few play mechanisms. Most of them work quite well, but some elements just aren't a ton of fun - Playmobil environments are usually more "doll house" and less "action playset." This one sports trap doors, hidden compartments, rotating wall passages, an electronic sound box/flashlight, and stairs that turn into a slide. It's ambitious.
The set seems to be a pastiche of elements from the series - the Mansion itself looks vaguely like the house in the intro to the original cartoon, and this Dracula looks a bit like the one in the original series. Both are different enough that they may not be inspired by anything in particular, Dracula's colors don't quite match the episodes I spot-checked with eyes and a slightly more rumpled costume that don't seem to be a match. It's still a neat set to have your own adventures, or maybe even to shoot a film with your phone.
Click here to check availability at Entertainment Earth.
The house requires a fair amount of assembly with difficult-to-place labels. Normally Playmobil's stickers are a snap to position - the places are clearly marked on the toy and there's a flat spot with very obvious and clear directions. Here, there are tons of grime stickers that seem to have a specific place, but there's no way to figure out exactly which slat the instructions are directing. No two of these will be alike. I opted to keep off the grime stickers because it was making my eyes implode.
The house itself is nice and big, like the old Western buildings - or bigger, since it has three levels. It's dark inside and, sadly, there's no internal LED lighting so you can see. As far as buildings go I think you get your money's worth, with cartoony green trim and purple walls for maximum spookiness. Some of the windows are boarded up with messages like "KEEP OUT!" that are very on-brand for the series. Some elements are shared with other buildings like the big Spirit house, but the colors and a few walls were tweaked so it's very clearly its own thing.
On the whole, it's a house that meets Playmobil expectations - but the windows are too tight or too loose, and the front door on mine requires some real effort to open. As I can just put the figure in through the other side it's no huge deal, but very rarely do I every knock a Playmobil toy for part tolerance issues - these things are usually like LEGO and everything is perfect. Here, it's mostly good, but some are a little off.
It wouldn't be Scooby-Doo without traps. Upstairs you'll find a trap door activated by straightening the crooked portrait of Dracula, which dumps the unlucky figure outside the front door. It works very well.
A stairway can turn into a slide, and this doesn't work so well in practice - the figures are somewhat top-heavy, so upon retracting the stairs they just fall head-first forward and topple over. It's not much of a slide. As an unfortunate added bonus, the switch to activate it is a little sticky and can be pulled off with little effort, possibly making this useless for children with even the most careful of play and storage. It's a great idea - it just doesn't feel like it was tested.
The revolving door works well - but only for classic and male-style legs. Daphne's feet won't lock on, but you can place her next to the grooves and she can probably stay upright when you rotate the wheel.
A chimney and fireplace seem like they were meant to be a feature, but they don't work too well. There's a grate you can pull out and a cap over the blue bricks, and anything you put in there slides into the fireplace down below. It's too small for a figure, but small animals and accessories fly right through - just like Kenner's old Ewok Village. It would've been nice if it were a bit larger, so your figures (or Santa Claus) could use it.
As I do not have a smart device, I was not able to test the ghost projector - but it looks cool!
A heavy green coffin does not serve as a home for Dracula - instead, the entire house's electronics compliment are all stored in this. There are eight sound effects buttons and a flashlight/projector that can put those clear monster slides on the wall. I expected to dislike this - but it's very well made. The sound effect choices are inspired. The first one I heard was a high-pitched sad trombone of "wah wah wah wahhhhh." Other sounds seem like they came straight from classic TV - a bone xylophone, a run/dash sound, a spooky bell, a ghost, a knock at the creaky door, a witch's laugh (with no included witch), and ravens. I applaud their choices! The light is nice and bright, and you can store two spare slides inside the coffin. Sadly there's no room to store figures inside of it, which is something of a disappointment.
I would also recommend playing with a UV flashlight if you have one - the ghostly curtains glow in the dark, plus the painted footprints dazzle when hit by black light.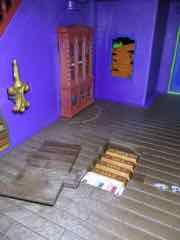 The figures are decent, but not a selling point. Fred and Daphne are repeats from the Mystery Machine van set, while Scooby-Doo himself is in several other sets. The two humans are consistent with other figures, but Daphne's feet don't quite fit the bill. There's a spot in a rotating passageway and her feet can't quite click onto it like Fred or the Dracula, but all the figures can stand and sit with the clothing caveats - Daphne's dress has to come off for her to sit, and Drac's cape can get in the way.
Drac's got big cartoony eyes and a silly smile, with a suit that reads more "Frankenstein's Monster" than "Vampire." It's sort of baggy, with snap-on cuffs and a cape you can plug on the collar. It makes it look like he has a turtleneck, plus there's a reversible face to "unmask" him. It's clever. I've got other vampire figures I like better, but this one is good.
Scooby's the same, but with an upgraded head. A rubber hat adapter is included so he can wear a Sherlock Holmes hat, and adapters are included so his "hands" can hold certain accessories. If you've got another Scooby figure, this one doesn't do anything different - the jaw opens, the tail moves, it even has a display stand so he can walk upright.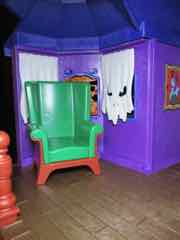 The accessory dump impresses. Cat, mice, spiders, fishbones, bats, and a bear skin rug are a great start. A wine glass has a plug-in red piece to add wine - or blood - take your pick. It's jam-packed with bones, a hot dog on a stick, a trash can, an empty pizza box, a ketchup bottle, and so much stuff I can't understand why it's there. You've got a magnifying glass, a broken mirror, and for some reason European currency. I guess they were too lazy to print US bills for a very US property - it's kind of bizarre, but so are the plastic gold bars. In the old days, we'd get metal ones.
It's kind of expensive for what you get, but so are most sizable Playmobil buildings. With the added electronics and a likely upcharge due to the license, you may find more joy in other playsets - but there are no other Scooby-Doo Haunted Houses. While I find the plastic non-chain chain for the chandelier disappointing, other elements like the false floor, the trapdoor, and so many other features are a lot of fun. And for some reason there's a gun in here, which is oddly unsettling given the reduction in guns for most American-focused toddler toys. I wouldn't recommend it to everybody - but if you like Playmobil or think you could use a good haunted house to display your figures, give this a look. Also the box is packed with air, so don't expect it to be as huge as the packaging may promise.
--Adam Pawlus
Additional Images

See more Playmobil toys in Figure of the Day:
Day 94: Playmobil African Safari 4831 Ostriches Set
Day 125: Playmobil Specials 4683 Mongollian Warrior Action Figure
Day 132: Playmobil Specials Cave Man Action Figure
Day 140: Playmobil Specials Palace Guard Action Figure
Day 163: Playmobil Figures Ghost Action Figure
Day 186: Playmobil Top Agents Secret Agent Action Figure
Day 266: Playmobil Dinosaurs 4173 Pteranodon
Day 271: Playmobil "Fi?ures" Figures Uncle Sam Action Figure
Day 276: Playmobil "Fi?ures" Figures Zorro Action Figure
Day 322: Playmobil Treasure Hunters 4848 Temple Guardian Figure
Day 363: Playmobil www.tourismus.nuernberg.de 6107 Albrecht Durer Figure
Day 764: Playmobil Stone Age 5105 Mammoth Family Set
Day 802: Playmobil Dino 5232 Stegosaurus
Day 811: Playmobil Specials 4748 Samurai
Day 887: Playmobil Toy Fair 2014 40th Birthday Knight
Day 1,030: Playmobil City Life 5605 PopStars! Band
Day 1,139: Playmobil School 4329 School Band
Day 1,148: Playmobil Dragon Tournament Knight Toy Fair Promo Figure
Day 1,154: Playmobil Magician with Genie Lamp Figure
Day 1,354: Playmobil Play Box 5638 Haunted House
Day 1,401: Playmobil 2016 Toy Fair Girl Figure
Day 1,451: Playmobil "Fi?ures" Figures Cat Burglar
Day 1,461: Playmobil 5197 Sports & Action Table Tennis Players
Day 1,499: Playmobil 4766 Special Plus Table Pizza Baker
Day 1,557: Playmobil "Fi?ures" Figures Asian Rice Worker
Day 1,577: Playmobil Toy Fair 2014 40th Birthday Princess
Day 1,581: Playmobil 2016 Toy Fair Pirate Figure
Day 1,583: Playmobil 5152 Future Planet E-Rangers Collectobot Figure
Day 1,584: Playmobil 6687 Super 4 Lost Island Figure Set
Day 1,585: Playmobil Figures Prisoner
Day 1,586: Playmobil 5572 City Life Ball Pit Set
Day 1,587: Playmobil 4741 Specials Space Ranger
Day 1,588: Playmobil 5562 Wild Life Beavers with Backpacker
Day 1,589: Playmobil 5239 Vampires
Day 1,590: Playmobil "Fi?ures" Figures Tall Ghost
Day 1,591: Playmobil Wild Life 5559 Inflatable Boat with Explorers
Day 1,592: Playmobil 5898 4-Wheel Drive with Kayak and Ranger
Day 1,598: Playmobil "Fi?ures" Figures Adventuress
Day 1,607: Playmobil "Fi?ures" Figures Granny
Day 1,609: Playmobil "Fi?ures" Figures France Fan
Day 1,613: Playmobil "Fi?ures" Figures Dark Fairy
Day 1,617: Playmobil 6824 Playmo-Friends Werewolf
Day 1,618: Playmobil 6823 Playmo-Friends Space Warrior
Day 1,631: Playmobil Knights Giant Troll with Dwarf Fighters
Day 1,641: Playmobil Playmo-Friends Flame Warrior
Day 1,650: Funko x Playmobil Willy Wonka
Day 1,654: Playmobil "Fi?ures" Figures Sauna Woman
Day 1,657: Funko x Playmobil Teenage Mutant Ninja Turtles Black and White Raphael
Day 1,662: Playmobil Tigers
Day 1,684: Playmobil NHL 5069 Zamboni
Day 1,699: Playmobil "Fi?ures" Figures Queen of Hearts
Day 1,728: Playmobil "Fi?ures" Figures Space Ranger
Day 1,731: Playmobil Ghostbusters 9222 Slimer
Day 1,737: Playmobil "Fi?ures" Figures Fire Wizard
Day 1,762: Playmobil 6099 Martin Luther
Day 1,764: Playmobil 5610 City Life Take Along
Day 1,772: Playmobil 6647 Alpacas
Day 1,774: Playmobil Summer Fun 5270 Porter with Luggage Cart
Day 1,784: Playmobil 6649 Penguins
Day 1,786: Playmobil 2017 Toy Fair Roman Troop Figure
Day 1,787: Playmobil "Fi?ures" Figures Zombie
Day 1,791: Playmobil Ghostbusters 9221 Stay Puft Marshmallow Man
Day 1,796: Playmobil "Fi?ures" Figures Ghoul Butler
Day 1,799: Playmobil "Fi?ures" Figures Pirate
Day 1,804: Playmobil "Fi?ures" Figures Gnome
Day 1,810: Playmobil "Fi?ures" Figures Captain America
Day 1,813: Playmobil Ghostbusters 9223 Venkman and Terror Dogs
Day 1,822: Playmobil "Fi?ures" Figures Flaming Skull
Day 1,828: Playmobil "Fi?ures" Figures Gladiator
Day 1,832: Funko x Playmobil Doctor Who Fourth Doctor
Day 1,836: Playmobil 6639 Gorillas
Day 1,839: Playmobil "Fi?ures" Figures Baker
Day 1,844: Playmobil Pianist with Piano
Day 1,851: Playmobil Ghostbusters 9224 Spengler and Ghost
Day 1,856: Playmobil "Fi?ures" Figures Buffalo Warrior
Day 1,861: Playmobil "Fi?ures" Figures Princess
Day 1,865: Playmobil 6525 Detective
Day 1,892: Playmobil "Fi?ures" Figures Rock Star
Day 1,899: Playmobil Special Plus Architect
Day 1,908: Funko x Playmobil Teenage Mutant Ninja Turtles Shredder
Day 1,913: Playmobil "Fi?ures" Figures Viking
Day 1,919: Playmobil "Fi?ures" Figures Steampunk Warrior
Day 1,934: Playmobil "Fi?ures" Figures Fisherwoman
Day 1,952: Playmobil 2018 Toy Fair Fairy Figure
Day 1,967: Playmobil 2018 Toy Fair Mountain Rescue Figure
Day 1,990: Playmobil 2013 Toy Fair Dinos Explorer Figure
Day 2,058: Playmobil Werewolf and Witch
Day 2,076: Playmobil The Real Ghostbusters 9387 Zeddemore with Aqua Scooter
Day 2,079: Playmobil 2019 Toy Fair Pet Hotel Cat Expert Figure
Day 2,082: Playmobil The Real Ghostbusters 9386 Spengler with Cage Car
Day 2,083: Playmobil Add-Ons 9804 Fire Brigade Accessories
Day 2,136: Playmobil Castle 6042 Castle Ghost with Rainbow LED
Day 2,139: Playmobil Mummy and Grim Reaper
Day 2,193: Playmobil 2020 Toy Fair Emergency Doctor Figure
Day 2,205: Playmobil Back to the Future DeLorean Time Machine Vehicle with Figures
Day 2,219: Playmobil Scooby-Doo! 70287 Scooby and Shaggy with Ghost Figures
Day 2,231: Playmobil Back to the Future Marty McFly and Dr. Emmett Brown Figures
Day 2,243: Playmobil Scooby-Doo! 70361 Adventure in the Mystery Mansion Playset
Day 2,255: Playmobil Back to the Future Advent Calendar with Figures
Day 2,325: Playmobil 2020 Toy Fair Mermaid Figure
Day 2,326: Playmobil 70177 Volkswagen Volkswagen Beetle
Day 2,327: Playmobil "Fi?ures" Figures Confederate Soldier
Day 2,328: Playmobil The Real Ghostbusters 9388 Stantz with Sky Bike
Day 2,329: Playmobil Pirates Ghost Whale Skeleton
Day 2,330: Playmobil 5754 Adventure Croc Boat
Day 2,331: Playmobil 5603 City Life Tour Bus
Day 2,332: Playmobil Scooby-Doo! 70286 Mystery Machine with Figures
Day 2,333: Playmobil The Movie Robotitron with Drone
Day 2,348: Playmobil "Fi?ures" Figures Witch
Day 2,350: Playmobil Vampire and Frankenstein's Monster
Day 2,352: Playmobil 70634 Back to the Future Part II Hoverboard Chase
Day 2,354: Playmobil 70548 Star Trek U.S.S. Enterprise NCC-1701 Playset
Day 2,356: Playmobil "Fi?ures" Figures Day of the Dead Woman
Day 2,360: Playmobil "Fi?ures" Figures Hula Girl
Day 2,362: Playmobil "Fi?ures" Figures Hippie
Day 2,363: Playmobil 70576 Back to the Future Part III Advent Calendar with Figures
Day 2,365: Playmobil 70026 "Fi?ures" Figures Fire Sorceress
Day 2,367: Playmobil "Fi?ures" Figures Skeleton Warrior
Day 2,368: Playmobil 5753 Seasonal Photo Santa Claus Figures
Day 2,370: Playmobil "Fi?ures" Figures Knight
Day 2,372: Playmobil Adventure Treasure Robber Crawler
Day 2,373: Playmobil 70148 "Fi?ures" Figures Ninja
Day 2,375: Playmobil The Real Ghostbusters 9385 Venkman with Helicopter
Day 2,377: Playmobil "Fi?ures" Figures Cowgirl
Day 2,378: Playmobil 70148 "Fi?ures" Figures Puppeteer
Day 2,380: Playmobil 70148 "Fi?ures" Figures Opera Fan
Day 2,382: Playmobil 70148 "Fi?ures" Figures Duck Feeder
Day 2,390: Playmobil 71060 "Fi?ures" Figures Steampunk
Day 2,398: Playmobil 2013 Toy Fair Dinosaur Explorer Figure
Day 2,408: Playmobil 70876 Special Plus Child with Monster
Day 2,415: Playmobil Special Plus Special Operations Agent
Day 2,422: Playmobil "Fi?ures" Figures Day of the Dead Man
Day 2,428: Playmobil 70873 Specials Plus Man with E-Scooter Action Figure
Day 2,430: Playmobil "Fi?ures" Figures Skater Action Figure
Day 2,432: Playmobil "Fi?ures" Figures Gargoyle
Day 2,466: Playmobil "Fi?ures" Figures Vampire
Day 2,475: Playmobil "Fi?ures" Figures Raffle Man
Day 2,481: Playmobil "Fi?ures" Figures Paintball Man
Day 2,496: Schaper Playmobil 3591 Space Series Astronaut and Robot Figures
Day 2,518: Playmobil "Fi?ures" Figures Gnome
Day 2,538: Playmobil 71010 Wiltopia Boat Trip to the Manatees Set

See more Scooby-Doo figures in Figure of the Day:
Day 1,091: Wendy's Scooby-Doo Monster Mystery Figure
Day 1,488: Sonic Be Cool Scooby-Doo! Bobble Head
Day 2,219: Playmobil Scooby-Doo! 70287 Scooby and Shaggy with Ghost Figures
Day 2,243: Playmobil Scooby-Doo! 70361 Adventure in the Mystery Mansion Playset
Day 2,332: Playmobil Scooby-Doo! 70286 Mystery Machine with Figures