Autobot Sideswipe
Just Different Enough to Make You Mad?

Transformers Generations War for Cybertron Trilogy Walmart Exclusive Netflix Deluxe
Item No.: Asst. E9489 No. E9505
Manufacturer: Hasbro
Includes: W-10 Photo-Pulsar Proton Launcher, W-5 Gyro Blaster
Action Feature: Transforms from Robot to Car
Retail: $19.99
Availability: est. April 2020 (February 2020 at Toy Fair)
Other: Battle damage deco

PREVIOUS
RSS
NEXT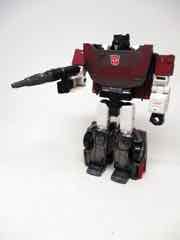 This was a strange one - at Toy Fair, Hasbro showed this new Autobot Sideswipe in their panel as part of a new War for Cybertron Trilogy assortment for Walmart. And then handed it out to us in the gift bags as we left the building! I wasn't sure if I was going to buy it because the idea of buying another Sideswipe with more damage deco on it seemed unnecessary - it came with a new build-a-Teletraan I piece to sweeten the deal - but there's no mention of it in-package.
The 5-inch robot is kind of short for a deluxe, but it's fairly good and we reviewed the mold Sideswipe [FOTD #2,047] last year. The toy is basically an improved (depending on your preferences) all-new paint mask for the same mold. This time Sideswipe is mostly tweaked with the red plastic now cast in dark grey - but painted red! - and the off-white plastic now a whiter plastic. The decision to paint the grey body parts in red is certainly strange at first, but it works - it serves as a sort of primer under the red paint. What's more, the red has some added scuffing on the hood in addition to the wear and tear on the car parts. What's more, the shins have all-new paint wear patterns and it's a vast improvement over the last version. The white parts are still clean, though - so that's a little weird, and the waist is now clean black instead of scuffed in silver. Why the Decepticons went for the crotch, we may never know.
As with before, the figure has 5mm holes for weapons in the fists and arms, plus another one in the back. There are a smattering of 3mm pegs for "C.O.M.B.A.T." system blast effects, and the articulation is still excellent. About 20 points of articulation means that this isn't as good as a Masterpiece edition toy, but it's simpler, cheaper, and can be posed about as well as those higher-dollar toys.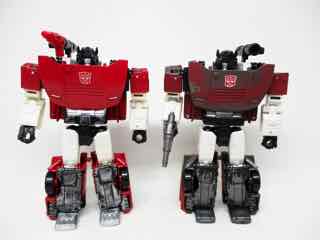 Turning it into a car is a snap - the legs open up to shove the feet in there, the arms tuck under the car, and it all just plain works. Assuming you have the first release, and the G2 version, and Red Alert, you've probably got this one figured out by now.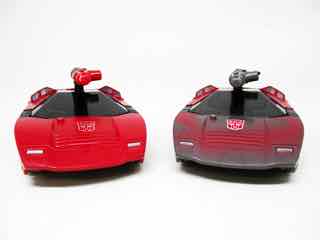 This is part of an assortment of toys to promote the Netflix show at Walmart, with new white, black, and red packaging and a build-a-playset. The packaging doesn't call out the other toys in the program, or the playset, which strikes me as an ongoing problem with Transformers and Hasbro toys in general. When we were kids, you'd get a catalog or something to show you the next toy you'd want - today there's nothing on or inside the packaging to promote the other toys, and now they don't even number them on this series. Other toys in this exclusive wave include Chromia (damage deco), Hound (damage deco), Decepticon Mirage (totally new deco), Scrapface (new character), Hotlink (new redeco of Starscream), Megatron (fancy paint), and Ultra Magnus (it's a secret.)
While completely unnecessary at this point, this new flavor of Sideswipe is probably the best of them. If you don't have a Sideswipe yet, this is the one you want - and because of the playset piece, you might still want it anyway. I'm not a big fan of same-character same-color deco variants, but I can't deny that Hasbro did a bang-up job grizzling out the previously cherry finish of the 2018 release. Since the robot head is the same between releases, get whichever one you prefer - but I'd say this is the better of the two.
--Adam Pawlus
Additional Images

Click here to see more Hasbro figures in Figure of the Day.
Click here to see more Transformers figures in Figure of the Day.

Want to buy this figure? Check Transformers availability at our sponsors:
Entertainment Earth