Berserker Predator
His Kenner-Style Love for You Is Like a Truck

Predator Classics Series
Item No.: Asst. 996N031919? No. ???
Manufacturer: Neca
Includes: Knife, mask, rocket, rocket launcher
Action Feature: Fires rocket, removable mask, removable blade, removable launcher
Retail: $14.99
Availability: December 2019
Other: Menace Walton Goggins

PREVIOUS
RSS
NEXT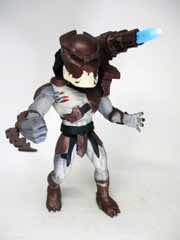 Toys like the Berserker Predator were the norm by the 1990s. It wasn't unusual for Kenner to make chunky kid toys out of R-rated action movie properties, and in the last decade NECA made collector versions of those kid-oriented toys. In an abrupt change of pace, the Berserker Predator and companion Neomorph Alien figures are a 1990s-flavored tribute to the 21st century entries in those two movie franchises.
With the exposed muscle/brain elements, huge mandibles, and simple eye paint jobs, this thing is an absolute treat of a figure - just remember, it's a collector toy masquerading as a kid toy. The Berserker Predator has existed in numerous other collectible formats based on the appearance in The Predator (or "the one with Eric Foreman and Machete") and is the first Kenner-style figure from a Predator movie in decades. Given none have been announced for a while, this might be a one-off.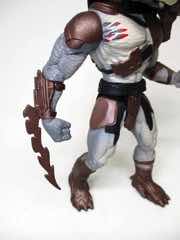 NECA absolutely nailed the packaging and sculpt of this figure - once assembled, it looks like it belongs next to your vintage Lava Planet Predator and Scavage Predator figures from Kenner. It has an extra swivel joint on its right wrist so you can pose the knife-stabbling hand in more interesting ways, but otherwise it looks and feels a lot like the old Kenner figures with the action pose arm and leg. This was popular back then, but not always beloved by the older collector. Since I was just slightly older than the target age for these goofy toys, I loved 'em - and I like this one a lot too.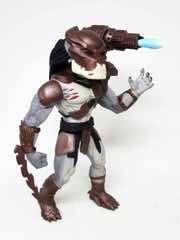 The difference in aesthetics and safety collide to make this figure good in some ways and not in others. The blade on the forearm and the shoulder cannon are removable pieces and easily pop off - you might want to glue them down, but both are a very tight fit. I assume if you did glue them down, the blade would snap and the cannon could break if it fell on a hard surface. His helmet is an extremely tight fit, especially when it's cold, so you might want to warm it up in your hands a bit before forcibly snapping it over his mandibles. The blue-to-white firing rocket looks better than what Kenner did back in the day, as painting the rockets was something of a rarity back then. We had unpainted accessories, and that's how we liked it dagnabbit!
The Berserker Predator's mask is also decorated to have the bony underbite mandible with painted black eyes. This is better than we got back then, and it does feel a little oversized. Removable masks and helmets in the 1980s and 1990s were always a bit oversized for action figures of those eras as manufacturers were still getting the material thickness, flexibility, and clearances right - and we still have challenges today. The oversized look does give it an added air of authenticity. I would've loved for him to be a tiny bit taller, as they were in the movies - but it's a Kenner-style figure. Getting things wrong is part of the plan! If it was completely authentic, it would be a bore.
The figure doesn't appear to be molded in color, but rather completely painted - which is the norm for many NECA figures. It gives the figure a richer look and feel, as opposed to Kenner's mostly-molded-in-color $5-$6 wonders. The plastic itself feels a bit stiffer with less give to it, giving it a look and feel closer to a hand-painted hardcopy of a toy rather than an actual play-with-it Kenner action figure. Adults should enjoy posing this figure and shooting the rocket, but I don't think it would hold up in a toy box like your 25+-year-old originals from Kenner. It's a wonderful one-off that should make your day just a little bit brighter as you get older and become less relevant as a group to which companies will want to market their wares as you yell at today's kids to keep off your long while reminding them how your video games could be played with one button and one joystick. This figure has a sculpt and paint job that I would consider to be too good for the 1990s, but it's just fine for right now.
--Adam Pawlus
Additional Images

See more NECA figures in Figure of the Day:
Day 213: NECA Iggy Pop Action Figure
Day 541: NECA Terminator Kyle Reese Action Figure
Day 635: NECA Portal 2 Chell Action Figure
Day 2,162: NECA Predator Classics Series Berserker Predator Action Figure
Day 2,163: NECA Aliens Classics Series Neomorph Alien Action Figure

See more Predator figures in Figure of the Day:
Day 211: Kenner Predator Cracked Tusk Predator Action Figure
Day 285: Kenner ALIENS Hive Wars Warrior Predator
Day 356: Kenner Action Masters Predator
Day 945: Super7 x Funko Predator (Invisible, Bloody) Action Figure
Day 1,029: Super7 x Funko Predator (Attack Mode) ReAction Figure
Day 1,059: Funko Predator (Masked) ReAction Figure
Day 1,102: Funko Predator (Unmasked) ReAction Figure
Day 1,111: Funko Predator (Glow Version) ReAction Figure
Day 1,187: Funko Predator (Invisible) ReAction Figure
Day 1,208: Funko Predator (Thermal Vision) ReAction Figure
Day 1,350: Funko Hikari Vinyl Predator Original Predator Unmasked
Day 1,929: Titan Merchandise Alien vs. Predator The Whoever Wins Collection Scar
Day 2,162: NECA Predator Classics Series Berserker Predator Action Figure
Day 2,278: Lanard Toy Predator 7-Inch Jungle Hunter Predator Action Figure
Day 2,286: Lanard Toy Predator 7-Inch City Hunter Predator Action Figure

Want to buy this figure or others like it? Check Predator availability at our sponsors:
Entertainment Earth