Ramjet & Dirge
WFC-E27

Transformers Generations War for Cybertron Earthrise Voyager Amazon Exclusive 2-Pack
Item No.: No. E8623
Manufacturer: Hasbro
Includes: 2 robots
Action Feature: Transforms from jets to robots
Retail: $59.99
Availability: August 2020
Other: Ramjet & Dirge again, again

PREVIOUS
RSS
NEXT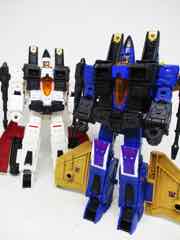 Any time Hasbro makes a new Starscream, fans start to ask for Thundercracker, Skywarp, and others like Ramjet & Dirge. It's an obligation - they're relatively minor characters and exist mostly as Starscreamy goons for a brief period in the cartoon. This bigger scale seems to be a definitive line for super-articulated versions of the classic 1984-1986 (read: cartoon) characters, so it makes a lot of sense that these would come out and make a great exclusive for someone.
These figures show what does and doesn't work with updates of old toys. The original toys had wings molded in color with features resulting from toy designers making the best possible robot out of a pretty good vehicle mode. The cone heads come out of an alternate transformation of those toys, but now we're seeing Hasbro and Takara-Tomy have to use extensive paint and strange tooling decisions to replicate the look of those original toys. The good news is that they look a lot like the robots in your head from the cartoons, but the bad news is all that paint means more paint scraping is likely. Keeping these nice may be tough, but if these figures will live on your shelf or in a diorama? They're going to be fine.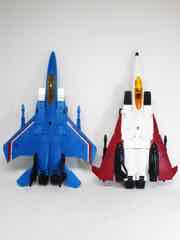 Each 7-inch robot is derives from Earthrise Starscream [FOTD #2,181] with expected changes. Each has a new, distinctive head - one is even screaming! - with a cone head. The cone of the jet mode hangs off the back as kibble, which means you get twice the pointy parts. Each has a unique set of wings, new blasters, new shins, and even a new chest - many elements you probably wouldn't notice at all and were probably an unneeded expense in the development of the toys. I appreciate going the extra mile usually, but the shins don't look a lot more like the original toys - but they do look a bit more like the cartoon. Just a bit. They also have orange cockpit chests for some reason, lighter faces than the cartoon, and seem sort of like a pastiche of the Decepticon goons without being exactly like any specific version of those characters. It's probably the right move, but it also leaves me wondering what the priorities and directives were for their designs.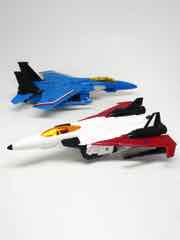 Articulation and transformation is effectively exactly like Starscream/Thundercracker/Skywarp other than the wings. As the Clone Troopers/droid repaints/etc. of the brand, these guys are the repaints you demand to buy, and probably don't have any particularly strong affinity toward. I like the colors, though, and the jet modes are no slouch. Reproduction sticker makers will probably make a killing, though - Dirge is missing the Decepticon sigil on the plane nose and the distinctive stripes on the wings. Ramjet is missing the blue wing stripes and abundant symbols as well. The 1985 jet toys also have distinctive arm cannons, and while Hasbro did tool new ones for the 2020 coneheads they don't match the original toys at all. This isn't necessarily a problem - it's just a different take on an old toy, which gives you the odd hybrid of something that's meant to be a classic update while also being a new take on the old toy. Which is better? Well... I don't know. I found the 2020 ones to be less pleasing due to the abundant paint catching my eye as something odd.
Dirge's wings also look odd - the brown fins up front don't sit flush with the blue of the body of the jet, so it looks a little bit off. It's admirable that they got this out of the Starscream design, but because it's not perfect I could see demand for upgrade part packs or another overhaul of the family of jets again. (I emphatically do not want to rebuy the entire crew again.)
It's my hope that this is the final family of Starscream repaints that I collect - the $10 "Deluxe" mold had so many variations, rare exclusive and otherwise, that I missed. These guys are a bit bigger and generally seem more interesting to look at, so I'm all for keeping them and also getting Thrust as well as any other hypothetical repaints. If Hasbro changes the mold or scale again, I don't think I'd be as interested - but if they want to give us G2 Ramjet and Sunstorm and Slipstream (new mold, of course) and generic Air Warriors, I'd buy them all. We're cycling a nostalgia drain - counting the "Classics/Generations" and "Masterpiece" would make these the third significant overhaul of the coneheads molds - and I assume we'll have another set of them before 2030.
--Adam Pawlus
Additional Images

Click here to see more Hasbro figures in Figure of the Day.
Click here to see more Transformers figures in Figure of the Day.

Want to buy this figure? Check Transformers availability at our sponsors:
Entertainment Earth