Spinister
WFC-S48

Transformers Generations War for Cybertron Siege Deluxe
Item No.: Asst. E3432 No. E3536
Manufacturer: Hasbro
Includes: NFM Dual-Fusion Cannon, Spin-Blast Particle Beam Cannon
Action Feature: Transforms from Robot Cybertronianish Helicopter
Retail: $19.99
Availability: November 2019
Other: Targetmaster sans Targetmasters

PREVIOUS
RSS
NEXT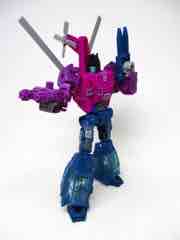 I have good news and bad news about Spinister, which you no doubt know. This exquisitely jointed figure makes up for old times when the figure was largely without articulation, but Hasbro packaged it with two blasters rather than two Targetmaster partners this time. The good news is that those missing partners are available elsewhere - Shrute [Hairsplitter, FOTD #2,147] is in the Phantomstrike Squadron set at Amazon while Singe is sold individually for six bucks. If you need Targetmasters, you can get them - but the coloring is a little different this time out. But we're here to talk about Spinister, which is an excellent purple/blue/pink robot standing about 6-inches tall at the top of the head. And you should get it if you see it, at least to mess with its strange transformation.
Spinister's robot form is a gem. Initially mistaken as a co-tool of Springer, Spinister has a lot going on here. The two blasters work nicely with 3mm tips to add fire blasts! The head has painted eyes and a painted face plate. There's metallic detail everywhere, including some decent - if wholly unnecessary - battle scuffing on the shins. Why on the shins? I have no idea. The figure lost a few paint applications on the way to the stores, but it's still pretty good - I didn't even realize the waist and shoulder elements were gone at first.
With double-jointed elbows needed for transformation, Spinister is no slouch. You get rocker ankles under a fake cockpit for one of his legs, excellent leg movement, and a range of movement that's close to one of those prestige 6-inch human figures from Marvel or Star Wars. Well... maybe not quite that good, but very close. The detail sculpted in the figure isn't as overwhelming as earlier Siege toys, but looks advanced enough to remind you it's no longer the 1980s - despite how his colors may look. I will say the blades on the back are a little wobbly, but the "V" position stays in place surprisingly well. Takara-Tomy and Hasbro did a fine job engineering this figure, and I'm so glad they did so I can not regret having missed the TFSS Combiner figure a few years ago.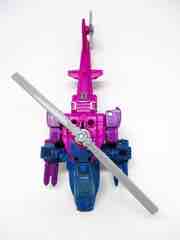 This was a tricky transformation - I had to pick up the instructions pretty quickly. The unusual feet resulted in numerous twists and turns, with one of the shins having to be tucked under the chopper body just-so. And it barely works, I had to massage it in place to make it fit right. The chest and back propeller require a pretty fascinating level of gymnastics for a deluxe toy, with this coming off as decades beyond the complexity you got out of Alpha Bravo (and Vortex and Blades) a few years ago. That was a simple toy - this is one that requires some patience. Kudos to the designers for coming up with a wildly different transformation, complete with a landing skid to boot.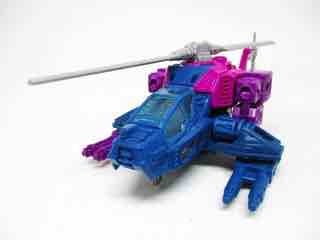 The helicopter is, unsurprisingly, a helicopter. Aside from the landing skid and spinning propellers, it doesn't do much that is likely to count as an action feature. It looks cool, the transformation is interesting, and it doesn't have much interesting battle damage paint to speak of - but you get a clear canopy, and that's nifty. With ample detailing, the figure isn't going to disappoint you with any flat, under-sculpted surfaces - but there's not much I can point to as being a fascinating landmark. It's bright, it's weird, I like it.
I don't expect a wild redeco or retool of this one, but Hasbro has proven to be clever when it comes to squeezing neat or obscure ideas out of existing molds. Everybody is a new head away from being a forgotten mail-away character or Japanese import, so I'm thrilled that Spinister exists as a great figure that could double as the basis for something else new later.
--Adam Pawlus
Additional Images

Click here to see more Hasbro figures in Figure of the Day.
Click here to see more Transformers figures in Figure of the Day.

Want to buy this figure? Check Transformers availability at our sponsors:
Entertainment Earth