Gremlin
B&W Kenner-Style 3 3/4-inch Action Figure

The Twilight Zone Retro 3 3/4-inch Action Figure
Item No.: Asst. ??? No. 05102
Manufacturer: Bif Bang Pow!
Includes: Nothing
Action Feature: n/a
Retail: est. $9.99
Availability: July 2014
Other: Written and photographed in 2014!

PREVIOUS
RSS
NEXT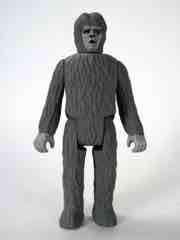 One of The Twilight Zone's surprisingly few creatures or monsters that aren't just evil people or jerks, the Gremlin was one of the first figures on the short list for production as a 3 3/4-inch action figure. (I should know, I was there when the list was being written.) Due to the monochromatic nature of the show, the main release is black and white while the convention exclusive flavor was in full color, assuming that full color is one color and that color is green.
The tubby Tiberious terror is just a tiny bit shorter than his casemates, and is actually a smidgen shorter than your old 1979 Boba Fett figure. The figure went through many iterations and changes which I can't exactly show you, but things like hand position, neck articulation, and especially hip articulation were agonized over in great depth. The decision ended up being a figure without the "v-crotch" or the likes of Ewoks, and also to abandon the no-neck policy of 1978 Chewbacca - because, let's face it, we like turning necks. Due to the strange design of the Gremlin, an articulated neck actually works really well in this figure's furry design.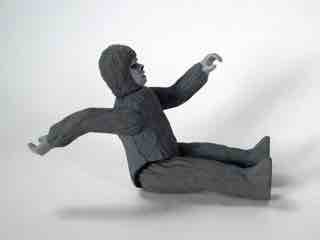 Taking a cue form the 1979 unproduced Alien monster, the Gremlin has his palms facing down to give him more of a menacing lurch than other creatures in the line. Figures with hands at this angle weren't overly common, but it's a good design choice if you ask me... especially since I lobbied for it. The figure has 5 joints and while he is cast in slightly rubbery and less glossy plastic, he's still pretty solid. He can stand with no problems, and has foot pegs sized for modern 3 3/4-inches. That is to say, use your stands from 1995+ Star Wars or 2007+ G.I. Joe for this one.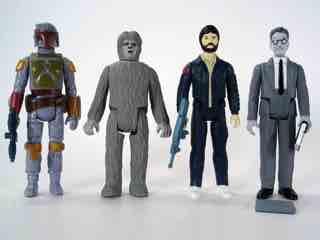 Sculpting fur is tough - I sure as heck can't do it - so the figure takes cues from older Kenner Ewoks and other similar hairballs. The suit itself looks less than realistic on-screen, so the figure's adaptation of the classic plastic hair look really works for the toy. While the materials may not feel 100% retro, the sculpt and style certainly does. I even love his hands - they feel a lot like the figures around 1980, except with bigger paws and better figure definition. (If that's a benefit or a demerit, well, that's up to you.)
For me the most shocking thing about this figure - even though I had some input on it - is that it passes my Landspeeder TestTM, which means that he can fit just fine in the seat of a Kenner 1978 or 1995 Landspeeder. This range of movement is, to me, key to the success of any "retro" figure in this style because if it can't fit in a vehicle, it's not a great toy... and action figures of this era were primarily created as playthings for children first and foremost. This figure in particular manages to hit that requirement nicely, and his hands can easily hold other 3 3/4-inch weapons.
The Mego format seemed like a good fit for the Gremlin, but so does the Kenner format. Old special effects render nicely as plastic toys, especially in older styles. If you only get one figure from the line, this is one of the better choices - it comes very close to replicating that old feel, while also being fun to futz and play with. Worthwhile!
--Adam Pawlus
Since this was written in 2014, the figure has been produced in green as a variant. Both versions have since gotten to be somewhat expensive. I still think this is one of the very best figures in the line.
Additional Images

See more Bif Bang Pow! action figures in Figure of the Day:
Day 3: Venture Bros. The Monarch Action Figure
Day 192: Venture Bros. Dean Venture Action Figure
Day 289: Venture Bros. Jonas Venture Action Figure
Day 297: Venture Bros. Rusty Venture Action Figure
Day 303: Bif Bang Pow! Venture Bros. Dr. Girlfriend Action Figure
Day 308: Bif Bang Pow! Doctor Who Fourth Doctor Action Figure
Day 313: Bif Bang Pow! Venture Bros. Dr. Orpheus Action Figure
Day 362: Bif Bang Pow! Venture Bros. Hank Venture Action Figure
Day 439: Bif Bang Pow! Venture Bros. Phantom Limb Action Figure
Day 490: Bif Bang Pow! Venture Bros. Bloody Brock Samson Action Figure
Day 499: Bif Bang Pow! Venture Bros. Brock Samson Action Figure
Day 666: Bif Bang Pow! Venture Bros. Dean Venture Action Figure
Day 666: Bif Bang Pow! Venture Bros. Hank Venture Action Figure
Day 699: Bif Bang Pow! Venture Bros. Molotov Action Figure
Day 732: Bif Bang Pow! Venture Bros. Dr. Mrs. The Monarch Action Figure
Day 771: Bif Bang Pow! Venture Bros. Brock Samson Action Figure
Day 867: Bif Bang Pow! Venture Bros. Unpainted Test Shot Monarch Action Figure
Day 970: Bif Bang Pow! The Twilight Zone Henry Bemis Action Figure
Day 1,003: Bif Bang Pow! Venture Bros. Monarch Action Figure
Day 1,027: Bif Bang Pow! The Twilight Zone Kanamit (Work Uniform) Action Figure
Day 1,054: Bif Bang Pow! Star Trek: The Next Generation Lieutenant Worf
Day 1,063: Bif Bang Pow! The Twilight Zone Talky Tina Action Figure
Day 1,388: Bif Bang Pow! Peg Pals Batman Armored
Day 1,928: Bif Bang Pow! DC Comics Pin Mate Wonder Woman
Day 2,134: Bif Bang Pow! The Twilight Zone Gremlin

See more The Twilight Zone figures in Figure of the Day:
Day 970: Bif Bang Pow! The Twilight Zone Henry Bemis Action Figure
Day 1,027: Bif Bang Pow! The Twilight Zone Kanamit (Work Uniform) Action Figure
Day 1,063: Bif Bang Pow! The Twilight Zone Talky Tina Action Figure
Day 2,134: Bif Bang Pow! The Twilight Zone Gremlin