5981 Raid VPR
Technically Space Police III, But Who's Counting?

Space Police Boxed Set
Item No.: No. 5981
Manufacturer: LEGO
Includes: 60 pieces - 2 figures
Action Feature: Build old toys
Retail: $9.99
Availability: December 2009
Other: Hidden Blacktron Homage

PREVIOUS
RSS
NEXT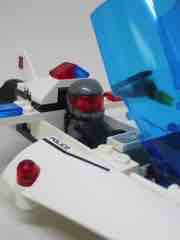 I don't buy as much LEGO as I used to - it's good, but it's almost a lifestyle. I couldn't pass on the 5981 Raid VPR because it was basically the Vic Viper from Gradius as a cop car, for ten bucks, and with a Blacktron alien figure. You can put it together quickly and the box has a lot of air in it, but it's cool. We don't get a lot of space-for-the-sake-of-space sets, but we got a few neat ones like Alien Conquest in the last few years. "Classic Space" homages pop up here and there, especially in the blind bag figure lines.
The figures are good. The Space Police Commando has two faces, just rotate it around to change his mood. The red visor reminds me of the original Space Police sets I had as a kid, but the dark grey uniforms are new. They're also not really specifically referencing any particular police uniform of which I am aware - it works as an adventurer too. There's a badge brinted on his torso, plus you'll see tons of pockets on a printed-on belt. The figure has a black air tank, plus printing on both sides of his body. It's a good one - the same parts were used for some other blind bag space figures later on.
The aliens in this line got names! Rench is a squiddy fellow with big black eyes, an open mouth, and big teeth. It looks amazingly animated - the flow of the face and the appendages hanging off the head make it seem like he's running or riding a bike, and the costume it pretty awesome. It has a "Blacktron II" B on the vest, and for some reason a wallet chain hangs off his hip. The figure has knee pads and a skull belt buckle, making it look like a cross between a variety of different figure outfits. There aren't a lot of Blacktron tributes, so I was really pumped to see this when it came out nearly ten years ago.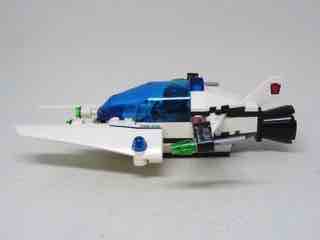 The ship is arguably the reason to buy it. If you're familiar with the Vic Viper from Gradius or Life Force games - or possibly Solar Assault but probably not - you'll recognize the mandibles forking out front, and the wing sticking up from the back. The game publisher Konami doesn't do a lot of Vic Viper merchandise, so something like this and the little fighter in the Alien Conquest Earth Defense HQ are nice little nods to something that would've made for an amazing LEGO kit. Here, it has an opening cockpit, lots of "lights," and flick rockets on the wings. The price-per-piece wasn't exactly a wonderful value, but it was a fun enough build for the asking price. Even if it does have - gag - stickers you have to apply.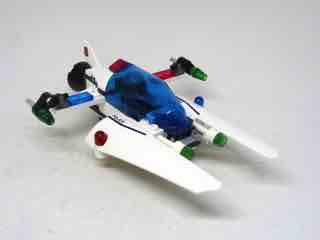 I'd love to see more ships like this - even if it's the same silhouette. Especially if it's the same silhouette. The LEGO Movie series gave us some classic Space coloring, and I'd love to see them make another full theme for Benny and his pals that have more ships like this. Heck, if it worked for Unikitty, maybe there's room for this too. If you can get this nifty starfighter, or replicate it through parts in your bins, you should. Fans used to do tons of ships based on this basic form factor over the years, and I hope they keep doing a lot more. There are a lot of toys I get and look at ten years later and go "Oh, that's nice" and put it back in a storage box. I dug through some shelves to get this one out again so I could play with it, and then review it for you. The review was an afterthought - I was just enjoying it so much that I figured it was wasteful not to showcase it here.
--Adam Pawlus
Additional Images

See more LEGO figures in Figure of the Day:
Day 2: LEGO Minifigures Series 2 Disco Dude
Day 33: LEGO Minifigures Series 1 Super Wrestler
Day 36: LEGO Minifigures Series 2 Mime
Day 38: LEGO Minifigures Series 2 Karate Master
Day 77: LEGO Minifigures Series 1 Ninja
Day 85: LEGO Minifigures Series 1 Spaceman
Day 106: LEGO Minifigures Series 2 Witch
Day 123: LEGO Minifigures Series 1 Robot
Day 130: LEGO Ninjago 2112 Cole Action Figure
Day 136: LEGO Bionicle 8563 Tahnok Action Figure
Day 148: LEGO Minifigures Series 1 Cheerleader
Day 152: LEGO Minifigures Series 1 Crash Test Dummy
Day 161: LEGO Minifigures Series 1 Forestman
Day 174: LEGO Minifigures Series 3 Gorilla Suit Guy
Day 176: LEGO Minifigures Series 3 Mummy
Day 181: LEGO Bionicle 8534 Tahu Action Figure
Day 182: LEGO Minifigures Series 3 Sumo Wrestler
Day 188: LEGO Minifigures Series 3 Tennis Player
Day 190: LEGO Minifigures Series 3 Rapper
Day 195: LEGO Minifigures Series 3 Space Alien
Day 198: LEGO Minifigures Series 1 Deep Sea Diver
Day 215: LEGO Minifigures Series 3 Fisherman
Day 218: LEGO Minifigures Series 2 Weightlifter
Day 220: LEGO Bionicle Stars 7116 Tahu Action Figure
Day 225: LEGO Minifigures Series 3 Baseball Player
Day 239: LEGO Minifigures Series 2 Lifeguard
Day 260: LEGO Minifigures Series 2 Ringmaster
Day 267: LEGO Minifigures Series 3 Tribal Chief (Indian)
Day 275: LEGO Minifigures Series 2 Traffic Cop
Day 347: LEGO Minifigures Series 4 Punk Rocker
Day 358: LEGO Minifigures Series 3 Pilot
Day 368: LEGO Minifigures Series 5 Lizard Man
Day 378: LEGO Minifigures Series 5 Lumberjack
Day 389: LEGO Minifigures Series 5 Evil Dwarf
Day 402: LEGO Minifigures Series 4 Crazy Scientist
Day 414: LEGO Minifigures Series 5 Gangster
Day 422: LEGO Minifigures Series 5 Ice Fisherman
Day 434: LEGO Minifigures Series 4 Artist
Day 452: LEGO Minifigures Series 4 Hazmat Guy
Day 455: LEGO Minifigures Series 7 Computer Programmer
Day 462: LEGO UFO Shell Exclusive Spacecraft
Day 467: LEGO Minifigures Series 4 The Monster
Day 474: LEGO Minifigures Series 6 Intergalactic Girl
Day 489: LEGO Minifigures Series 6 Clockwork Robot
Day 501: LEGO Minifigures Series 6 Classic Alien
Day 522: LEGO Minifigures Series 6 Genie
Day 535: LEGO Minifigures Series 4 Kimono Girl
Day 535: LEGO Minifigures Series 4 Werewolf
Day 633: LEGO Minifigures Series 7 Galaxy Patrol
Day 692: LEGO Minifigures Series 6 Skater Girl
Day 707: LEGO Minifigures Series 3 Elf
Day 721: LEGO Minifigures Series 5 Egyptian Queen
Day 724: LEGO Minifigures Series 10 Sad Clown
Day 730: LEGO Minifigures Series 10 Librarian
Day 730: LEGO Minifigures Series 6 Sleepyhead
Day 825: LEGO Minifigures Series 11 Yeti
Day 831: LEGO Minifigures Series 7 Hippie
Day 837: LEGO Minifigures Series 7 Scientist
Day 871: LEGO Minifigures Series 10 Bumblebee Girl
Day 884: LEGO Minifigures Series 5 Fitness Instructor
Day 884: LEGO Minifigures Series 4 Soccer Player
Day 1,120: LEGO Teenage Mutant Ninja Turtles Mikey's Mini Shellraiser
Day 1,122: LEGO Minifigures Series 8 Vampire Bat
Day 1,533: LEGO Minifigures Series 16 Spy
Day 1,680: The LEGO Batman Movie Catman
Day 2,063: LEGO The LEGO Movie 2 70841 Benny's Space Squad Set
Day 2,071: LEGO Space Police 5981 Raid VPR Set

Want to buy this figure? Check LEGO availability at our sponsors:
Entertainment Earth