Powerdasher Zetar
WFC-GS08

Transformers Generations War for Cybertron Siege Selects
Item No.: No. E8370
Manufacturer: Hasbro
Includes: 2-part cannon, drill bit
Action Feature: Transforms from Robot to Drill Tank, also can be dismembered to serve as power-up armor for other figures
Retail: $19.99
Availability: September 2019
Other: SDCC Debut and release

PREVIOUS
RSS
NEXT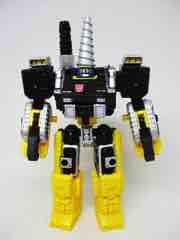 I hope you like Transformers, because that's how we're going to finish out 2019. The "Selects" line updated not just one but all three of the Powerdasher trio through clever reuse of existing parts with new heads and accessories. Powerdasher Zetar is Brunt with new colors, a new head, and a bonus drill - and it works! The toy doesn't look exactly like the original mail-away but it hits enough of the major marks that it's a more than sufficient update of an old, and largely forgotten, small toy.
Zetar - like Cog - can be dismantled into several pieces to act as platform shoes, power-up armor, and weapons for other toys. The robot head looks more like the original toy than other Transformers, making it stand out as a more toy-like release that's probably worth getting - even more than Brunt. The robot mode is black with yellow limbs, opening (and largely useless) claws on teh hands, and rocking ankles. You can plug in parts from other 5mm-compatible toys all over him, and his accessories can attach to his head, back, and limbs. I love the bright yellow here, and the Autobot symbol is a nice touch.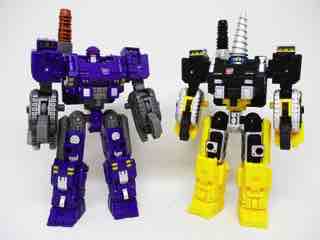 Transforming the toy is the same as Brunt, meaning it's a partsformer. You'll have to pull off parts and pieces as the feet become the cannon, the arms need to be ripped off and repositioned, and the drill head gets moved to the chest area for vehicle mode. It's not terribly difficult but the instructions are certainly handy.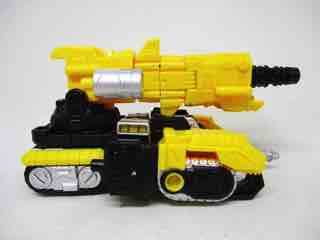 The treads don't move, but you do get working wheels on the bottom to scoot along on a table or desk. The drill can be turned manually, and you can pose the giant cannon - it rotates around or tilts up and down. There are plenty of connection points for other accessories, but mostly I just appreciate that Hasbro integrated the giant cannon. So many toy vehicles don't do much other than "roll" or "pretend to fly around a room," so moving parts and accessories make all the difference here.
If that weren't enough, you can pop him apart to configure him as armor and weapons for other toys - Hasbro made sure you'd have fun with this one. I'd say it's worth the retail asking price as a weird robot/vehicle/accessory pack. It's not a recognizable character, but the strange face sculpt and optional parts make this something you can fidget with a lot more than the recognizable main characters. Sure you've got Optimus, but couldn't Optimus use safety yellow work boots? I thought so.
--Adam Pawlus
Additional Images

Click here to see more Hasbro figures in Figure of the Day.
Click here to see more Transformers figures in Figure of the Day.

Want to buy this figure? Check Transformers availability at our sponsors:
Entertainment Earth