Decepticon Rumble and Ratbat
WFC-S46 - Boxy

Transformers Generations War for Cybertron Siege Micromasters
Item No.: Asst. E3420 No. E7151
Manufacturer: Hasbro
Includes: 2 transforming figures
Action Feature: Transforms from not-quite-cassette to bat or robot man
Retail: $9.99
Availability: October 2019
Other: A decent try, with a few quibbles

PREVIOUS
RSS
NEXT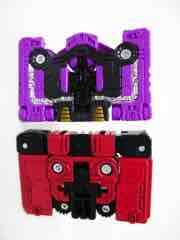 The cassettes, or deployers, are an important part of old-school Transformers toys. You got or at least wanted Soundwave, a tape player, and his chest opened up to store little tape buddies. Hasbro and Takara made many of them, and they were wonders. Some had spring-reveal heads, or articulated ankles, or pop-up spikes. They were all fun, and fit inside Soundwave without much fuss. Attempting to continue the tradition are Decepticon Rumble and Ratbat. Both look like their namesakes and transform well - but there's minimal fan service played to their old chrome accessories, and to be honest they do a rotten job fitting inside Soundwave or Soundblaster without getting stuck. You really have to cram them in there, and it's a bit of a challenge to get them out. Laserbeak and Ravage did not suffer this indignity. As such, I'd say they're really nice standalone toys in their own rights, but as remakes of classic tapes with proper store-inside-another-toy functionality they're not very good.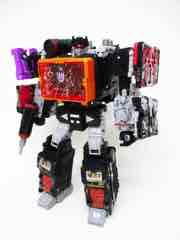 The set's gem is Ratbat, but he missed a few opportunities too. While Laserbeak had feet you could plug into slots on Soundwave's arm, Ratbat's feet don't plug in to anything - they do help him stand, though. I love the bat head sculpt, plus the figure has wonderful coloring and sculpted detail. Ratbat's detailing is packed with visual gems, including a couple of parts that look like the spokes on a tape - both on the wings, and right under the head. His wings, neck, and feet are jointed but there's not much to do with them that isn't involved with transforming. You can make him look like he's walking on his wings... but that's about it. It's a good thing he's cute, because you're going to want him.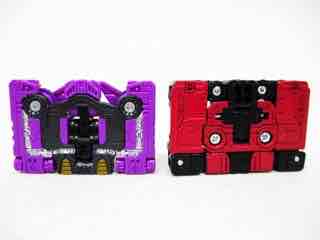 Much uglier - but no less interesting - is the cumbersomely named Decepticon Rumble. His trademark guns (and pylons) are absent, so it's just a bare robot. As a bare robot it's pretty good - but it's not exactly an exciting Rumble. The 2-inch humanoid robot can contort into a box shape, and he has ball or swivel joints all over. The wrists can pivot in, the head rotates, there are ball-jointed knees and shoulders. With 13 joints in all, it's a fine, impressive robot with rather ugly 3mm pegs hanging on his hands. If you plug energy blasts on them they do look pretty cool - but in and of itself, it's not terribly attractive. The robot deco and sculpting are excellent, with a vibrant and tiny Decepticon logo under a nicely-detailed head and legs covered in G1-esque tape detail. If this were an original character that didn't try to be Rumble - and if it fit in Soundwave more easily - you would love this figure. It may not be what you want, but it's pretty good.
Transformation to "tape" is easy, and the box looks like it should fit inside Soundwave. It doesn't and it's even uglier than the other mode thanks to giant copyright marks and SKU markings taking up about 20% of the tape's surface. You really won't notice them in robot mode thanks to their placement on the side of the lower legs, but it's impossible to miss on the face of the tape mode. I know Hasbro has to put these things somewhere, but it's hideous. The greeblies and general feel of the toy fits in with the line's overall look and feel, it's very old-school Takara-esque. Minus peeling labels.
For years, we've been seeing Hasbro and Takara-Tomy try new takes on the whole "deployer" thing. The data discs from the 2012 Generations line were clever Bakugan-ish auto-deployers, and that was neat when it worked. The Masterpiece ones were pretty amazing. The smart device boxes from Titans Return weren't bad either, but the recurring problem is that Hasbro never completes the team and most of the Ravage toys just look dreadful. This duo, by themselves and taken on their own merits, are pretty good. I don't think they'll scratch the tape itch completely, and I assume another Earth mode of Soundwave and all his buddies can't be too far away. I would suggest you look this figure up and if you like it, get it - it's fun to fidget with. Just be prepared for a fight to get it out of Soundwave once you put them in there.
--Adam Pawlus
Additional Images

Click here to see more Hasbro figures in Figure of the Day.
Click here to see more Transformers figures in Figure of the Day.

Want to buy this figure? Check Transformers availability at our sponsors:
Entertainment Earth