Dromaeosaurus
#16, Second Release Variant

Beast of the Mesozoic Second Release
Item No.: No. n/a
Manufacturer: Creative Beast
Includes: Display base, open claws
Action Feature: Opening mouth with articulated tongue
Retail: $49.99
Availability: March 2018 (this is the second release, March 2019)
Other: Second release

PREVIOUS
RSS
NEXT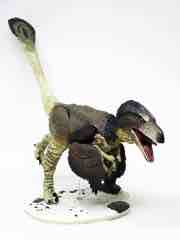 Creator David Silva has been a toy collector and sculptor/designer for years. I've been corresponding with him on and off for a while, and I was surprised to find out he made (and still makes) things I've been enjoying from Hasbro, Neca, and beyond. Dromaeosaurus is one of nearly two dozen animals to come out of what started as a small Kickstarter project, which I found daunting. There were tons of styles of feathered raptors, each with awesome real-life bird inspiration, and at the price I had to settle on one. The 1:6th figures are stunning, and the perfect size to menace your 1:12 humans if you're into Jurassic Park scale. This one was inspired by the Finnish Goshawk, which I did not realize at time of purchase. Others are inspired by all sorts of birds including roadrunners both real and imagined.
With lots of articulation, this 12-inch long critter has a wired, bendy tail and at least 26 points of articulation. Due to the unique pose of these creatures, you will need to use the display base to get this little guy standing upright. While a lot of figures boast some level of "this is not a toy, this is for adult collectors only" I would emphasize that this is absolutely not for kids. This is a plastic animal for adult dinosaur fanatics, toy photography fetishists, and people who want museum-quality figures that are better than anything you will ever find in a museum gift shop.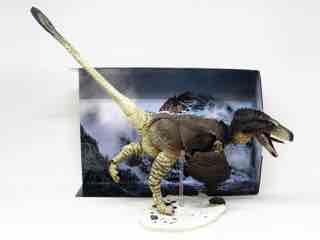 The figure has rocker toes, an articulated big talon, a bendy tail with some articulation in the back area, multiple neck joints, an opening jaw, a jointed tongue, and multiple leg joints - to name just a few. Getting it standing up and balanced is a little daunting, but thankfully the stand does a lot of the heavy lifting. It needs the help - and the stand is pretty unobtrusive. Plop the clear rod in the sandy base, and you're good to go. Warning/guarantee: I had to run the base under boiling water to get it loose enough to shove the pole in the hole. Once you get the stand set up, the sky is the limit - they can look like they're scouring the desert, attacking another animal, or generally just hanging out.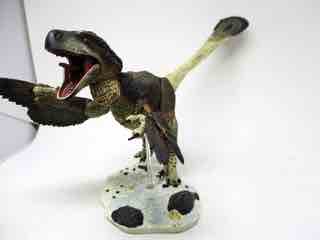 There's a definite familiar high-end figure smell here, and more paint than I'm used to on releases for the American market at this size. If you've been buying Four Horsemen and/or NECA figures, it's a bit closer to those. The sculpted feather detail is amazing, and the paint work is some of the best I've seen on a creature in recent memory. The mouth glistens, the tongue hangs perfectly, and the joints offer countless options for expressing its personality. It's a very good figure, and delivers on the promises of companies who have, over the years, promised various forms of "best dinosaur ever." This is it. Until they can make something with real feathers and a metal skeleton or something, this seems like the apex of what can be delivered in this kind of animal figure at this size.
I really dig it, and if they were cheaper I'd collect them all. I'd love to see what a mass-market version of this sculpt may look like with less articulation and maybe less paint, but I doubt the creative beasts behind it would approve. After futzing around with Mattel's perfectly nice raptors for a year, this is a hard shift into a new direction. While I realize feathered dinos aren't for everybody, I just had to get one. It's too nifty. Functionally, they're all very similar so just pick your favorite. You're probably going to enjoy having it menace your other toys.
--Adam Pawlus
Additional Images

See more Creative Beast figures in Figure of the Day:
Day 2,120: Creative Beast Beast of the Mesozoic Dromaeosaurus Action Figure
Day 2,305: Creative Beast Beast of the Mesozoic Glow-in-the-dark Dinosaurs Zuniceratops Action Figure

See more Dinosaurs figures in Figure of the Day:
Day 990: Louis Marx Toys Dinosaurs Trachodon Figure
Day 1,019: Louis Marx Toys Dinosaurs Brontosaurus Figure
Day 1,023: Schleich Dinosaurs Kragensaurier (Triceratops) Figure
Day 1,034: Schleich Dinosaurs Mammut (Mammoth) Figure
Day 1,062: Tim Mee Toys Green and Yellow Prehistoric Dinosaurs Figure Set
Day 1,073: Louis Marx Toys Dinosaurs Stegosaurus Figure
Day 1,126: Schleich Dinosaurs Ursaurier (Dinosaur) Figure
Day 1,418: Jesse Narens Stegoforest Brown Stegoforest with Acorn Warrior
Day 1,419: Wendy's Playskool Definitely Dinosaurs Triceratops
Day 1,420: Tootsietoy Dinosaurs Stegosaurus Action Figure
Day 1,421: Imperial Dinosaurs Styracosaurus
Day 1,434: Wendy's Playskool Definitely Dinosaurs Anatosaurus
Day 1,446: Wendy's Playskool Definitely Dinosaurs Apatosaurus
Day 1,726: Unknown Wind-Up Brown Tyrannosaurus Rex
Day 1,990: Playmobil 2013 Toy Fair Dinos Explorer Figure
Day 2,023: Boley Nature World Edaphosaurus, Allosaurus, Styracosaurus Action Figures
Day 2,026: Unknown Diplodocus Figure
Day 2,051: Hasbro Dinosaurs Baby Sinclair Action Figure
Day 2,057: Half Toys Dino Series T-Rex
Day 2,065: Lanard Primal Clash Mammoth with Shrapnel Action Figure
Day 2,120: Creative Beast Beast of the Mesozoic Dromaeosaurus Action Figure
Day 2,126: Boley Nature World Mosasaurus Action Figure
Day 2,167: Boley Nature World Apatosaurus Action Figure
Day 2,305: Creative Beast Beast of the Mesozoic Glow-in-the-dark Dinosaurs Zuniceratops Action Figure
Day 2,394: Glow-in-the-dark Dinosaurs Dimetrodon Action Figure
Day 2,398: Playmobil 2013 Toy Fair Dinosaur Explorer Figure
Day 2,550: Blip Toys Animal Planet Electronic Battling Dinos Set

See more Beasts of the Mesozoic figures in Figure of the Day:
Day 2,120: Creative Beast Beast of the Mesozoic Dromaeosaurus Action Figure
Day 2,305: Creative Beast Beast of the Mesozoic Glow-in-the-dark Dinosaurs Zuniceratops Action Figure