Powerdasher Cromar
WFC-GS04 - Shared Online Exclusive

Transformers Generations War for Cybertron Siege Selects
Item No.: No. E8376
Manufacturer: Hasbro
Includes: 2 blasters, a body made of accessories
Action Feature: Transforms from Robot to Cybertronian VTOL
Retail: $29.99
Availability: October 2019
Other: NYCC debut included an exclusive pin

PREVIOUS
RSS
NEXT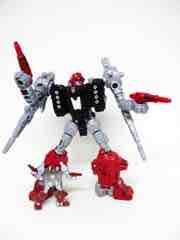 A poorly kept secret, Powerdasher Cromar made its US on-sale debut at New York Comic Con 2019 at the Entertainment Earth booth. (Hey, I work there!) Those that bought there got an exclusive pin. For the first update of the Powerdashers in 35 years, Hasbro took existing bodies - in this case, Sixgun - and slapped on a new head with new plastic colors. It works pretty well, as the robot looks a lot like the original robot with a jet mode that, well, doesn't.
Part of what I love about these new Powerdashers is that the heads seem a little alien in the world of Transformers. Most of the toys from the 1984 line were generally a silver face with a color of eyes and maybe different plastic around the head as a sort of helmet. Cromar adds a big red nose as well as quasi Alice Coper eyes in the silver - just like the original toy. This one also has ears, which is an unusual feature for the era. The figure itself lacks the chrome of the original, but at least it looks cool and has a bit more "zing" than the original thanks to silver painted details on the chest and tons of extra weapons. Articulation is pretty good, but he and the other Powerdashers/Weaponizers/whatever lack things like swivel wrists and some of the nicer added parts from the other Siege toys. But you can take them apart, which is fun.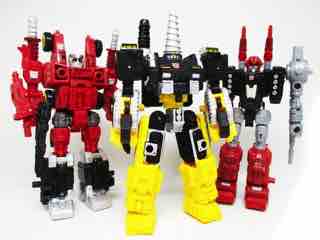 Transforming the toy involves some of the aforementioned dismemberment, with arms becoming wings and the torso being ripped in half in order to make the space ship mode. It's not as much of a proper transformation so much as a reconfiguration, which is a neat idea but one that could probably be executed in a fascinating way if that were more of the idea. That's true of all of this category - trying to remember exactly how to take it apart is kind of annoying, making them in between a proper transforming robot and a construction kit. It's not complicated with reference photos, but it does make it a bit harder to instinctively know if you're doing this properly.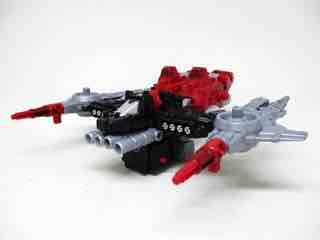 The vehicle is fine. It doesn't do much for me - it lacks the drill tank-ness of Zetar or the bizarre double-vehicle mash-up of Aragon, it's just a jet made out of robot body parts. Completely covered in 5mm pegs and sockets, you could probably cover this thing with old Microns or Energon Weapons or goodness knows what else you have in your archive, but that's about it. Much more interesting are the power-up modes, which allow Cromar to become armor and weapons for other figures. Unfortunately Cromar can't be a good power-up for Sixgun, as a few key posts and holes are missing.
If you need more weapons, updates of the three Powerdashers, or just everything, this is a good figure. I can't say the "Sixgun" vehicle mode has grown on me one bit, but I do like the robot face and general coloring enough to say it's worth getting as a great oddity. Hopefully they stick these guys in the comics or somewhere soon, because they do deserve a little more love than a mail-in form and a cameo here and there. Until then, go ahead and snag yourself this one if you're so inclined - I don't assume we'll see another Cromar for another ten years, if ever.
--Adam Pawlus
Additional Images

Click here to see more Hasbro figures in Figure of the Day.
Click here to see more Transformers figures in Figure of the Day.

Want to buy this figure? Check Transformers availability at our sponsors:
Entertainment Earth