Fishbot
Bob the Goldfish + Earthworm Jim?

Imaginext Series 11 Blind-Bagged Collectible Figures
Item No.: Asst. FMW53 No. FMW54
Manufacturer: Fisher-Price
Includes: n/a
Action Feature: n/a
Retail: $2.99
Availability: June 2018
Other: Look for #56 on upper-left of the foil packet on the back

PREVIOUS
RSS
NEXT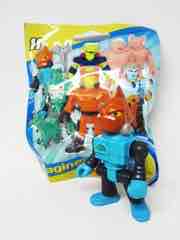 In the past year, we've seen the rapid depletion of our retail landscape. Kmart and Sears are all but gone, Toys R Us is gone, Target greatly reduced its natural Imaginext wetlands. Walmarts cut back too, but you can still find the Fishbot in some Marts of Wal as well as the odd grocery store if you look hard enough. The line seemed to have been the de facto children's action figure line for a few years, and now is being repeatedly pruned back to the point where non-licensed characters are not found in most stores. The blind bags have been filled with a mix of traditional things kids will recognize - monsters, clowns, fantasy creatures - and bizarre tributes to toys their parents might recognize. I'm not completely sure, but I assume this is a mashup of characters inspired from Playmates' departed and bizarre Earthworm Jim franchise of cartoons, toys, and video games.
Obviously, it's a delight and I expect you to buy one. Series 12 is starting to roll out, and I am on the prowl for those as we speak.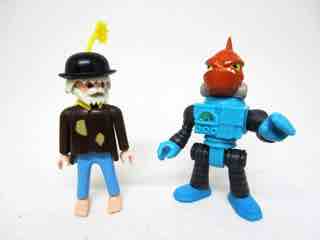 The 3-inch figure has no accessories, but does sport a lot of paint. The head is a whole fish body, painted in metallic orange with yellow eyes and an underbite to kill for. There are mechanisms keeping the gills covered from the robot suit, which also has a meter of some sort to read something. It's blocky with various rivets and joints, giving you the standard Imaginext articulation - shoulders, wrists, hips. The neck does not move on this particular figure.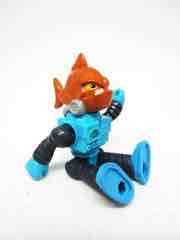 For the asking price of about three dollars, you get what may well be a trickle-down effect from the fashionable part of the toy industry. This feels like it borrows slightly from the world of designer vinyl figures, with metallic paint, a whimsical design, and no royalties to pay. I'm surprised we didn't get a goldfish bowl helmet, but not at all disappointed. I find these figures to be a real joy, although I am jealous of kids who are young enough to really get in to playing with the playsets. They could use him as a Batman villain, or a space alien, or just about anything. To me, it's just another awesome figure on my small Imaginext shelf - I love it, I'll keep it as long as life allows, but I do feel a sting of the pain that it'll never go on the same kinds of adventures my Adventure People Alpha Star astronaut, robot, and alien experienced 35 years ago. This figure and indeed the whole of series 11 comes strongly recommended.
--Adam Pawlus
Additional Images

See more Fisher-Price figures in Figure of the Day:
Day 79: Fisher-Price Adventure People Alpha Star Astronaut Action Figure
Day 233: Fisher-Price Imaginext Space Station Toy Set
Day 404: Fisher-Price Imaginext Dinosaur Ankylosaurus
Day 528: Fisher-Price Imaginext Dinosaur Raptor
Day 643: Fisher-Price Adventure People Alpha Star Alien Creature
Day 766: Fisher-Price Imaginext Collectible Figures Diver
Day 796: Fisher-Price Imaginext Collectible Figures Robot
Day 830: Fisher-Price Imaginext Collectible Figures Mummy
Day 842: Fisher-Price Imaginext Space Ion Scorpion
Day 847: Fisher-Price Imaginext Space Ion Crab
Day 853: Fisher-Price Imaginext Space Alpha Blade
Day 954: Fisher-Price Imaginext Dinosaur Dimetrodon
Day 2,002: Fisher-Price Imaginext Series 10 Collectible Figures Spaceman & Alien
Day 2,014: Fisher-Price Imaginext Series 11 Collectible Figures X-Ray Man & Dog
Day 2,018: Fisher-Price Imaginext Series 11 Collectible Figures Radiation Man
Day 2,024: Fisher-Price Imaginext Series 11 Collectible Figures Triple Threat Snake
Day 2,032: Fisher-Price Imaginext Series 11 Collectible Figures M.U.S.C.L.E. Men
Day 2,036: Fisher-Price Imaginext Series 6 Collectible Figures Chicken Suit
Day 2,092: Fisher-Price Imaginext Series 11 Collectible Figures Fishbot
Day 2,096: Fisher-Price Imaginext Series 12 Collectible Figures Big Building Robot
Day 2,099: Fisher-Price Imaginext Series 12 Collectible Figures Clawtron
Day 2,100: Fisher-Price Imaginext DC Super Friends Batman & Swamp Thing Action Figures
Day 2,101: Fisher-Price Imaginext Series 7 Collectible Figures Buster of Ghosts
Day 2,102: Fisher-Price Imaginext Pirates Shark Minisub Figure with Vehicle
Day 2,103: Fisher-Price Imaginext Jurassic World Dr. Malcolm & Dimetrodon Action Figures
Day 2,104: Fisher-Price Imaginext Egypt Mummy Guards Action Figures
Day 2,108: Fisher-Price Imaginext Series 9 Mystery Figures Grim Reaper
Day 2,122: Fisher-Price Imaginext Series 6 Collectible Figures 4 Arm Alien
Day 2,133: Fisher-Price Imaginext Series 7 Collectible Figures Headless Horseman
Day 2,194: Fisher-Price Imaginext Series 9 Mystery Figures Yeti Snowboarder
Day 2,227: Fisher-Price Imaginext Series 9 Mystery Figures Shark Pirate
Day 2,239: Fisher-Price Imaginext DC Super Friends Slammers Arctic Sled with Mr. Freeze Set
Day 2,249: Fisher-Price Imaginext DC Super Friends Slammers Batmobile with Batman Set
Day 2,257: Fisher-Price Imaginext DC Super Friends Surround Sound Batcave Playset
Day 2,306: Fisher-Price Imaginext 20th Anniversary Figures Jett Cosmoblast
Day 2,312: Fisher-Price Imaginext 20th Anniversary Figures FP-636
Day 2,318: Fisher-Price Imaginext 20th Anniversary Figures Shackles McMatey
Day 2,420: Fisher-Price Imaginext Series 8 Collectible Figures Woodland Mystic
Day 2,424: Fisher-Price Adventure People Astro Knight Action Figure
Day 2,449: Fisher-Price Imaginext Series 12 Collectible Figures Explorer
Day 2,452: Fisher-Price Adventure People Clawtron Action Figure
Day 2,455: Fisher-Price Adventure People Firestar I Vehicle with Pilot Action Figure
Day 2,457: Fisher-Price Adventure People Opticon Action Figure
Day 2,460: Fisher-Price Adventure People X-Ray Woman Action Figure
Day 2,464: Fisher-Price Imaginext Series 9 Mystery Figures Invisible Man
Day 2,468: Fisher-Price Imaginext Monsters Figure Pack
Day 2,487: Fisher-Price Imaginext Lightyear Hyperspeed Explorer XL-01
Day 2,522: Fisher-Price Imaginext Toy Story 4 Bunny & Buzz Lightyear
Day 2,542: Fisher-Price Adventure People X-Ray Man Action Figure

See more Imaginext figures in Figure of the Day:
Day 233: Fisher-Price Imaginext Space Station Toy Set
Day 404: Fisher-Price Imaginext Dinosaur Ankylosaurus
Day 528: Fisher-Price Imaginext Dinosaur Raptor
Day 766: Fisher-Price Imaginext Collectible Figures Diver
Day 796: Fisher-Price Imaginext Collectible Figures Robot
Day 830: Fisher-Price Imaginext Collectible Figures Mummy
Day 842: Fisher-Price Imaginext Space Ion Scorpion
Day 847: Fisher-Price Imaginext Space Ion Crab
Day 853: Fisher-Price Imaginext Space Alpha Blade
Day 954: Fisher-Price Imaginext Dinosaur Dimetrodon
Day 2,002: Fisher-Price Imaginext Series 10 Collectible Figures Spaceman & Alien
Day 2,014: Fisher-Price Imaginext Series 11 Collectible Figures X-Ray Man & Dog
Day 2,018: Fisher-Price Imaginext Series 11 Collectible Figures Radiation Man
Day 2,024: Fisher-Price Imaginext Series 11 Collectible Figures Triple Threat Snake
Day 2,032: Fisher-Price Imaginext Series 11 Collectible Figures M.U.S.C.L.E. Men
Day 2,036: Fisher-Price Imaginext Series 6 Collectible Figures Chicken Suit
Day 2,092: Fisher-Price Imaginext Series 11 Collectible Figures Fishbot
Day 2,096: Fisher-Price Imaginext Series 12 Collectible Figures Big Building Robot
Day 2,099: Fisher-Price Imaginext Series 12 Collectible Figures Clawtron
Day 2,100: Fisher-Price Imaginext DC Super Friends Batman & Swamp Thing Action Figures
Day 2,101: Fisher-Price Imaginext Series 7 Collectible Figures Buster of Ghosts
Day 2,102: Fisher-Price Imaginext Pirates Shark Minisub Figure with Vehicle
Day 2,103: Fisher-Price Imaginext Jurassic World Dr. Malcolm & Dimetrodon Action Figures
Day 2,104: Fisher-Price Imaginext Egypt Mummy Guards Action Figures
Day 2,108: Fisher-Price Imaginext Series 9 Mystery Figures Grim Reaper
Day 2,122: Fisher-Price Imaginext Series 6 Collectible Figures 4 Arm Alien
Day 2,133: Fisher-Price Imaginext Series 7 Collectible Figures Headless Horseman
Day 2,194: Fisher-Price Imaginext Series 9 Mystery Figures Yeti Snowboarder
Day 2,227: Fisher-Price Imaginext Series 9 Mystery Figures Shark Pirate
Day 2,239: Fisher-Price Imaginext DC Super Friends Slammers Arctic Sled with Mr. Freeze Set
Day 2,249: Fisher-Price Imaginext DC Super Friends Slammers Batmobile with Batman Set
Day 2,257: Fisher-Price Imaginext DC Super Friends Surround Sound Batcave Playset
Day 2,306: Fisher-Price Imaginext 20th Anniversary Figures Jett Cosmoblast
Day 2,312: Fisher-Price Imaginext 20th Anniversary Figures FP-636
Day 2,318: Fisher-Price Imaginext 20th Anniversary Figures Shackles McMatey
Day 2,449: Fisher-Price Imaginext Series 12 Collectible Figures Explorer
Day 2,464: Fisher-Price Imaginext Series 9 Mystery Figures Invisible Man
Day 2,468: Fisher-Price Imaginext Monsters Figure Pack
Day 2,487: Fisher-Price Imaginext Lightyear Hyperspeed Explorer XL-01
Day 2,522: Fisher-Price Imaginext Toy Story 4 Bunny & Buzz Lightyear