Shockwave
WFC-S14

Transformers Generations War for Cybertron Siege Leader
Item No.: Asst. E3419 No. E3476
Manufacturer: Hasbro
Includes: LV-1 Theramal Range Neuron Beam, LV Duo-Pulse Radiograph, LV Gamma-Disruptor Launcher
Action Feature: Transforms from Robot to Tank
Retail: $49.99
Availability: December 2018
Other: Rockin' Robot with Unnecessary Upgrade

PREVIOUS
RSS
NEXT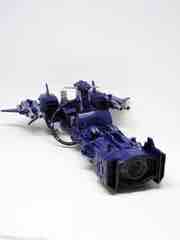 Despite appearing in the pilot miniseries, Shockwave has never been the franchise's #1 draft pick. Since Generations kicked off, Hasbro gave us a $10 "Legends" toy and a $13ish "Deluxe" toy based on a video game. This one is inspired by both, transforming from a classic-looking robot to a space ship inspired by the original toy's laserwave alt mode, with bulk-up parts making it look a little goofy. It's a space ship in the sense that almost any jumbled mess of parts can be a space ship. The base robot is excellent, with acceptable ship modes and a rather ugly bulked-up ship mode. I normally would not advise you to wait for a sale - vote with your dollars! - but in this case I'd say vote with your dollars and skip this one at full price. Do, however, get Ultra Magnus.

The default "armored up" robot is basically classic Shockwave with platform boots, extra arms, and unnecessary backpack kibble. This is a $25-$30 Voyager-class toy pretending to be worthy of a $50 Leader price tag. Adding two surplus "gun" arms is a curious one - Shockwave isn't a multi-limbed robot, and those parts can also be reconfigured from armor into a floating platform. This is arguably more interesting, but it's not something true to the character nor is it worth the massive upcharge. A basic Shockwave would have been plenty more exciting, and is a perfectly nice toy. It's different - and different has value - but it's not engaging my enthusiasm.

The inner Voyager-sized robot is perfect to menace Megatron. The light-up eyeport works better than any I've seen in ages, with a tiny clear window on the back of the head lighting up the unusually dark purple plastic perfectly. It's really wonderful, and the toy's articulation is some of the best we've seen on a non-Masterpiece Shockwave toy. The cyclops head is good, the Decepticon symbols are nice, and there are tons of places to plug in the power-up gear. Fans of Centurions Power Xtreme toy line will no doubt appreciate how Siege has power-ups of their own.

I do love how this toy integrates the 3mm pegs for the "blasts" from Battle Masters (sold separately.) The gun hands are the perfect size, so it's not like there's a weird tip on a gun. The big laser emitters on the various modes have holes for the 5mm parts of these weapons, so collectors that somehow amass a ton of "blasts" will get a lot of fun with this toy. At this time, they're in short supply unless you buy a lot of duplicate Firedrive figures.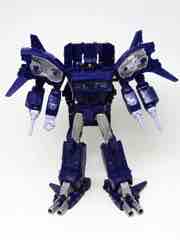 The Shockwave transformation is easy - things tuck in where you might expect, although you will probably want to consult instructions or photos because the power-up bits are placed in less intuitive places. Spare arms and shoes are bolted to the sides of the feet, with the extra gun muzzle clamping above the head and arms. It is not troubling, everything mostly fits together except for a couple of guns above the robot chest. They still fit, but not perfectly.
The ship is a ship. I'm not impressed by it, it's fine but it is clearly a bunch of parts shoved together in a ship shape. I assume most people buying this toy will leave it in the robot form, but perhaps you'll be the exception. It's adequate. It doesn't inspire, it's not a reference to something cool from the past, it's just different.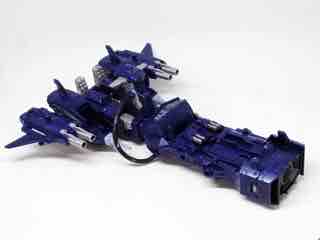 This is a strange one. There's nothing terrible about it - you get a good Shockwave Voyager-size robot with extra gear that has a lot of versatile functionality. Everything about it works well, it's just not fun. New characters have no expectations, old characters generally are expected to improve on previous releases. The Cyber Battalion figure may be better (especially for the money) and the main thing this toy has that no other modern Shockwave Generations release brings to the table is a cable connecting the "power" to the arm blaster. While one could argue that the other Siege toys are new and definitive toys, I could see people accepting Shockwave as a great robot that ultimately isn't a very fun Transformers release. If you love all the modes, you will not be disappointed. I didn't. But I do like the robot a great deal.
--Adam Pawlus
Additional Images

Click here to see more Hasbro figures in Figure of the Day.
Click here to see more Transformers figures in Figure of the Day.

Want to buy this figure? Check Transformers availability at our sponsors:
Entertainment Earth