OSM Cthulhu-Nautilus Rlyehzoth
Crossover with The Outer Space Men

Glyos System Series
Item No.: No. n/a
Manufacturer: Onell Design
Includes: Brown trident (other OSM gear was sold as a $3 OSM Special Accessory Set Halkenn Brown) and alternate Orbitron shins
Action Feature: Pops apart
Retail: $22.00
Availability: October 25, 2018
Other: Crossing Over, Again

PREVIOUS
RSS
NEXT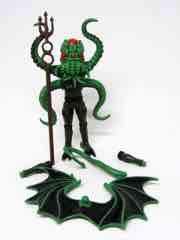 The long-gestating alien came out, and we even got a rockin' redeco before 2018 ended. The OSM Cthulhu-Nautilus Rlyehzoth takes the base Cthulhu- Nautilus [FOTD #2,015] and gives it new colors and textures - and an alternate build!
The other class of 2010 Outer Space Men ABS accessories - Xodiac's staff, blaster, and helmet & Metamorpho's skull peg - were sold separately in matching colors for $3.00. I got that too.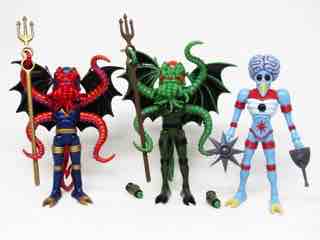 Sketches for this figure date back to about 2010, when mastermind Mel Birnkrant was kicking around alternate heads for these guys. Matt Doughty came up with a bunch too, and sadly very few of them saw production. It's a pity, because there are so many good ones I'd love to own. Cthulhu Nautilus is one of the most striking, bringing you the Lovecraftian creature with a Glyos peg in the neck and Mr. Birnkrant's unique styling everywhere else. This style of Cthulhu was in at least one never-realized toy line, and I'm super pumped to see the tentacle monster here.
Articulation of this 3 3/4-inch action figure is just like the other ones - each arm has 2 joints, the waist has 2 joints, the tail and wings can spin, and each leg is jointed in 3 places. The figure is about 23 parts, plus a staff. It's a meaty one.
The deco is pretty slick, in this wonderful shade of green plastic with a darker green for the suit and a darker color still on the wings. The various eyes are orange this time, with the suction cups slathered in green to match the suit. Black rings show you where the faux accordion joints are, and the figure stand on your choice of legs. The figure comes with Astro-Nautilus shins by default, but team Onell Design packed in a bonus for those wanting a different, slightly taller version - Orbitron shins! You can use either set to adjust his height, and I'm going to use the Orbitron shins for mine just so it looks a little bit different.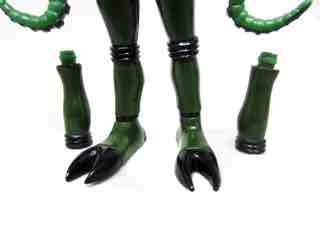 As public domain figures go, Cthulhu doesn't have a lot going for him. Toy Vault gave us some cool plush and resin, while Diamond Select and Warpo have given us a few other figures recently. Heck, SOTA Toys did a nice job over a decade ago - those things were pretty fancy. Funko made a couple as well, as did SD Toys, but I'm especially fond of this strange figure with the cool wings and Glyos bits and pieces. Kudos to Onell Design for putting out the figure in the classic green color, but if you like what you see I'd strongly advise you snag both the green and also the metallic red "Infinity" version... which cost about 50% more. Make sure you get one of these, as they don't exactly make a lot of them.
--Adam Pawlus
Additional Images


Click here to see more Onell Design figures in Figure of the Day.
Click here to see more Outer Space Men figures in Figure of the Day.

Click here to see more Glyos Compatible figures in Figure of the Day.