Ricochet
WFC-GS01

Transformers Generations Power of the Primes Selects
Item No.: No. E6719
Manufacturer: Hasbro
Includes: D50-R35 Fusion Cannon, HPR Telescopic Laserstrike Launcher
Action Feature: Transforms from Robot to Car
Retail: $19.99
Availability: April 2019
Other: Sans Targetmaster

PREVIOUS
RSS
NEXT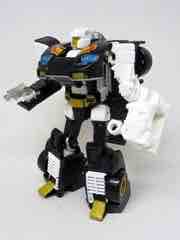 The "Selects" line continues its not-quite-BotCon exclusive run with plain brown boxes and fan-targeted characters. Ricochet is based on a once-legendary Japanese release of a toy named Stepper, which got a Japanese and US rerelease in the late 200Xs, as well as an Alternators toy and an exclusive mail-away figure during Transformers United. In short, the grail has been made common - but it's a nice deco, and we love combiners, so let's all get one.
The packaging is pretty much the same as Red Swoop's with an added sticker to tell them apart - it's plain cardboard and probably a smidgen greener. Inside the box is a tray holding the figure in place, with Power of the Primes written everywhere - including the instruction sheet. The sheet seems to be a barely-changed Jazz manual, so there's no "WFC" number or wacky names for the toy's weapons. It's like a bonus release from the line that ended in 2019.
If you liked Jazz [FOTD #1,883], this is more of that. The colors are mostly inverted, with more gold and red flames plus a thick slathering of paint on the robot head. The mouth and face is swollen, smoothing out the features with what I assume are a layer of thick white paint covered by another layer of gold paint. The visor is a separate piece - and it's striking. I wouldn't have minded a slightly different tone of gold to set it apart, but it's fine. The robot sports about 18 useful joints, but they all have a pretty decent range of motion. I noticed the fists seem tighter, which was a surprise as both they and the blaster are bare plastic this time.
The figure retains the same basic blaster as before (except in black) and also comes with a combiner fist you can use as the still unspectacular Prime Armor. I guess at least you still have it as a fist. No Targetmaster buddy was included, and as far as I can tell no newly-tooled parts were used to make this one.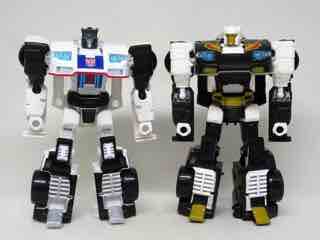 Transforming the toy is the same as Jazz, but it seems to fiddle together with less fuss and fewer gaps. There are still some imperfections and places you'll see through him, but the black plastic and paint do a nice job of concealing the problems.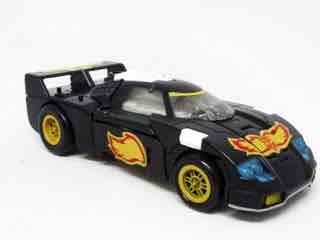 The car has blue headlights like Jazz, but tends to add a lot more elsewhere. The Autobot symbol missing from robot mode appears on the car's hood, and you get a few gold flame marks. There's gold on the spoiler, but there are also some blights with some weird white elements on the car's roof and the sides of the hood. Since they gave us gold rims, I'm just going to be happy. The car holds together nicely, and as always you can use it as a combiner arm or leg.
I'm hoping Hasbro continues to exploit its molds with sensible deco changes over time - Jazz into Ricochet is a good, easy move that is going to make a lot of fans happy. If they don't want the character, they can probably make good use of another combiner limb. The price is decent, and as an online shared exclusive it's a sensible item - it wouldn't have been a bad convention exclusive, either. If it's still available go ahead and order this online or see if your local comic or toy (let's be honest comic) shop got some of these. It's feeling like we're in a post- or between-toy-store world.
--Adam Pawlus
Additional Images

Click here to see more Hasbro figures in Figure of the Day.
Click here to see more Transformers figures in Figure of the Day.

Want to buy this figure? Check Transformers availability at our sponsors:
Entertainment Earth