Autobot Drift
Transformers - Studio Series #36

Transformers Studio Series Shared Exclusive Gift Set
Item No.: No. E5004
Manufacturer: Hasbro
Includes: 5 swords, 3 dinosaurs, Junkyard Mediation backdrop
Action Feature: Transforms from 2017 Mercedes-AMG GT R to robot, dinosaurs do not transform
Retail: $26.99
Availability: March 2019
Other: Pre-orders at Entertainment Earth came with 2 exclusive enamel pins

PREVIOUS
RSS
NEXT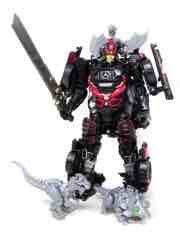 The Autobot Drift & Dinobot Tops, Dinobot Pterry, Dinobot Sharp T Action Figures is a gift. We got to debut this shared exclusive at my place of work, and we worked with Hasbro to make exclusive enamel pins to go with it with retail pre-orders. (You're welcome.) When I first heard that we were doing a special debut of a new Drift redeco, I was unsure what to expect - sure, I loved The Last Knight Drift [FOTD #1,755] and his predecessor Age of Extinction Drift [FOTD #918], both of which share engineering and parts with this new one. But would it be different enough that you should get excited? Yes.
At just $7 above the last deluxe release, you get a lot more paint on the figure plus a bonus newly-tooled sword. If that weren't enough to buy him again, you also get a newly sculpted robot head and 3 exclusive - and articulated - baby dinobot buddies. I'm kind of surprised how well this turned out, given I was expecting a straight-up redeco with 3 unarticulated figures. If this item is still available when this review goes live for $27, you should go buy it even before reading the rest of this review if you want a Drift. And even if you just want the dino-buddies, you would have probably paid a lot more for an unlicensed third-party alternative... so just get this.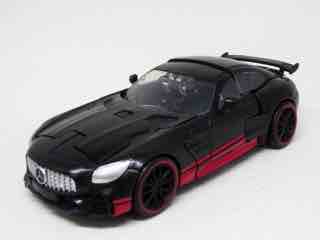 Autobot Drift is a surprisingly significant improvement. The place where Studio Series shines the most is when it looks back and fixed the mistakes from previous lines - sometimes with a new toy, sometimes with deco, sometimes with new parts. Drift was always a pretty great toy, but the colors are largely not right. This new toy corrects that by making him mostly black with red highlights, rather than a robot in red pajamas. A new head was added for good measure, and it just looks better and closer to the movie. Is it perfect? No, it's a retool of a retool with new paint and it sells for $27. But in and of itself, it's really wonderful and a lot of fun to futz with, and the extra gear is a nice touch. Thanks to its unusual mask-like head, this figure also could fit in nicely with other generations of transforming toys - not just the movies.
The car mode is the only thing about this set I don't love, because the last person was just more pleasing - if not accurate. The Last Knight release featured wonderfully garish red wheels, tinted wheels, and an Autobot logo on the hood. This one lacks the signs of affiliation and has tasteful black rims with red lines with largely clear colorless windows. It still looks great, I believe most fans will prefer the Studio Series version. The wheels roll fine and you can store most of the swords on board.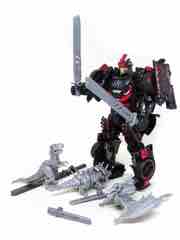 Dinobot Tops, Dinobot Pterry, and Dinobot Sharp T are what will force you to buy the set. Each one is very cute and very small - about 2-inches long or high, give or take. Each also has moving legs and at least one other moving part - Sharp T has opening jaws. Pterry has articulated wings. Tops has all four limbs jointed, as well as a swivel neck. The eyes are really the only painted elements, and they have good sculpting that seems to draw from recent-ish scientific interpretations of these creatures.
The Bumblebee Garage set gave us some add-on parts, which was fine. The Pop Highway sets gave us G1 tapes, which was a huge plus. For my money though, Drift gives me the most interesting add-ons with the best upgrades to the base figure. Hooray, employee discounts. You should snag this one if you like what you see - it's a worthwhile box of fun stuff, with this Drift probably being the best take on the character with a car mode.
--Adam Pawlus
Additional Images


Click here to see more Hasbro figures in Figure of the Day.
Click here to see more Transformers figures in Figure of the Day.

Want to buy this figure? Check Transformers availability at our sponsors:
Entertainment Earth