Refraktor Reconnaissance Team Action
In G1 Toy Reflector Colors

Transformers Generations War for Cybertron Siege Shared Exclusive
Item No.: No. E5799
Manufacturer: Hasbro
Includes: 3 Shutter Blaster/Lens Laser/Optic Blaster, 3 Telefocal Shields, 3 Bioscale Compression Rotors, Flash Launcher, Shutter Armor, Kremzeek
Action Feature: Transforms from Robot to space ship, all three become camera
Retail: $69.99
Availability: September 2019
Other: Aborted HasCon item - note packaging is all English. You probably can't sell it in Quebec.

PREVIOUS
RSS
NEXT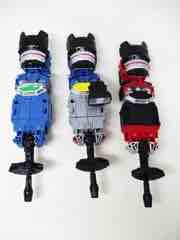 Now that you have the gift of hindsight, the Refraktor Reconnaissance Team Action is the version of this toy you should buy. The single-pack Refraktor [FOTD #2,119] can also be bought and assembled in triplicate, but it is missing some of the key camera kibble - the resulting merged gadget is close, though, and great if you want G1 TV colors. If you prefer the mail-in toy colors, get this 3-pack and its fancy box.
Each element of Refraktor is colored differently to match the individual characters Spectro (red chest), Spyglass (the darker purple one with the yellow chest), and Viewfinder (the lighter purple one with the green chest and shoulder kibble). The core toy is the same throughout - they just have different add-on kibble and colors to distinguish them. The original G1 toys also had some unique heads and other elements, but the new one doesn't really. The base figure is also shared with basic Refraktor and since we already reviewed him, all you need to know is that this is just as good with more and different colors.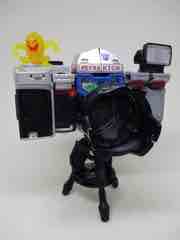 The toy comes to you as a camera, which you can pry apart and make 3 individual robots (with kibble) or 3 individual space ships (with kibble, or kibble-adjacent.) The added coloring makes for a much better set of toys, and the kibble tarts up the camera-shaped block a lot better with significantly less need of your imagination. Each figure has about 24 points of articulation, all of which are needed to mash the robot up into its various forms. This toy's main draw may well be its accessories, as the kibble really gives it that camera feel and you also get the first "Generations" take on Kremzeek.
Thanks to everything being in one box it really does feel like a deluxe package - you get lots of parts and pieces, 7 total modes between the three toys, and a lot of fidget-able opportunities for play. It's also probably a requirement for anyone trying to get a complete cast of 1984 characters as toys, as I don't expect we'll see something more fancy than this.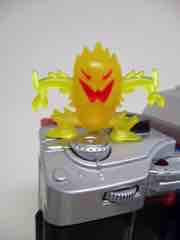 Designed as a "blast effect," the clear yellow Kremzeek is a little goblin with 3mm foot peg holes. You can attach it to the exterior of the camera and most vehicle modes, and on the barrel of some 3mm weapons. It's a goofy fun bonus and the kind of thing we don't see much in Generations - there may be nods to minor TV-only non-transforming characters, but "sidekick figures" like this are exceptionally uncommon. Sure he doesn't belong with this trio in the world of the episode, but who's counting? I'm glad Hasbro made it.
At Comic-Con in San Diego, the team walked me through the design concept - specifically they wanted to have an unboxing experience that emphasizes the camera, but they also added in a plastic window on the box so you can see the device inside. It's pretty awesome. Because of the added accessories and the color variations, this is a great set. It costs more, but you get more, and you don't have to track down three of a figure to finish the job. It may cost $10 more than 3 deluxe-class toys, but you'd probably pay $10 for a Kremzeek and a third-party upgrade set. I'd say it's good enough for what you get, and if toy history is any indication this collector-friendly frenzy of good-but-not-too-expensive toys won't last forever - so enjoy while you can.
--Adam Pawlus
Additional Images

Click here to see more Hasbro figures in Figure of the Day.
Click here to see more Transformers figures in Figure of the Day.

Want to buy this figure? Check Transformers availability at our sponsors:
Entertainment Earth