Second Form
Mutated Mutant

Shin Godzilla Action Figure
Item No.: No. 4464
Manufacturer: BanDai
Includes: Tag
Action Feature: n/a
Retail: $20ish through importers
Availability: Late 2016
Other: Soft Vinyl

PREVIOUS
RSS
NEXT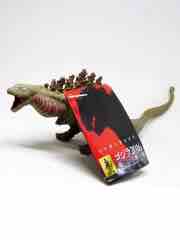 This 14-inch Shin Godzilla Second Form soft vinyl figure is the kind of thing we need more of - they're cheap to make, sizable, and good enough. Not everything needs to be $200 with 90 points of articulation - sometimes you just need a figure for your desk.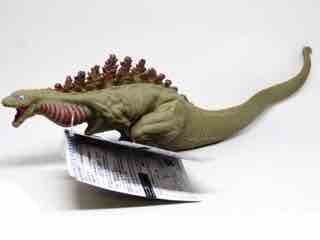 This weird fellow is mostly tail. The body has 2 articulated legs, with the back spines and the tail as separate-but-glued pieces. The articulation is kind of pointless, but it's handy if you want to raise or lower it a tiny but. The figure's weird blank dumb eyes and gaping maw hint at its struggles to breathe as it evolves lungs - you can see the gills. The figure looks desperate, scared, and probably oblivious to where it is.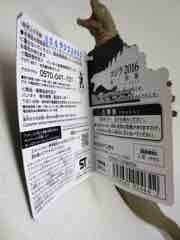 This is a figure you buy because you like the design - sure, it has painted gills. Yes, it has a painted mouth with teeth. The whites aren't super white, and the spines don't look all that different from the main skin. The soft vinyl looks like it could be real, but obviously isn't. The face reeks of the design sensibility of Attack on Titan, which makes sense given the creative team. The tail has hints of what the movie brings you at the end, but let's not go into that - let's just admire someone had the bravery to try Godzilla as something neither green nor black.
If you like how this figure looks, it's good enough to buy. See the movie first, and then snag this figure if it's still available in your price range. It won't amaze you, but it's a satisfyingly strange take on a classic movie monster.
--Adam Pawlus
Additional Images

See more BanDai figures in Figure of the Day:
Day 22: Tamagoras Get Back To Job Lion
Day 150: BanDai Final Fantasy VII Extra Knights Red XIII Action Figure
Day 167: BanDai Final Fantasy VII Extra Knights Barett Wallace Action Figure
Day 185: BanDai Final Fantasy VII Extra Knights Tifa Lockheart Action Figure
Day 216: BanDai Tick Bounding Tick Action Figure
Day 236: BanDai Final Fantasy VII Extra Knights Sephiroth Action Figure
Day 268: BanDai Megaman Trading Figures Jumping Megaman Action Figure
Day 310: BanDai ThunderCats 4-Inch Lion-O Action Figure
Day 1,360: BanDai Godzilla Tokyo Vinyl Mechagodzilla Action Figure
Day 1,370: BanDai Godzilla Fusion Series 1968 Godzilla Action Figure
Day 1,377: BanDai Godzilla Fusion Series Gigan Action Figure
Day 1,386: BanDai Godzilla Anguirus 2004 Action Figure
Day 1,393: BanDai Godzilla SpaceGodzilla Action Figure
Day 1,408: BanDai Godzilla Rodan 2004 Action Figure
Day 1,458: BanDai Gamera Heisei Gamera Action Figure
Day 1,625: BanDai Shin Godzilla Third Form Vinyl Figure
Day 1,773: BanDai Xyber 9 New Dawn Ikira's Speeder
Day 1,980: BanDai Saban's BeetleBorgs Metallix Mega Spectra Titanium Silver Sector Cycle Vehicle with Action Figure
Day 2,021: BanDai Mystic Knights of Tir Na Nog The Drageen Action Figure
Day 2,135: BanDai Shin Godzilla Second Form Vinyl Figure

See more Godzilla figures in Figure of the Day:
Day 1,360: BanDai Godzilla Tokyo Vinyl Mechagodzilla Action Figure
Day 1,370: BanDai Godzilla Fusion Series 1968 Godzilla Action Figure
Day 1,377: BanDai Godzilla Fusion Series Gigan Action Figure
Day 1,386: BanDai Godzilla Anguirus 2004 Action Figure
Day 1,393: BanDai Godzilla SpaceGodzilla Action Figure
Day 1,408: BanDai Godzilla Rodan 2004 Action Figure
Day 1,469: X-Plus Godzilla Garage Toy Titanosaurus 1975 Version Vinyl Figure
Day 1,540: Funko Pop! Movies Atomic Breath Godzilla Pop! Vinyl Figure
Day 1,625: BanDai Shin Godzilla Third Form Vinyl Figure
Day 2,135: BanDai Shin Godzilla Second Form Vinyl Figure
Day 2,465: Super7 Godzilla Godzilla '54 (Glow-in-the-Dark) ReAction Figure
Day 2,530: Super7 Godzilla Mechagodzilla (Glow-in-the-Dark) ReAction Figure