Godzilla SpaceGodzilla Action Figure
FOB Line - De Facto Toys R Us / Kmart / Kay-Bee Exclusive

Godzilla Vinyl Figures
Item No.: Asst. 91810 No. ???
Manufacturer: BanDai
Includes: n/a
Action Feature: n/a
Retail: $12.99
Availability: ca. 2005?
Other: From Godzilla vs. SpaceGodzilla?

PREVIOUS
RSS
NEXT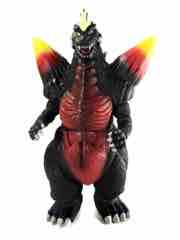 I got the US release of SpaceGodzilla in yet another sack of Goodwill toys - this one was joined by Gamera (hunh) and Rodan. Two bucks. In the mid-2000s, Kmart had a lot of Godzillas thanks to BanDai's import program - if you bought a huge container of thousands of these guys, your store had them. This means that they pretty much showed up at Kmart almost exclusively, but you saw some at Toys R Us as well. The deco is - I believe - unique to the US release, as the body is more metallic in the Japanese releases, and the shoulder protrusions tend to be all white and gold (or black and blue, depending on how you squint) from Japan.
If you want a mutant Godzilla clone, this is it - he's got a longer, multi-piece tail and a gleefully tubby build. While my sample is imperfect - the tips of the spikes have some rub on them - this was pretty common in the retail stores. Thanks to the tray packaging, kids would often play with the toys in the stores without making a purchase. This leads to missing limbs, rubbed paint, and boogers, snot, silly string, food residue, and other things on them. Why Imaginext and other brands embrace this disgusting trend is beyond me, and it's certainly making me wish I bought more toys online or fresh from the cases. I've seem some nasty stuff.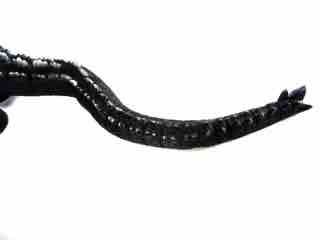 The dark 6 1/2-inch tall figure is quite nice, with a painted red belly, white claws, and white fins running down his back. The tail is jointed where it meets the body and in the middle, allowing for more movement than other toys in this still ongoing line. It's really quite amazing to think that a Japanese movie monster line has legs in the USA with minimal marketing push and virtually no kids having ever seen these films - the toys just look so cool that they sell. SpaceGodzilla has bright eyes, individually painted teeth, and an absolutely lovely pose with his arms able to swing in and out. It's like Barney the Dinosaur was given fangs but retains the ability to hug you while slicing off your arm in a fight. It's really quite nice.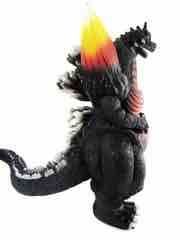 Articulation is good for a vinyl figure, which is to say, not great. You articulation fiends should just grab the SH MonsterArts, but I love the classic Japanese vinyl figure stylings that give me articulated arms, a jointed tail, and a moving neck. He looks like he has leg and waist articulation, but he doesn't - and I'm OK with that. I'd rather he be able to move, but let's be honest - with his build, I assume the legs need to be in a certain position to avoid face-planting on the floor.
The going rate on Amazon is high, and samples on eBay aren't common - but are much, much cheaper. Given mine cost less than a cookie at McDonald's, I don't think I'd want to pay $50-$60 for one. $13 would have been completely fair. If you can find one at a comic shop or a toy show for $20, get it. It meets all your vinyl Japanese monster needs and is pretty adorable. I feel pretty bad for whoever had their monster collection dumped at Goodwill, but not bad enough to try to find out if the donation was voluntary or not. It's the great toy graveyard, and I'm happy to bring this one home.
--Adam Pawlus
Additional Images

See more BanDai figures in Figure of the Day:
Day 22: Tamagoras Get Back To Job Lion
Day 150: BanDai Final Fantasy VII Extra Knights Red XIII Action Figure
Day 167: BanDai Final Fantasy VII Extra Knights Barett Wallace Action Figure
Day 185: BanDai Final Fantasy VII Extra Knights Tifa Lockheart Action Figure
Day 216: BanDai Tick Bounding Tick Action Figure
Day 236: BanDai Final Fantasy VII Extra Knights Sephiroth Action Figure
Day 268: BanDai Megaman Trading Figures Jumping Megaman Action Figure
Day 310: BanDai ThunderCats 4-Inch Lion-O Action Figure
Day 1,360: BanDai Godzilla Tokyo Vinyl Mechagodzilla Action Figure
Day 1,370: BanDai Godzilla Fusion Series 1968 Godzilla Action Figure
Day 1,377: BanDai Godzilla Fusion Series Gigan Action Figure
Day 1,386: BanDai Godzilla Anguirus 2004 Action Figure
Day 1,393: BanDai Godzilla SpaceGodzilla Action Figure
Day 1,408: BanDai Godzilla Rodan 2004 Action Figure
Day 1,458: BanDai Gamera Heisei Gamera Action Figure
Day 1,625: BanDai Shin Godzilla Third Form Vinyl Figure
Day 1,773: BanDai Xyber 9 New Dawn Ikira's Speeder
Day 1,980: BanDai Saban's BeetleBorgs Metallix Mega Spectra Titanium Silver Sector Cycle Vehicle with Action Figure
Day 2,021: BanDai Mystic Knights of Tir Na Nog The Drageen Action Figure
Day 2,135: BanDai Shin Godzilla Second Form Vinyl Figure

See more Godzilla figures in Figure of the Day:
Day 1,360: BanDai Godzilla Tokyo Vinyl Mechagodzilla Action Figure
Day 1,370: BanDai Godzilla Fusion Series 1968 Godzilla Action Figure
Day 1,377: BanDai Godzilla Fusion Series Gigan Action Figure
Day 1,386: BanDai Godzilla Anguirus 2004 Action Figure
Day 1,393: BanDai Godzilla SpaceGodzilla Action Figure
Day 1,408: BanDai Godzilla Rodan 2004 Action Figure
Day 1,469: X-Plus Godzilla Garage Toy Titanosaurus 1975 Version Vinyl Figure
Day 1,540: Funko Pop! Movies Atomic Breath Godzilla Pop! Vinyl Figure
Day 1,625: BanDai Shin Godzilla Third Form Vinyl Figure
Day 2,135: BanDai Shin Godzilla Second Form Vinyl Figure