Armada Starscream Super Mode
In the USA, "Thundercracker"

Transformers Legends LG 18
Item No.: No. ???
Manufacturer: Takara-Tomy
Includes: 2 swords, 2 rockets
Action Feature: Changes from fighter jet to robot, launches rockets
Retail: 3,100 yen (or $21-$30 at importers)
Availability: January 2016
Other: Totally Not Thundercracker (OK it's Thundercracker)

PREVIOUS
RSS
NEXT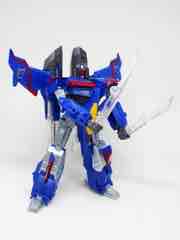 While the bulk of most Transformers toys are co-developed by Takara-Tomy and Hasbro for release in Japan as well as other markets, sometimes we see items exclusive to one region - Takara-Tomy has made Armada Starscream Super Mode for their territory with no sign of a Hasbro release elsewhere in the world. Since this figure is drastically different in decoration than the mold has been previously, it's different enough to warrant your attention. Oh, and for the record - this is a heavy redeco of the US 2014 Armada Starscream [FOTD #860].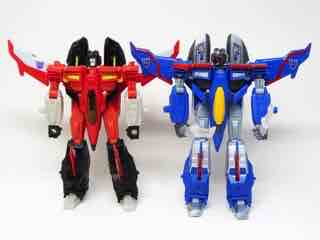 I liked the original, and I like this redeco. The blue is very nice, and the Decepticon symbols on Starscream's wings have a nice silver border like most current toys. The rest striping and face look fantastic, and the gunmetal grey on the fists, cannons, and helmet look superb. An orange canopy is opaque and pretty, with clear colorless swords that I wish were neither clear nor colorless. The cannons are also mostly clear colorless plastic, and well, I just assume this isn't going to age pretty. I'm all for opaque, not-clear, not-white plastics - but I will say the clear back of his head does allow for his eyes to light up nicely.
With some silver on his knees and a swell matching grey plastic for his thighs, the figure looks pretty good - not every figure can put together disparate paints and plastics that look good. All 15 joints seem to work quite nicely, and the silver feet are a nice touch - it does make the figure look like it's worth a few extra bucks. (Not coincidentally, it costs a few extra bucks when compared to the US release of the mold.) The swords store in his wings, and two pretty slick rocket launchers can go over his shoulders or on his back. This is a toy you can actually play with and it does things.
Transformation is pretty simple - fold in the hands and feet, the wings and nosecone rotate into position, fold over the legs, get the arms just-so, and you're basically done. I don't expect you'll need instructions for this one.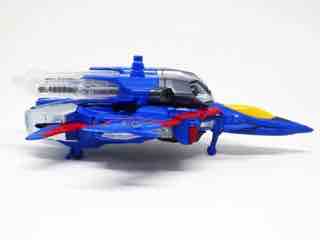 As a jet, Armada Starscream a la Mode is just as good as his ancestor. He's got two firing marbles shooter rockets - and those are fun! Vehicles rarely do much of anything these days, so an honest-to-goodness action feature is something that should be treasured. Outside the Leader-class toys, Hasbro effectively banished features like these in its US 2015 Generations line. The jet also has 3 pieces of retractable landing gear with little wheels on them that are purely decorative. It's a nice touch, but mostly it's important because it gives the buyer something to interact with on the figure rather than just slap it on a shelf and call it a day. Transformers vehicles should really have functionality beyond rolling wheels and on-board weapon storage.
I pre-ordered this figure as a sort of impulse. I just got Nightbird Shadow, Blackarachnia, and Slipstream and said "These are fun, I should get more Japanese toys." This wasn't as cool as those three, as there are no new parts here and that makes a big difference. It is, however, a nifty upgrade of Starscream and that's something the toy lines and fiction don't exploit as much as they should. Megatron becomes Galvatron, how come Starscream doesn't get upgraded more? Sure, we got Megascream in that comic recently, but that's a sort of thing I'd like to see more of even if it is a little silly. For $20ish, this is a fantastic figure. For $30 or more, I'd hesitate to direct you to it unless you already have and love regular Armada Starscream. I like the colors, I like the mold, and I like the toy.shtmlects of this figure - and I'm also glad Takara-Tomy isn't doing many exclusive character variants because that can get expensive.
--Adam Pawlus
Additional Images

See more Takara-Tomy figures in Figure of the Day:
Day 180: Takara-Tomy Transformers Animated Ironhide (Bulkhead) Key Chain
Day 435: Takara-Tomy Transformers Prime Gacha Arms Micron Optimus Prime Blaster
Day 476: Takara-Tomy Transformers Prime Bumblebee Sword Action Figure
Day 495: Takara-Tomy Beast Saga Raioga Action Figure
Day 529: Takara-Tomy Beast Saga Kingdom of Sea Death Action Figure Set
Day 534: Takara-Tomy Beast Saga Dolphin Burst Action Figure
Day 540: Takara-Tomy Beast Saga Kingdom of Gloria Action Figure Set
Day 544: Takara-Tomy Beast Saga Aldyle Action Figure
Day 549: Takara-Tomy Beast Saga Dorfan Action Figure
Day 551: Takara-Tomy Beast Saga Eledram Elephant Action Figure
Day 564: Takara-Tomy Beast Saga DX Starter Set Action Figure Set
Day 568: Takara-Tomy Beast Saga Tarlock Action Figure
Day 573: Takara-Tomy Beast Saga Long Giraf Action Figure
Day 579: Takara-Tomy Beast Saga Garrison G Action Figure
Day 580: Takara-Tomy Beast Saga GachaBooster General Hawk Knight Action Figure
Day 585: Takara-Tomy Beast Saga Beast Machines Sky Darling Vehicle
Day 586: Takara-Tomy Beast Saga Killer Shark Burst Action Figure
Day 593: Takara-Tomy Beast Saga Rynas Action Figure
Day 595: Takara-Tomy Beast Saga Seylas Action Figure
Day 597: Takara-Tomy Transformers Prime Zad Action Figure
Day 601: Takara-Tomy Beast Saga Bamet Burst Action Figure
Day 616: Takara-Tomy Beast Saga Long Giraf Burst Action Figure
Day 622: Takara-Tomy Beast Saga Bamet Action Figure
Day 626: Takara-Tomy Beast Saga Killer Shark Action Figure
Day 637: Takara-Tomy Beast Saga Liorga Action Figure
Day 642: Takara-Tomy Beast Saga Aldyle Burst Action Figure
Day 663: Takara-Tomy Beast Saga Janjan Action Figure
Day 669: Takara-Tomy Beast Saga Ogre Burst Action Figure
Day 678: Takara-Tomy Beast Saga Swordbill Action Figure
Day 693: Takara-Tomy Beast Saga Guarl Burst Action Figure
Day 715: Takara-Tomy Beast Saga Guarl Action Figure
Day 824: Takara-Tomy Beast Saga Mantaray Action Figure
Day 828: Takara-Tomy Beast Saga Aljaylo Action Figure
Day 839: Takara-Tomy Beast Saga Ogre Action Figure
Day 846: Takara-Tomy Beast Saga Dakker Action Figure
Day 856: Takara-Tomy Beast Saga Moreek Action Figure
Day 873: Takara-Tomy Beast Saga Wonderriver Action Figure
Day 905: Takara-Tomy Transformers Masterpiece Edition Lambor G-2 Ver.
Day 937: Takara-Tomy Beast Saga Rynas Burst Action Figure
Day 974: Takara-Tomy Beast Saga Super Win Deck Impact Set Action Figure Set
Day 993: Takara-Tomy Beast Saga Kannigal Burst Action Figure
Day 1,127: Takara-Tomy Transformers Sega Genesis Megatron Action Figure
Day 1,207: Takara-Tomy Transformers United Rumble & Frenzy
Day 1,224: Takara-Tomy Transformers Adventure Roadblock
Day 1,242: Takara-Tomy Transformers Go! Go
Day 1,247: Takara-Tomy Transformers Go! Sen
Day 1,259: Takara-Tomy Transformers Go! Geki
Day 1,262: Takara-Tomy Transformers Masterpiece Bumble G-2 Ver.
Day 1,273: Takara-Tomy Transformers Go! Ex
Day 1,284: Takara-Tomy Transformers Go! Shou
Day 1,310: Takara-Tomy Transformers Legends Slipstream
Day 1,327: Takara-Tomy Transformers Unite Warriors Grand Scourge
Day 1,328: Takara-Tomy Transformers Unite Warriors Nightbird Shadow
Day 1,326: Takara-Tomy Beast Saga Buffam Action Figure
Day 1,328: Takara-Tomy Transformers Adventure Override
Day 1,332: Takara-Tomy Beast Saga Bunikis Action Figure
Day 1,339: Takara-Tomy Beast Saga Aljaylo Burst Action Figure
Day 1,357: Takara-Tomy Transformers United Stepper
Day 1,381: Takara-Tomy Beast Saga Eledram Burst Action Figure
Day 1,429: Takara-Tomy Transformers Legends Armada Starscream Super Mode
Day 1,468: Takara-Tomy Transformers Unite Warriors Grand Galvatron
Day 1,471: Takara-Tomy Zoids Masterpiece Shield Liger
Day 1,496: Takara-Tomy Beast Saga Dacker Burst Action Figure
Day 1,627: Takara-Tomy Transformers Legends Convobat
Day 1,670: Takara-Tomy Transformers Legends Leo Prime
Day 1,814: Takara-Tomy Beast Saga Mantaray Burst Action Figure
Day 1,842: Takara-Tomy Transformers Legends Blackarachnia
Day 1,911: Takara-Tomy Beast Saga Wolfen Burst Action Figure
Day 1,964: Takara-Tomy Beast Saga Buffam Burst Action Figure
Day 2,000: Takara-Tomy Zoids Wild ZW-05 Gannontoise Figure Kit
Day 2,006: Takara-Tomy Beast Saga Raioga Burst Action Figure
Day 2,008: Takara-Tomy Zoids Wild ZW-01 Wild Liger Figure Kit
Day 2,013: Takara-Tomy Zoids Wild ZW-03 Kabtor Figure Kit
Day 2,017: Takara-Tomy Zoids Wild ZW-04 Scorpear Figure Kit
Day 2,039: Takara-Tomy Zoids Wild ZW-06 Gabrigator Figure Kit
Day 2,075: Takara-Tomy Zoids Wild ZW-07 Kuwaga Figure Kit
Day 2,191: Takara-Tomy Transformers Generations Selects Deluxe Gulf (Skalor) Action Figure
Day 2,200: Takara-Tomy Transformers Generations Selects Deluxe Turtler (Snaptrap) Action Figure
Day 2,213: Takara-Tomy Beast Saga Kannigal Action Figure
Day 2,273: Takara-Tomy Transformers Generations Selects Voyager Super Megatron Action Figure
Day 2,463: Takara-Tomy Beast Saga Moreek Burst Action Figure

Click here to see more Transformers figures in Figure of the Day.

Want to buy this figure? Check Transformers availability at our sponsors:
Entertainment Earth