Optimus Prime
Voyager-Sized Simplified Figure

Transformers Generations Cyber Battalion Figure
Item No.: Asst. B0785 No. B1299
Manufacturer: Hasbro
Includes: n/a
Action Feature: Transforms from Robot to Truck
Retail: $14.99
Availability: April 2015
Other: Non-US De Facto Exclusive

PREVIOUS
RSS
NEXT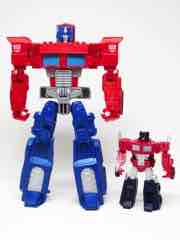 It's really amazing how different a collector's perceptions are based on when they came in to a toy line. I'm still excited about toys like this Optimus Prime because I re-entered this line in 1998, at which point a proper red truck Prime hadn't been on the US market in several years, and the next proper truck wouldn't come around until Armada in 2002. That's an eternity compared to today, where you'll probably never go one or two years without getting a new Optimus Prime that turns into a red semi of some sort. In 2015, we got Combiner Wars Optimus Prime [FOTD #1,100] in addition to this Cyber Battalion one and a Cyber Commander giant toy that we'll look at later this week. On top of those, there were also several Robots in Disguise Optimus toys in various sizes - the big bot is basically getting the Batman treatment, as opposed to the 1980s when we had something like 3 toys before Generation 2 kicked off... at which point he started to make up for lost time. He's popular and important, which is why Hasbro made two "discount" takes on the Autobot hero yet forgot to sell them to fans in the USA. At least you've always got the Internet.
As a 7-inch tall robot, this figure is engineered similarly to Reveal the Shield Optimus Prime [FOTD #324], a tiny $5 Legends-class toy with personality to spare. It was retooled and repackaged a few times, and may even still be at Family Dollar, Big Lots, or Dollar General stores near you as you read this. Both toys have articulated waists, swivel necks, bending elbows, moving hips, and rotating shoulders. This larger Cyber Battalion version requires biceps since the whole ball-jointed elbow thing doesn't quite work when toys get big, so you'll be happy to know it actually has more articulation. He also still has red fists and no gun - you'll need to steal one from another toy.
I'm really loving this toy - but remember, it's a toy. It's not a Masterpiece Edition collectible, so you'll note it's missing some of the niceties you've seen on other toys like yellow spatula crotches or blue fists. Optimus has unpainted red hands and the various shades of red plastic don't exactly match - the area under Prime's head and in between his arms and body are actually a little darker. It doesn't bother me a great deal, but it's obvious that the goal of this toy was not to produce the most attractive robot ever made. There are no smokestacks, there isn't much paint, but there is a wonderful head sculpt with a great little "beard" at the bottom and bright blue painted eyes. Just by looking at this figure you can see influences from a number of character models, all of which could probably come across more clearly if Hasbro added some more paint to this figure. Heck, a customizer could probably do a good job with it if they were more widely available and as cheap as Hasbro intended for them to be. As it is, it's just a fun toy - there are no knee joints, but for those of you with extra accessories you're going to have a good time.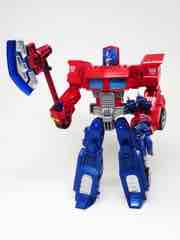 Transformation is similar to the aforementioned Reveal the Shield Optimus Prime - the legs fit together and become the back of the truck, the arms tuck in to the body, and the head folds down. It's not exactly a challenge to figure out the 7 steps, but I think that's a big plus. A kid would enjoy this, assuming a kid gave a hoot about a toy made in 2015 that seems designed to make kids from 1984 happy. It's fun unto itself, but does this devotion to a classic design matter? Not really.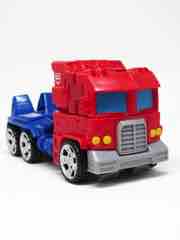 The truck lacks any sort of a hitch for the trailer that doesn't exist, so what you have here is a charming cab with painted blue windows. And yellow headlights. Also silver hubcaps. The truck does look more or less like you would expect, but it's impossible to look at a flat-nose cab Optimus toy and not go "so where's the trailer?" It's a fairly decent looking vehicle, but the "legs" are a little loose on the cab - they can peg in place, but you have to position them just-so and it may not be obvious that the slots and tabs actually exist when you first play with it. I'm not overly fond with how it holds together, but you can also bypass the whole floppy leg truck thing by just picking it up by the blue parts of the vehicle.
I got my money's worth. It's a simple toy, but it's big and it has a nice head sculpt - I'd like a lot more toys just like this. If Hasbro did a black Scourge/Nemesis Prime redeco, I'd buy it. If they gave him a different head and a new identity, I'd buy one of those too. It's a great example of what Hasbro could do if they retooled their production to make toys that were bigger and cheaper, and probably also annoying to collectors. I don't expect anyone over 30 is going to be thrilled with this, unless your goal is to have a fun toy to fidget with while on your sofa. If that's what you want, this is the best thing your money can buy right now.
--Adam Pawlus
Additional Images

Click here to see more Hasbro figures in Figure of the Day.

Click here to see more Transformers figures in Figure of the Day.

Want to buy this figure? Check Transformers availability at our sponsors:
Entertainment Earth