Dead End
Menasor #2 of 5

Transformers Generations Combiner Wars Deluxe
Item No.: Asst. B0974 No. B1305
Manufacturer: Hasbro
Includes: Comic book Combiner Wars #8 (Robots in Disguise #16), pipe weapon, hand/foot/weapon
Action Feature: Transforms from Robot to Ferrari 458 Italiaish car to Hand to Foot
Retail: $15.99
Availability: March 2015
Other: Pretool - also Prowl, Streetwise, Brake-Neck, Dustup

PREVIOUS
RSS
NEXT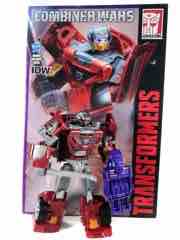 There have been many toys named Dead End but not all of them are based on the reddish car which forms a limb of Menasor. One looks a lot like Wildrider, another looks a lot like a black Sunstreaker, but this one looks a lot like the combining toy from the 1980s. The same engineering for this toy will also be used for Streetwise, which will be a fairly dramatic reshelling of this toy which should help keep development costs down and engineering consistent.
The name has seen a lot of use in recent years, but the bulk of the toys are not quite this exact character. The robot who always sees the glass as half doomed turned out pretty well, although it seems to me that the simplified toys of the first wave are giving way to slightly more complex and chunky toys for this batch.
At 5 1/2-inches tall this figure is about as tall as all of his brothers. Articulation is about on par with the rest, as you get 14 useful points of articulation on a mostly maroon frame. His face owes much to the cartoon animation model, as it has a metallic orange faceplate and purple visors. The original 1986 toy had individual eyes plus a nose and mouth. Other than color, the figure is largely different from his ancestors as theree are different shapes and panels and other details all over the body. A flip-up "bib" covers the combiner peg in his chest, other than being exposed and obvious on many of the other limbs. The arms are a little more chunky than the wave 1 quartet of limbs, but they movie nicely and the wrists have no difficulty holding the pipe/gun weapon. His feet aren't particularly pronounced, as you see a little sculpted relief for the toes but as they don't protrude much the legs seem almost unfinished.
His weaponry includes a purple fist/gun/foot as well as a pipe that you can also pretend is a gun. It's not quite the impressive blaster of the original, but it's something. The melee weapons are likely going to get upgraded by third parties, but these are perfectly good and they do attach nicely out of the way on Menasor if you need to keep them out of sight. It's a perfectly nice stand-alone robot, but I'd be lying to you if I said I didn't immediately make him into an arm for Menasor.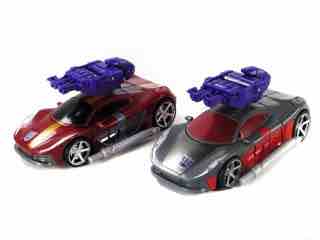 It's a car! Transformation is pretty simple, but there are a lot more moving panels on this one when compared to, say, Dragstrip. The legs open up and engulf the thighs. The wrists are tight and rotate in to the forearms, and the hood of the car needs to be carefully manipulated with the head rotated into the area where the engine goes. The car provides the best basis for turning into a foot, but the robot mode most easily turns into the arm.
As a car, it's a car. He has wheels, Decepticon symbols, and silver hubcaps - Hasbro didn't cheap out on the deco here. There's even a silver bumper. The sculpt looks great, as plausible Earth cars go it's certainly a nice one. It's also a very nice limb for Menasor, with roughly the same articulation as the other items. The similarity in construction in each one of these figures means you're going to get elbows and wrists for your super robot, although the arm mode here is kind of strange thanks to how the individual Dead End arms sort of hang off the Menasor super arm. You can see it in the pictures below, but it's more obvious in person.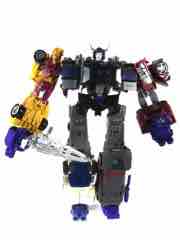 While not my favorite limb, he's certainly a great design that is going to see a lot of future use as retooled or repainted toys. (Or at least, that's what we're expecting.) Seeing what Hasbro did with this line is pretty remarkable, in that we've come a long way from getting underpainted redecorated molds time and again. Planning for retools and making huge combiners is such a delight, although the prices creeping up do show that we are paying for these advances. Thankfully, we're not paying all that much - $85-$100 for a big 14-inch combiner robot with a bunch of comic books isn't a bad deal compared to some of the $300 third-party toys, although it's probably a lot for your average kid. Rather than share some trite platitudes about someone thinking of the children, I will instead close by thanking Hasbro for making these neat, larger, poseable robots in 2016 when I have a job and the ability to buy them, if not the endless time to really, truly appreciate them as I might have as a child. The important thing here is that I have a giant Menasor on my desk today, and I didn't just last year. I see this as a victory.
--Adam Pawlus
Additional Images

Click here to see more Hasbro figures in Figure of the Day.

Click here to see more Transformers figures in Figure of the Day.

Want to buy this figure? Check Transformers availability at our sponsors:
Entertainment Earth