Skywarp
Here we go again

Transformers Generations Combiner Wars Leader
Item No.: Asst. B0975 No. B4669
Manufacturer: Hasbro
Includes: Trading Card, rocket, blaster, 6 snap-on guns
Action Feature: Transforms from Robot to Plane
Retail: $44.99
Availability: November 2015
Other: Jetfire retool, Starscream pretool, Thundercracker redeco

PREVIOUS
RSS
NEXT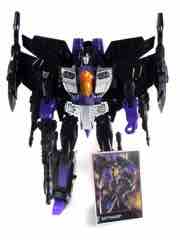 Hasbro has taken an interested in completing certain teams - so now we're pretty much guaranteed a Skywarp if or when a Thundercracker or Starscream shows up. All three of these jets are retooled versions of Jetfire, meaning we've gotten a surprisingly large amount of Leader-class toys in the last 14 months. Seriously - since (and including) Jetfire we've got these three jets, Ultra Magnus, and two Megatrons.
As with before, you get a 9-inch tall robot with over over 20 points of articulation, a bunch of cannons, a rocket, and a launcher. It's not quite a straight-up palette swap of Thundercracker, but it's pretty close - you'll notice certain things have been painted or colored differently. I'm not saying this because it's particularly interesting, this is what we call padding. When you get right down to it, this toy is just as good as those other ones except now you can get it in mostly black with purple, you lucky devils you.
This is effectively a Masterpiece-sized toy that doesn't require the intensive transformation or excess kibble. While some sing the praises of those molds - and given how at times they're about $60 while this one is $45, I can understand why - I don't mind the lack of hip kibble. Sure, the articulated fingers would be nice but that's not what Hasbro was aiming for here.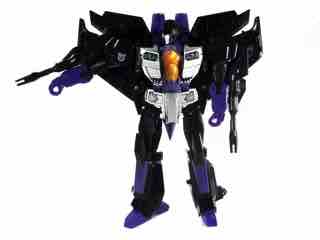 Transformation is par for the course - the arms unhinge and move, the legs fold up, and you get a jet. Hooray! The jet itself doesn't do a heck of a lot, though.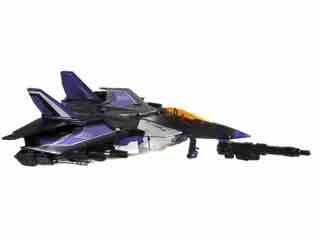 The toy retains the opening canopy, which means you can cram Starriors or Zoids chrome pilots in here - it's totally cool that the size was kept largely compatible. Wheels and a landing skid under the driver's seat are swell, and you can customize the toy with the various guns included in the box. A firing rocket comes courtesy of the launcher which you can mount under the nose, but it looks a little awkward. I'd prefer they integrate these things into the toy, but that's increasingly uncommon these days.
It seems that Decepticons sell more to collectors, so it makes sense that Hasbro is slowly rolling out Leader-sized versions of the main characters from the cartoon - we've had Megatron, Starscream, Skywarp, and Thundercracker with Soundwave being a couple of raised eyebrows away from a confirmation at Toy Fair if not earlier. (Hey, there's a Blaster, there's gotta be a Soundwave.) As far as figures that would also make another good leader class Decepticon, I assume that 1984 heavy Shockwave has to be on the drawing board and a black redeco of Soundwave as Soundblaster is probably somewhere in the fabric of spacetime, but beyond that? Who knows. I like that Hasbro is actually putting out some pretty solid robots, but I'd be lying if I said I didn't feel like a chump for spending under $200 for 4 dudes based on the same mold.
--Adam Pawlus
Additional Images

Click here to see more Hasbro figures in Figure of the Day.

Click here to see more Transformers figures in Figure of the Day.

Want to buy this figure? Check Transformers availability at our sponsors:
Entertainment Earth