Owen "Alpha" and Velociraptor "Blue"
LED Light Reveals Skin Pattern!

Jurassic World Dino Hybrid Vehicles
Item No.: Asst. B1423 No. B8634
Manufacturer: Hasbro
Includes: Rifle, blacklight, bike, human figure, dinosaur
Action Feature: Blacklight, rolling wheels, tail mechanism
Retail: $19.99
Availability: April 2016
Other: The Human

PREVIOUS
RSS
NEXT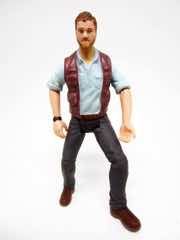 Short of working some magnets into the Owen "Alpha" and Velociraptor "Blue" set, this is the gift that keeps on giving. For twentyish dollars, you get a 3 3/4-inch action figure. You get a dinosaur. You get a bike. And you get a black light you can use to do all sorts of fun things, if you like that sort of thing, and I do. It doesn't come off as fun as it should in the box - seriously, if you got a birthday coming up for some kid, buy him or her this. It's great, there's a lot to do here.
The driving force of the set is Owen, the only human figure that isn't so small you could stick it in your ear. He's a little bigger than 3 3/4-inch scale, meaning he's going to tower over your Kylo Rens and other taller figures of this general size. Since he's the only figure in his line, it's no big deal, but he does seem a little big on his bike. Owen sports nifty elbow joints and a grand total of 7 joints, including the ball-jointed neck on a head that seems a little small for his body. Hasbro did a pretty good job sculpting him, but the paint job sort of needs work - the beard is soft, and the plastic selected by the factory seems to be a little too translucent. It's a common problem recently - skintones are tough to pull off correctly.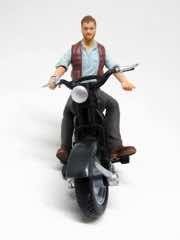 The figure was clearly designed with accessory interaction in mind, with legs capable of standing or straddling his motorcycle plus arms that are primarily meant for the rifle. Sure, you can get them on the bike handlebars, but it ain't pretty. He has no problems holding his silver, black, and brown gun plus you can clamp on the black light accessory to it. I should add, the black light reveals a hidden skin pattern on Blue's back, which is fun but completely unnecessary - and so far, this Blue (not the single-boxed one) is the only one released with a pattern. It's a great idea, and I hope more dinos have it so it is useful beyond being a weird one-off.
The black light itself is also ideal for finding which of your other toys can glow under it - neon toys, glow-in-the-dark toys, and that sort of thing. You can also find new and interesting stains in the house you bought's carpet, which is disgusting but an actual thing I just did by accident. Damned kids. What were you doing in the doorway to make this stain?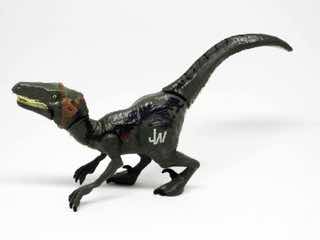 The dinosaur is mostly a repack, but isn't - how can you tell? Black light. The standard single release lacks a weird skin texture, this one has one. It's a clever idea for counterfeiting, or perhaps some form of toy authentication or something. Back in the 1980s "real" Transformers had rubsigns while competitors did not, whereas the JP/JW logo marks our dinosaurs. A black light tattoo - which I recently found out is something you as a human can also get - is a heck of a cool idea. Do date stamps and other markings in black light and don't sully the design. It's clever, is what I'm getting at.
The raptor herself is great. It's way too big for Owen, but it's a perfectly nice death-turkey that can remain standing if you put one of her arms down in a three-point stance. The figure has the camera and harness, plus limited paint applications. There are a few black markings in addition to a pretty fancy head with teeth, eyes, and a pink mouth interior. The narrowed eyes look a little out-of-it, but it's still fine. The belly is a cream color, plus the claws are also decorated. Hasbro did an OK job - nothing phenomenal, but it doesn't feel like any shortcuts were really taken for a mass-market kid toy.
When you move her tail, the neck moves a bit and the jaw opens. It's a stiff mechanism, but it works - it's something. You have to put enough force on the tail that doing so will knock her over if she's standing freely, which is a bummer, but such is life.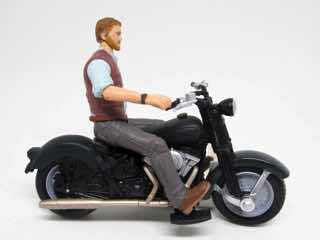 Owen's bike is the "vehicle" in this vehicles assortment, carrying on the proud and dull tradition of Hasbro being obsessed with bikes. Seriously, there are so many in G.I. Joe and even Star Wars - I do not care for them, but they're nicely done. This particular one has rolling wheels and a kickstand of some value, plus the handlebars turn the front wheel. It's not exactly packed with paint, but they did a good job - I daresay better than many other similarly sized Hasbro bikes. It's fun enough, but when you get a set of toys like this they can't all be fascinating.
With two figures, a bike, and some gear, this is a lot of fun. The black light has some real-world applications and if Hasbro had some more time, I bet they could have tossed in a small booklet saying "Hey kids! Have fun with this amazing piece of cheap technology and learn something!" It's neat, it's fun, and you'll like it. Well, you won't love it - Owen's head needs work - but the overall set is nice enough.
--Adam Pawlus
Additional Images

Click here to see more Hasbro figures in Figure of the Day.
See more Jurassic Park and Jurassic World figures in Figure of the Day:
Day 11: Hasbro Jurassic Park III Dr. Alan Grant
Day 138: Kenner Jurassic Park Chaos Effect Compstegnathus Action Figure
Day 172: Kenner Jurassic Park The Lost World Chasmosaurus Action Figure
Day 346: Kenner Jurassic Park Ian Malcolm Action Figure
Day 366: Kenner Jurassic Park Ellie Sattler Action Figure
Day 372: Hasbro Jurassic Park G.I. Joe Heavy Gunner Action Figure
Day 533: Kenner Jurassic Park Chaos Effect Amargospinus
Day 620: Hasbro Jurassic Park Pachyrhinosaurus Clash Action Figure Set
Day 651: Hasbro Jurassic Park Allosaurus Assault Action Figure Set
Day 851: Hasbro Jurassic Park Paul Kirby Action Figure
Day 1,180: Hasbro Jurassic World Tyrannosaurus Rex Action Figure
Day 1,180: Kenner Jurassic Park Alan Grant Action Figure
Day 1,196: Hasbro Jurassic World 3 Dinos Action Figure
Day 1,198: Kenner Jurassic Park Tim Murphy Action Figure
Day 1,202: Hasbro Jurassic World Spinosaurus Action Figure
Day 1,212: Kenner Jurassic Park Chaos Effect Ian Malcolm Action Figure
Day 1,216: Hasbro Jurassic World Ankylosaurus Action Figure
Day 1,219: Hasbro Jurassic World Stegoceratops Action Figure
Day 1,228: Hasbro Jurassic World Tyrannosaurus Rex Action Figure
Day 1,425: Hasbro Jurassic World Hybrid Velociraptor Action Figure
Day 1,455: Hasbro Jurassic World Bashers & Biters Indominus Rex Action Figure
Day 1,462: Hasbro Jurassic World Hybrid Tyrannosaurus Rex Action Figure
Day 1,472: Hasbro Jurassic World Pachycephalosaurus Action Figure
Day 1,509: Hasbro Jurassic World Hybrid Armor Indominus Rex Action Figure
Day 1,526: Hasbro Jurassic World Owen "Alpha" and Velociraptor "Blue" Action Figure
Day 1,528: Hasbro Jurassic World Hybrid Armor Ankylosaurus Action Figure
Day 1,540: Hasbro Jurassic World Hybrid Dilophosaurus Rex Action Figure
Day 1,550: Hasbro Jurassic World Hybrid Carnoraptor Action Figure
Day 1,560: Hasbro Jurassic World Hybrid Rampage Indominus Rex Action Figure
Day 1,567: Hasbro Jurassic World Hybrid Stegoceratops Action Figure
Day 1,573: Hasbro Jurassic World Hybrid Pteramimus Action Figure
Day 1,712: Hasbro Jurassic World Hybrid Spinosaurus Action Figure
Day 1,721: Hasbro Jurassic World Hybrid Dilophosaurus Action Figure
Day 1,918: Mattel Jurassic World Mini Action Dino Ankylosaurus Action Figure
Day 1,938: Funko Pop! Movies Jurassic Park Dr. Ian Malcolm (Wounded) Pop! Vinyl Figure
Day 1,943: Mattel Jurassic World Velociraptor "Blue" Action Figure
Day 1,950: Mattel Jurassic World Super Colossal Tyrannosaurus Rex Action Figure
Day 1,954: Mattel Jurassic World Dilophosaurus Action Figure
Day 1,959: Mattel Jurassic World Battle Damage Triceratops Action Figure
Day 1,963: Mattel Jurassic World Extreme Chompin' Tyrannosaurus Rex Action Figures
Day 1,965: Mattel Jurassic World Battle Damage Velociraptor "Blue" Action Figure
Day 1,967: Mattel Jurassic World Robert Muldoon Action Figure
Day 1,972: Mattel Jurassic World Gallimimus Action Figure
Day 1,981: Mattel Jurassic World Metriacanthosaurus Action Figure
Day 1,984: Funko Pop! Movies Jurassic Park Dr. Ian Malcolm Pop! Vinyl Figure
Day 1,989: Mattel Jurassic World Tyrannosaurus Rex, Stygimoloch "Stiggy," and Triceratops Action Figures
Day 1,994: Mattel Jurassic World Battle Damage Pachycephalosaurus Action Figure
Day 1,999: Mattel Jurassic World Owen & Baby "Blue" Action Figure
Day 2,003: Mattel Jurassic World Gift Set 6-Pack Action Figures
Day 2,053: Mattel Jurassic World Legacy Dr. Ian Malcolm Action Figure
Day 2,098: Mattel Jurassic World Dino Rivals Destroy 'N Devour Indominus Rex Action Figure
Day 2,103: Fisher-Price Imaginext Jurassic World Dr. Malcolm & Dimetrodon Action Figures
Day 2,111: Mattel Jurassic World Dino Rivals Mussaurus Action Figure
Day 2,511: Mattel Jurassic World Dominion Roar Strikers Iguanodon Action Figure
Day 2,558: Mattel Jurassic World Dino Trackers Danger Pack Nothosaurus Action Figure
Day 2,578: Mattel Jurassic World Mosasaurus Action Figure
Day 2,602: Mattel Jurassic World Dino Trackers Danger Pack Dakosaurus Action Figure