Mini Action Dino Ankylosaurus
Blind Bag!

Jurassic World Mini Action Dino Blind Bag
Item No.: Asst. FML69 No. FML76 (SKU on toy)
Manufacturer: Mattel
Includes: n/a
Action Feature: Articulated tail
Retail: TBD
Availability: April 2018 (Toy Fair preview in February)
Other: Small and Neat

PREVIOUS
RSS
NEXT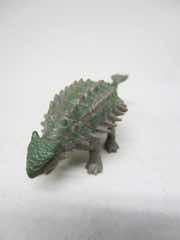 When I was at Toy Fair last month, Mattel handed us bags of freebies at the press event including a blind-bag Mini Action Dino Ankylosaurus. The package itself isn't much to look at. The bag doesn't say "Collect all 10!" or however many there are. The poster is small, but at least there's something inside the packet to tell you what it is - hopefully the bag itself will convince someone to buy these goofy things.
The toy itself is significantly better than Hasbro's minis from the last film [FOTD #1,196]. They were significantly cheaper (I assume, I don't know the price of the new one yet but it's gotta be at least $3-$4) but it's a higher-grade product. The lack of any sort of identification of the dinosaurs you could get - or even any body image of any dinosaur - might put kids off. What's inside? You'll never know.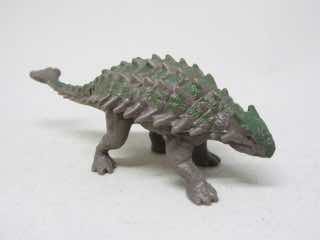 The figure is glossy and sturdy, posed like he could be walking, eating, or fighting - it's a flexible design. The brown plastic has green highlights on top, a painted white underbelly, and black eyes. A Jurassic World T-Rex skeleton silhouette supplants Kenner and Hasbro's cutie marks for JP and JW, making it identifiable without the "Dino Damage" or the marketing line to "Look for the JP logo" that we heard in the TV spots 25 years ago.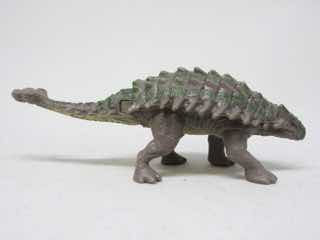 The detail is pretty good - what we have here is a fairly traditional take on the armored, turtle-like creature with the club tail. What sets Mattel's apart is a bend-and-swivel joint on the tail. Normally we get no articulation on small dinosaurs, so a fairly robust joint here is pretty slick. The scaly detail is good, the spikes are pointy without being sharp or too rounded-off, and the output from the mold is a little better than many of the cheapo dinosaur tubes But is it better enough to warrant buying this blindly rather than a big ol' box of Safari or Animal Planet toys? Maybe. The Jurassic brand is strong enough to make the toys more compelling to the average buyer than what you might get from a more generic toy, but you pay for that.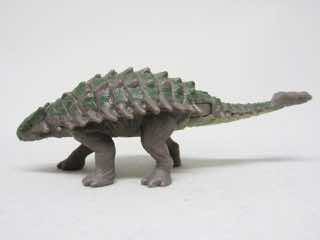 As a free sample, it's great - and if by some miracle it's $3 or under, I'd say this is a worthwhile buy. I really don't like how the packaging turned out, and in any sort of "collect them all" line I'd like to see at least some attempt on the packaging to tell me what could be inside this purchase, or my next one. I'd love the bag to show me what might be inside, and while I find it a satisfying toy I don't know if it's enough to convince anyone to buy. We shall see, soon!
--Adam Pawlus
Additional Images

Click here to see more Mattel figures in Figure of the Day.

See more Jurassic Park and Jurassic World figures in Figure of the Day:
Day 11: Hasbro Jurassic Park III Dr. Alan Grant
Day 138: Kenner Jurassic Park Chaos Effect Compstegnathus Action Figure
Day 172: Kenner Jurassic Park The Lost World Chasmosaurus Action Figure
Day 346: Kenner Jurassic Park Ian Malcolm Action Figure
Day 366: Kenner Jurassic Park Ellie Sattler Action Figure
Day 372: Hasbro Jurassic Park G.I. Joe Heavy Gunner Action Figure
Day 533: Kenner Jurassic Park Chaos Effect Amargospinus
Day 620: Hasbro Jurassic Park Pachyrhinosaurus Clash Action Figure Set
Day 651: Hasbro Jurassic Park Allosaurus Assault Action Figure Set
Day 851: Hasbro Jurassic Park Paul Kirby Action Figure
Day 1,180: Hasbro Jurassic World Tyrannosaurus Rex Action Figure
Day 1,180: Kenner Jurassic Park Alan Grant Action Figure
Day 1,196: Hasbro Jurassic World 3 Dinos Action Figure
Day 1,198: Kenner Jurassic Park Tim Murphy Action Figure
Day 1,202: Hasbro Jurassic World Spinosaurus Action Figure
Day 1,212: Kenner Jurassic Park Chaos Effect Ian Malcolm Action Figure
Day 1,216: Hasbro Jurassic World Ankylosaurus Action Figure
Day 1,219: Hasbro Jurassic World Stegoceratops Action Figure
Day 1,228: Hasbro Jurassic World Tyrannosaurus Rex Action Figure
Day 1,425: Hasbro Jurassic World Hybrid Velociraptor Action Figure
Day 1,455: Hasbro Jurassic World Bashers & Biters Indominus Rex Action Figure
Day 1,462: Hasbro Jurassic World Hybrid Tyrannosaurus Rex Action Figure
Day 1,472: Hasbro Jurassic World Pachycephalosaurus Action Figure
Day 1,509: Hasbro Jurassic World Hybrid Armor Indominus Rex Action Figure
Day 1,526: Hasbro Jurassic World Owen "Alpha" and Velociraptor "Blue" Action Figure
Day 1,528: Hasbro Jurassic World Hybrid Armor Ankylosaurus Action Figure
Day 1,540: Hasbro Jurassic World Hybrid Dilophosaurus Rex Action Figure
Day 1,550: Hasbro Jurassic World Hybrid Carnoraptor Action Figure
Day 1,560: Hasbro Jurassic World Hybrid Rampage Indominus Rex Action Figure
Day 1,567: Hasbro Jurassic World Hybrid Stegoceratops Action Figure
Day 1,573: Hasbro Jurassic World Hybrid Pteramimus Action Figure
Day 1,712: Hasbro Jurassic World Hybrid Spinosaurus Action Figure
Day 1,721: Hasbro Jurassic World Hybrid Dilophosaurus Action Figure
Day 1,918: Mattel Jurassic World Mini Action Dino Ankylosaurus Action Figure