Multipack Pixie Purrs, Cheesy, Stuffs, Specks, and Totes
Blind box - your contents may vary

Lost Kitties Blind-Boxed Multipacks Action Figuress
Item No.: No. E4452
Manufacturer: Hasbro
Includes: 5 cats, 10 accessories, Play-Doh of various colors, checklist, 5 stickers, resealable bag
Action Feature: Play-Doh Excavation
Retail: $19.99
Availability: June 2018
Other: Look for the date stamp on the back of the carton - it should be 18XXX 01. The "XXX" are numbers indicating which day of the year this was produced. The 01 identifies this as having these figures. You're welcome.

PREVIOUS
RSS
NEXT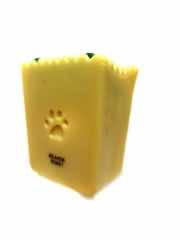 Cat memes become plastic in Lost Kitties, a new line for kids that I would have probably lost my mind over as a child. I got a big set with Multipack Pixie Purrs, Cheesy, Stuffs, Specks, and Totes early on, and because I love cat memes and mini-figures I really like them. They're slug figures with no articulation, but ample paint and an accessory - you might get your money's worth out of the unboxing experience.
According to the booklet, the big cartons have 24 possible figures - a case of 4 tall cartons could have all 20 in it, but I don't know that yet. The milk carton opens and you slide out a tray with Play-Doh and a figure in it. Each tray has 1 or 2 figures in blind bags, 1 or 2 accessories, and 1 or 2 stickers in wrappers. So the figure is an opaque bag, under a wad of Play-Doh in a tray, in a sealed lid, inside a cardboard box. That's some security.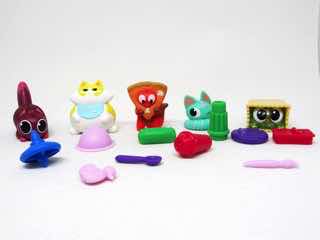 My "vanilla" pack had two figures - Stuffs and Specks. The cats are sold in different colors as single packs, but here they're a lemon coor and a purpley red, respectively. Stuffs is a portly kitty with a bib featuring a fish skeleton, looking like he either is very happy or is about to puke. It comes with a dining tray with a mold underneath to stamp out some sort of roasted bird - a good pick, and something to do with Play-Doh. It has no articulation, but it stands up nicely and is a chunky piece of plastic - a bit bulkier than the average mini-figure. Hasbro made it meaty here. There are sculpted bits and pieces on the back that could be painted like stripes, so aspiring customizers - have fun with this one.
"Attack mode" Specks has giant enlarged eyes and a stiff tail, a pose cat owners recognize from moments before their cat suddenly runs and attacks them or somebody else. The whiskers fling forward and the mouth is small and focused - they did a good job giving this one a ridiculous amount of personality given it's basically a small loaf of plastic with stripes and a face. The tail has a unique color on the tip, and both this cat and his portly pal have a little paw pad sculpted on the bottom. Thanks to the pose, it's pretty sturdy and is unlikely to ever topple over - so far, all the figures seem designed to not fall over. It's the kind of thing you don't get on bigger action figures. It has a top that can spin - I don't think it was meant to serve as a mold for the "milk."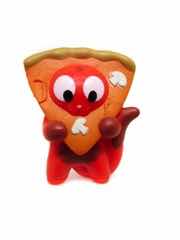 The "chocolate" figure in this box was Cheesy, a pizza slice with a cat eating it from the inside. You can see the mouth munching on it from within, and there are sculpted pepperoni pieces unpainted. They got the mushrooms, though. The little orange cat is on the smaller side compared to the others, but that's also because of the giant pizza hat. The tail serves as a means of steadying the figure, which has painted paws and large eyes. A stripe on the back of the head is unpainted, though. It includes a green hot dog with a mold to make french fries out of the bottom.
I found Pixie Purrs in the strawberry packet, but I don't really get what kind of cat picture or meme this is trying to convey. It has a... thing with it. It looks sort of like a gear or a vase. Or maybe a bug zapper. The coiled cat has light grey stripes on mint colored fur, painted on the bottom of the tail without any special paw sculpting on the bottom. All these cats are "#EXTRA" on the box, a term I never actually understood was a slang slam until like a month or two ago. I'm old.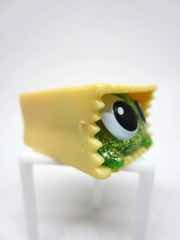 Finally we've got Totes, the special sparkle figure that serves to immortalize a slang term that didn't quite catch on in my circles. It's a cat face in a paper bag - the cat is green and glittery, with huge eyes like it's ready to attack you. This is fairly accurate to cats I have met, and probably the easiest sculpt in the entire line. It's cute and clever, but not exactly fun as it's a bag you can't put things in. It comes with a cookie you can use to mold more cookies as well as a tin of sardines you can use to mold tiny fish.
At the very top of the whole thing is a 4-pack of white Play-Doh, each of which with a tiny accessory inside. They serve as food roleplay or sculpting tools, sp a kid playing with these might have a lot of fun. A red stamper can put paw prints in the Play-Doh. A spoon is... well, it's a spoon. It's purple. It's small and you're going to lose it. There's a paint brush that probably provides a similar experience. A pink plastic duck also has a textured bottom, but it can't stand on its own - the cats can't hold any of these, so they're just kinda there. It plays up the whole food-and-creativity motif, although the notion of making something out of the Play-Doh is seen in the official photography but not played up in the marketing materials, or packaging. If you don't recognize the smell, it might not occur to you that this is indeed real Hasbro Play-Doh you're getting as debris in the way of your plastic cat. It's uncommon for Hasbro to not play this up - but the bottom of the package does indicate these are from the makers of Littlest Pet Shop.
If you were ever a kid (and I assume you were) some of the toys you coveted were often small, overpriced, and didn't do much - marketing is worth a lot, and so is the experience. These toys offer an experience - chase figures, blind boxing, and a design that deliberately encourages you to make unboxing videos and show off what you got when you pop figures out of the bags. I sincerely doubt your average toy adult fan will adore paying $3 for a cat with a sticker and some Play-Doh, but it's a pretty decent smattering of stuff for the price. Hasbro has been selling smaller figures with less paint and no Doh for $3, so this is a slightly better product - it's just cats, which is either a huge pro or a big con depending on your interests. If you want a specific carton of cats, Hasbro does mark the packaging - this is set 01, as indicated by a stamp on the back of the package. Look below to see what you need to find to get this quintet.
--Adam Pawlus
Additional Images

See more Lost Kitties figures in Figure of the Day:
Day 1,997: Hasbro Lost Kitties Series 1 Single 007 Mr. Mush Action Figure
Day 1,998: Hasbro Lost Kitties Multipack 01 Pixie Purrs, Cheesy, Stuffs, Specks, and Totes Action Figures
Day 2,010: Hasbro Lost Kitties Multipack 02 Tummy Tum, Chomp, Flakes, Flush, and Boops Action Figures

Click here to see more Hasbro figures in Figure of the Day.