Movies Star Trek U.S.S. Defiant NX-74025 Best Of Issue Die-Cast Metal Vehicle
Best Of #7

Movies Star Trek Die-Cast Metal Vehicles
Item No.: No. 98354
Manufacturer: Eaglemoss Collections
Includes: Stand, magazine
Action Feature: n/a
Retail: $24.99
Availability: 2018
Other: Special Edition, Boxed

PREVIOUS
RSS
NEXT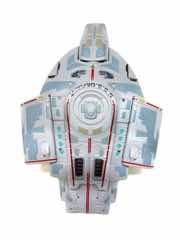 I'm picking a few of the cooler Eaglemoss Collections vehicles, and many of them are getting reissues lately. The U.S.S. Defiant NX-74025 Best Of Issue comes in a normal box with a smaller magazine, making it a more retail-friendly item than the let's-bag-a-magazine-to-a-box format of the regular line. I wouldn't say it's guaranteed to impress since it's a really good model, but sometimes that's enough. It's not a toy - it's a die-cast metal (with plastic) replica of Sisko's overpowered war machine.
The Defiant-class ship is, on the show, a Borg-fighting prototype that Sisko picked up to deal with the Dominion encroaching on Federation interests. It lacks the usual saucer-and-nacelle designs we've seen of most ships, instead giving us a flatter and smaller craft with a more spartan (or Klingon) interior. There's not a lot here for research or diplomat ferrying, instead it's just a compact delivery system of pain.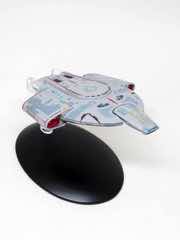 The detailing largely matches the show, but some of the details are a little flat. The general layout is there, but you'll notice the blue lights on the back are one big unpainted clear piece, rather than an area with divisions in it. The blue on the front area isn't quite as clear, and is painted a light, pale blue color that doesn't really stand out much. The red nacelle caps on the front are clear and look sharp, but are missing a couple of key details. Some of hte lights aren't painted, but given the scale and price point I wouldn't expect them to be either. It's got a little heft to it, and on a shelf with other vehicles would look pretty fantastic. It's a tough little ship, and should be a bit sturdier thanks to the design not having pylons that could snap.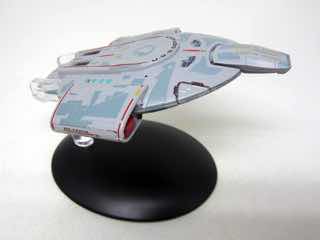 As with the others, the display stand clamps on to the back giving it the ability to look like it's hovering in space without any unsightly holes in the actual ship. From my experience with Star Wars, those holes would widen with time and gravity, ultimately leading to a loose fit or the ship falling off the stand. Eaglemoss did this the right way, with a bigger ship and more paint. The hefty base holds it in place, and the felt bottom is a nice touch. A bit over 4-inches long, it's a ship for collectors and not something you would want as a toy - after all, the toys used to cost about this and were significantly larger. How times change.
I should note that the booklet inside is interesting in that you see some concept art for the ship. I didn't read the magazines in the 1990s, so this is new to me - a few of the concepts looked like Star Wars' Y-wing fighters. It's worth flipping through, at the very least, and it makes a nice bonus add-in even though once you put the ship on display you'll probably struggle with where to put a small paper collectible.
--Adam Pawlus
Additional Images

See more Eaglemoss figures in Figure of the Day:
Day 1,949: Eaglemoss Collections Movies Star Trek U.S.S. Defiant NCC-1764 Special Glow in the Dark Issue Die-Cast Metal Vehicle
Day 1,962: Eaglemoss Collections Star Trek U.S.S. Defiant NX-74025 Best Of Issue Die-Cast Metal Vehicle
Day 1,975: Eaglemoss Collections Discovery Star Trek U.S.S. Discovery NCC-1031 Die-Cast Metal Vehicle
Day 2,094: Eaglemoss Collections Enterprise Star Trek Discovery Special U.S.S. Enterprise NCC-1701 Die-Cast Metal Vehicle

See more Star Trek figures in Figure of the Day:
Day 54: Playmates Classic Star Trek Spock Action Figure
Day 57: Playmates Classic Star Trek Dr. McCoy Action Figure
Day 61: Playmates Classic Star Trek Scotty Action Figure
Day 71: Playmates Classic Star Trek Uhura Action Figure
Day 81: Playmates Classic Star Trek Sulu Action Figure
Day 89: Playmates Classic Star Trek Captain James T. Kirk Action Figure
Day 105: Playmates Classic Star Trek Chekov Action Figure
Day 149: Playmates Star Trek Combat Action Worf
Day 488: Playmates Star Trek: The Next Generation Lieutenant Commander Data in First Season Uniform Action Figure
Day 675: Mattel Hot Wheels Star Trek U.S.S. Enterprise
Day 731: Playmates Star Trek: The Next Generation Counselor Deanna Troi Action Figure
Day 755: Playmates Star Trek: Deep Space Nine Quark Action Figure
Day 762: Playmates Star Trek: The Next Generation Lt. Commander LaForge as a Tarchannen III Alien Action Figure
Day 767: Playmates Star Trek: The Next Generation Captain Picard in Duty Uniform Action Figure
Day 772: Playmates Star Trek: The Next Generation Klingon Warrior Worf Action Figure
Day 986: Playmates Star Trek: The Next Generation Dathon Action Figure
Day 991: Playmates Star Trek: The Next Generation Ambassador Spock Action Figure
Day 1,048: Playmates Star Trek: Deep Space Nine Chief Miles O'Brien Action Figure
Day 1,054: Bif Bang Pow! Star Trek: The Next Generation Lieutenant Worf
Day 1,061: Playmates Star Trek: The Next Generation Q Action Figure
Day 1,173: Playmates Star Trek: Deep Space Nine Morn Action Figure
Day 1,181: Playmates Star Trek: Deep Space Nine Commander Gul Dukat Action Figure
Day 1,271: Playmates Star Trek Grand Nagus Zek Action Figure
Day 1,309: Playmates Star Trek Elim Garak Action Figure
Day 1,317: Playmates Star Trek: The Next Generation Lieutenant Worf in Starfleet Rescue Outfit Action Figure
Day 1,331: Playmates Star Trek: The Next Generation Captain Scott Action Figure
Day 1,359: Playmates Star Trek: The Next Generation Vorgon Action Figure
Day 1,701: Playmates Star Trek: The Next Generation Ferengi Action Figure
Day 1,819: Playmates Star Trek: The Next Generation Mordock the Benzite Action Figure
Day 1,854: Playmates Star Trek: The Next Generation Lieutenant (J.G.) Geordi LaForge Action Figure
Day 1,887: Playmates Star Trek: The Next Generation Lieutenant Natasha Yar Action Figure
Day 1,902: Playmates Star Trek: The Next Generation Cadet Wesley Crusher Action Figure
Day 1,923: Playmates Star Trek: The Next Generation Lieutenant J.G. Worf in First Season Uniform Action Figure
Day 1,927: Funko Pop! Movies Star Trek Beyond Captain Kirk (Survival Suit) Pop! Vinyl Figure
Day 1,936: Playmates Star Trek: The Next Generation K'Ehleyr Action Figure
Day 1,945: Mega Construx Heroes Star Trek: The Next Generation Captain Picard Action Figure
Day 1,949: Eaglemoss Collections Movies Star Trek U.S.S. Defiant NCC-1764 Special Glow in the Dark Issue Die-Cast Metal Vehicle
Day 1,962: Eaglemoss Collections Star Trek U.S.S. Defiant NX-74025 Best Of Issue Die-Cast Metal Vehicle
Day 1,974 Playmates Star Trek: The Next Generation Lieutenant Barclay Action Figure
Day 1,975: Eaglemoss Collections Discovery Star Trek U.S.S. Discovery NCC-1031 Die-Cast Metal Vehicle
Day 2,005: Playmates Star Trek: Deep Space Nine Odo Action Figure
Day 2,020: Playmates Star Trek: The Next Generation Commander Sela Action Figure
Day 2,094: Eaglemoss Collections Enterprise Star Trek Discovery Special U.S.S. Enterprise NCC-1701 Die-Cast Metal Vehicle
Day 2,354: Playmobil 70548 Star Trek U.S.S. Enterprise NCC-1701 Playset