Glyninja Ukoro
Shreddered

Glyos Action Figures
Item No.: n/a
Manufacturer: Onell Design
Includes: Alternate head, armor, limbs
Action Feature: n/a
Retail: $14.00
Availability: October 20, 2016
Other: Another One You Regret Not Buying

PREVIOUS
RSS
NEXT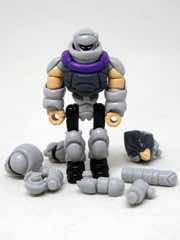 I can't say no to a nice homage, and 2016 was packed with them. Glyninja Ukoro is a tribute to the Shredder, a famous nemesis of the green teens. "Oroku Saki" has been lovingly recreated in grey Glyan Glyos parts with an add-on Neo Sarvos armor bits. It's a gem.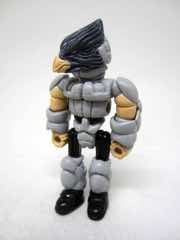 The figure comes assembled in the configuration you likely want to use, armored-up and with the default Glyan build. The newer Glyninja head is used rather than the excised Neo-Sincroid, with painted eyes and a face obscured by a "mask" made of the Scarf piece. Armor is given purple highlights to mimic Shredder's cape, and the add-on armor looks like his bladed greaves and vambraces. Minus the points. Glossy black thighs and shoes look great, with some painted flesh bits the only real deco shortcoming - you may notice the paint isn't as thick and even as we usually get on these guys. This is pretty uncommon for Onell Design products, and this is one of very few times I've ever seen anything less than A++ deco. This is still good, and better than most mass production items with light paint on dark plastic.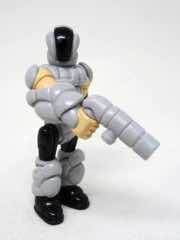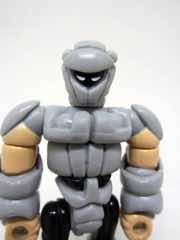 If you're a customizer, you've got options. There's a Glyan "blaster," four bonus limbs, and three bonus heads. One head is the defaut Glyan helmet - it's grey with a black visor. There's a matching Neo Sarvos head with a glossy black visor, similarly clean and efficient. The real treat is the Varteryx head - a bird alien with dark grey feathers and a fleshy beak. It reminds me a bit of Lobot with the grey cybernetic enhancement on the back of the skull, and a single white eye looks sort of creepy.
I had this one sitting next to my photo lab for over a year, looking at me nearly every night asking just when he'd finally make the cut for the column. Well, here he is - and we've got a lot more Glyos to look at from the past few years. I love the line because it's durable, and you can tweak figures to fit your needs a lot of the time. After a few hundred they're not all amazing, but it's a form factor I'd strongly recommend trying out if you haven't yet done so. It's incredibly satisfying to have a chunky figure that you can rip apart and cram in a number of vehicles or playsets, and I really wish we'd see some more playsets or vehicles directly from the team behind the figures. A quick glance on eBay shows the figure selling at or below cost, so if it shows up I'd suggest treating yourself to one.
--Adam Pawlus
Additional Images


Click here to see more Onell Design figures in Figure of the Day.
Click here to see more Glyos Compatible figures in Figure of the Day.