Copper Crayboth
Freebie Figure!

Glyos System Series
Item No.: No. n/a
Manufacturer: Onell Design
Includes: n/a
Action Feature: Pops apart, "light-up" head
Retail: $0.00
Availability: January 26, 2018
Other: Similar To (Identical To?) Sendollest Guard Crayboth

PREVIOUS
RSS
NEXT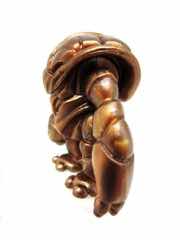 Another freebie! The Copper Crayboth you see here came in a box in 2018 - but it looks a lot like a picture of the Sendollest Crayboth from 2015 which I don't (think I) have. There aren't a lot of comparison photos of these things out there, so this could be that one - and if it is, I'll correct this in the future.
This unnamed freebie came as part of hte January shipment, and it's pretty great.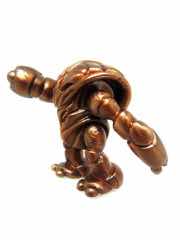 There are so many Crayboth figures that I assume a lot of fans have given up on completing a set as I have, especially given how many are similar but slightly different shades of unpainted plastic. This copper Cray comes clear, in a dirty penny-like finish with subtle swirls that positively shines. The sheen helps add detail to the figure, as the sculpted grooves just absorb the light and make the figure look almost like it has panel lines if you don't look too long.
The little guy has 4 points of articulation and pops apart at every joint. Not only is it shiny, but the texture is incredibly smooth. It's a great freebie, and it's worth noting that it doesn't match anything else in this wave.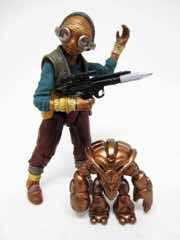 It's a little vexing that I can't quite be sure if this is a new production run or a leftover figure, which sort of says both why this figure is a great bonus and an irritating thing to collect. On one hand, if you get one it's free, fun, and small. I wouldn't turn it down. If you've been collecting the under 200 Crayboth figures, the multiple similar unpainted figures are tough to track. I enjoy them and appreciate them, but I can say I'm glad I just enjoy what I have and don't take them as a serious must-collect-them-all subset like I did until - I think - some point in 2015. If you get a crack at this, it's really gorgeous, just be aware I may be oblivious to the fact that this could be a leftover. Or new. I just know I like how it looks and it's a sturdy little guy.
--Adam Pawlus
Additional Images


Click here to see more Onell Design figures in Figure of the Day.
Click here to see more Glyos Compatible figures in Figure of the Day.