Beachcomber
Minibot Redux!

Transformers Generations Power of the Primes Legends
Item No.: Asst. E0602 No. E0900
Manufacturer: Hasbro
Includes: 1 of 12 Collector Cards
Action Feature: Transforms from Dune Buggy to Robot
Retail: $9.99
Availability: November 2017
Other: Peacenik Returns

PREVIOUS
RSS
NEXT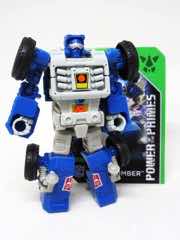 Along with Dinobots, Minibots are one of my favorite subgroups. Hasbro made good progress on a smaller scale Minibots collection in the late 200Xs, complete with this character - but then decided to upsize the lot of them starting around 2014. Beachcomber has just been given the upsize treatment. Despite being part of Power of the Primes, its aesthetics are identical to those of Titans Return, complete with seating for teeny tiny robots.
Toy is a good one - it's more or less what I would've hoped for back when we got Hardtop back in the Cybertron days. It's a sturdy toy that draws inspiration from The Transformers cartoon as well as that first toy. The dune buggy mode is a little bulkier, but for the purposes of realism and/or satisfying toys, I'm OK with this.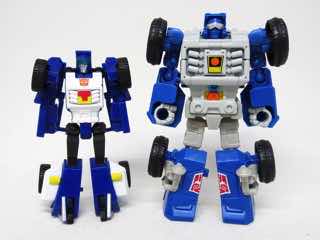 The robot mode is pretty great - the paint is good, the sculpting is good, there's just not much to it. You'll notice the sticker-like paint tampos (far superior to actual stickers) and a split Autobot symbol on his legs. The fists are painted, and the grey chest is also painted. It's a good match to the grey plastic, provided it won't discolor with age. He has 11 points of articulation, each of which is essential for transformation. Like the larger Dinobot Slug, there are also heel spurs hidden in the back of his feet thanks to the cage folding inside them nicely.
Beachcomber has no weapon, nor did the original toy. His Universe toy did - an oddity - but you can hand this new one any 5mm accessory you like. I like the toy, it's a little more rounded and less angular than some of his earlier interpretations but this is recognizably Beachcomber. He has his silver shades and blue head, he's already halfway there.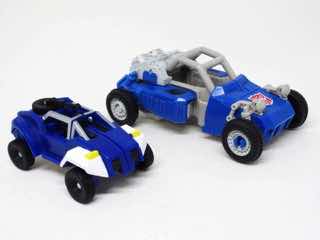 Transformation is pretty simple - the leg falls in, the torso lengthens, the legs flip back and the roll cage pops out. Massage parts until dune buggy is achieved - and it's a decent vehicle, with one big deco problem. At least on my sample, the split Autobot sigil doesn't quite match up. There's no way to really verify if it's off prior to opening the toy, so this is an area the reproduction sticker community can potentially exploit as they could sell a potentially desirable fix. Me, I'll just leave it as is. The snap-in wheels spin fairly well, as do the pinned-in wheels. As mentioned above, a tiny robot fits in and can ride easily - provided you have a few of them, by now I assume that you do.
The hippie Autobot had few moments in the spotlight, but like most of the Minibots his adventures were pretty memorable. To get a complete upsized version of the Minibots team, this is an essential purchase - but the team still needs a few more updated members like a proper Cliffjumper, Pipes, and Huffer as well as missing (but rumored) candidates like Outback get us pretty close to finishing the team. Will Hasbro ever give us new Bumper? Probably not. But these are all pretty cool molds, so hopefully Hasbro will see to releasing a few recolors and remolds to give us some more toys in this format.
--Adam Pawlus
Additional Images

Click here to see more Hasbro figures in Figure of the Day.
Click here to see more Transformers figures in Figure of the Day.

Want to buy this figure? Check Transformers availability at our sponsors:
Entertainment Earth