Dinobot Slash
New Dinobot!

Transformers Generations Power of the Primes Legends
Item No.: Asst. E0602 No. E0896
Manufacturer: Hasbro
Includes: 1 of 12 Collector Cards
Action Feature: Transforms from Velociraptor to Robot
Retail: $9.99
Availability: November 2017
Other: First Lady Dinobot Toy!

PREVIOUS
RSS
NEXT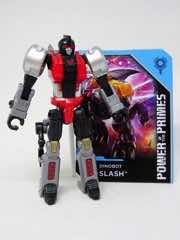 When I first found out Dinobot Slash was being made, I didn't know much about her other than "holy crap, new Dinobot!" This was exciting - most new characters in Transformers Generations are new characters. G1 is treated as almost sacrosanct, although a few new guys sneak in here and there. Some Mini-Cons here, Windblade and Victorion there. Few new Dinobots got made - Grimstone [FOTD #62] came out 7 years ago and Hasbro has had a light touch on updating any non-Grimlock G1 Dinobot since the demise of G2. Seeing all-new characters - and a G1-ified version of a movie character, no less - is cause for celebration.
...a redeco of her in Age of Extinction colors, doubly so.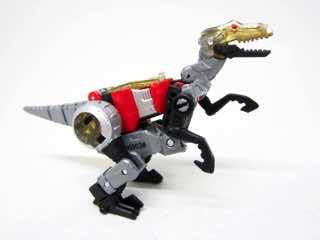 This is a smaller, lighter toy than her counterparts. She has about 30% less mass than her case mate Beachcomber and is visibly skinnier. This is no doubt thanks to making the alt mode work, but you can also insert gender commentary here. The velociraptor is cute and consistent with new Dinobots toys, featuring a clear head and back with golden paint to match their aesthetic. There's a lot of bulk in the chest region, but it's still a decent little toy and a much-needed new character. The gold back panel folds up and becomes a rumble seat for your Titan Masters and Prime Masters 1.5-inch robot figures, not included, because of course they aren't. The figure has a head that can pivot up and down, an opening jaw, and articulated limbs - even the tiny forearms move. And she has the big toe claw, too.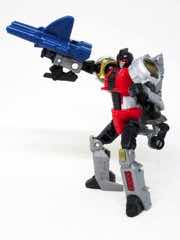 Transformation is pretty simple - the dinosaur's feet fold back and reveal robot fists. The tail folds back and the head appears. The dinosaur head rolls back and goes under the tail. The chest becomes the legs.
The robot mode is similar to the other Legends. 15 points of articulation and mostly matches the other Dinobots. There's no weapon included (the gold blaster here is a ConstructBots gun), so you'll need to reply in your parts bins or Shapeways or other resources. Her build is very similar to the classic 1980s toys - the chest is build in such a way that you could see the black panel pop open and house a Diaclone pilot. The level of detail is consistent with the other toys in this line, mostly flat with a few grooves and ridges to make it interesting. New raptor robots are far and few between, and it's certainly exciting to see something new that looks like something so old.
The Legends scale has been consistently priced for about four years, but features have diminished. In 2013 most figures had one or two weapons, plus a Micromaster-esque sidekick. By the end of 2014, the sidekick and weapon were gone - replaced by a trading card. With Slash, the figures just got a little bit smaller. I'm torn between complaining that we got less when Hasbro could probably have budgeted her a small melee weapon or a blaster, but that was not meant to be the case. I'd strongly recommend her on the basis of her being a new character and a new member of one of the best classic teams, but you might not enjoy her lack of gear and small stature. I'm still loving it, though, so I'd say get it if you see one.
--Adam Pawlus
Additional Images

Click here to see more Hasbro figures in Figure of the Day.
Click here to see more Transformers figures in Figure of the Day.

Want to buy this figure? Check Transformers availability at our sponsors:
Entertainment Earth