Sideswipe
WFC-S7

Transformers Generations War for Cybertron Siege Deluxe
Item No.: Asst. E3432 No. E3530
Manufacturer: Hasbro
Includes: W-10 Photo-Pulsar Proton Launcher, W-5 Gyro Blaster
Action Feature: Transforms from Robot to Car
Retail: $19.99
Availability: December 2018
Other: Battle damage deco

PREVIOUS
RSS
NEXT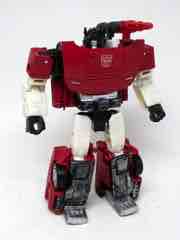 We're in a rut, but I see no reason to get out of it, out of it, out of it, out of it. Sideswipe is an oddity in that there's a kind of collector that adores him, and a similar kind of fan that has no use for him. Famous mostly for handing Optimus Prime a jetpack in the pilot miniseries, this red not-a-Countach is a face that gets a lot of love thanks to it being a recognizable, early face in the line.
The 5-inch robot is kind of short for a deluxe, but he's fairly sturdy. The joints have a lot more in the way of moving parts and pins, and the sculpting is some of the best we've seen out of Hasbro/Takara-Tomy. I love the on-mode head. I dig that the robot mode looks like a good pastiche of most previous 1980s-style Sideswipe toys, animation models, and promotional artwork. He has about 18 meaningful points of articulation, which includes rocker ankles and a neck that can look up and down. Hasbro has clearly been taking notes from its action figure division, giving these figures slightly more friction in their joints and enhanced deco. I'd just as soon lose the battle damage - the silver scrapes on the black shins and codpiece look good, but they're strange places to show wear in battle. Only getting hit on your crotch and lower legs seems like you may not be cut out for battle.
There are numerous places to plug in things - and I love this. Each arm has 2 5mm pegs, as do the soles of the feet, and the back, and the calfs, and the back. There are also a couple of slots on the shoulders for the rocket launcher - which can split apart and become a blaster. The figure has a generous amount of red paint, as well as silver accents as needed. New to this line are ornamental 3mm pegs, which we will call robo-nipples, on which you can mount the clear energy blasts packaged with the smaller Battle Masters toys. Some lines are made for play, these are for display - Hasbro is going out of their way to do something for diorama builders and photographers.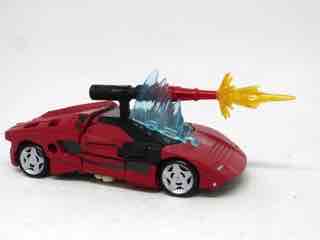 The former Lambo now turns into either a Cybertronian or off-model Earth car. Take your pick. It has an even red finish and painted hubcaps, a rarity. The windshield is clear, but has little technical lines in it for some reason - this gives it a slightly alien look. The roof has a 5mm hole for mounting the cannon, were you so inclined. It's a nice car - and it looks like it could easily be remolded into Hot Rod later. We already know that a Red Alert is in the works.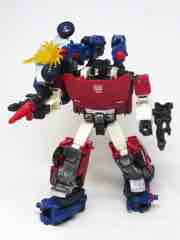 If that weren't enough, the figure's able to "bulk up" with Six-Gun, Brunt, or Cog figures sold separately. Each one can be dismembered to be weapons, backpacks, armor, and lifts for Deluxe or Voyager-class figures. It's a neat idea, and makes the relative nobodies into something fun and interesting - but a nobody like Cog plus a nobody like Sideswipe may not be enticing for everybody. It feels like some unlicensed toy fever dream, and it adds play value to a figure that's otherwise perfectly good but not exactly packed with action features. Even the original 1984 toy had working launchers. This one's claim to fame for weapons is a 3mm tip on the red blaster's barrel - you can mount another blast effect there if you like.
Depending on what you're collecting, this is either essential or a waste of plastic. I love the robot mode, the car is interesting, and the general feel of the toy is exceptional. Sometimes Hasbro's deluxes feel a little hollow or light on paint, this one feels like a Masterpiece for people on a budget. It's not quite the $80-$100 G1 recreation, but it's pretty close and it has those various 5mm plugs for your BMOGs or other accessories. If you don't own a Sideswipe, I think you'll be happy with this one. If you've got one, maybe you don't need more. It's cool enough that I'm charmed by it, even at $20 it feels like Hasbro ratcheted up the quality enough that I don't feel the extra money was wasted. Having said that, it would have been nice to have an extra hand weapon since the two-part launcher looks best on the shoulder. This might make optional weapon packs a bit more enticing, but it also cracks open the door for third parties to give fans the parts they may feel Hasbro left out. Had Hasbro used the 1984 toy's Lamborghini alt mode, I'd say there's probably no reason to ever tool up a new Sideswipe again. As it stands, it's still good, and I'd happily buy a G2 redeco if the time comes.
--Adam Pawlus
Additional Images

Click here to see more Hasbro figures in Figure of the Day.
Click here to see more Transformers figures in Figure of the Day.

Want to buy this figure? Check Transformers availability at our sponsors:
Entertainment Earth