Mattel Jurassic World Battle Damage Velociraptor "Blue" Action Figure
Mattel, 2018

Day #1,965: May 16, 2018
Battle Damage Velociraptor "Blue"
A Big Raptor

Jurassic World Battle Damage - Walmart Exclusive
Item No.: Asst. FNB31 No. FNB33
Manufacturer: Mattel
Includes: N/A
Action Feature: Rotating wound gimmick
Retail: $9.96
Availability: April 2018
Other: Articulated

PREVIOUS
RSS
NEXT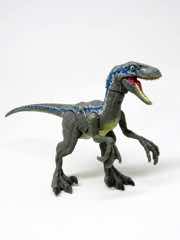 Named dinosaurs are something of a rarity in this franchise, and Battle Damage Velociraptor "Blue" is the fist one to really return. A few creatures showed up again, but they weren't given specific names. Blue is such a superstar, she's getting multiple toys for the new movie - there's a baby, three adults at least, and some bigger figures too. She's a major character, and she may have more toys than any other female character in an action figure line since Wonder Woman.
The 5-inch long, 3-inch tall figure is about the same size as the typical Mattel Velociraptor, itself enlarged more than a bit thanks to the movies. A larger - but still small - Velociraptor "Blue" is also available in the Roarivores assortment. With multiple subspecies and ages, it could probably fit in your toy box and the multiple sizes makes it kind of interesting. The figure is lighter on paint than the larger, more expensive counterpart but still charming.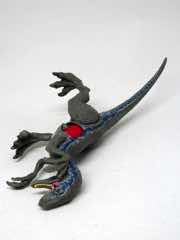 This is the same basic design as Attack Pack Blue [FOTD #1,943], but with more paint, more articulation, and an action feature. Given the option between the two, this Battle Damage version is the clear winner. My sample only had one flaw - the jaw was fused shut. I was able to loosen it up with a little boiling water. Other than that? It's great.
What really surprised me was the paint job. The blue stripes run on the skull and tail, and there's a more intense contrast between the blue stripe and a grey stripe running alongside it. The eyes are a little different, and the claws on the feet are a tiny bit darker. The toy looks a little bit sharper thanks to richer colors and a plastic that seems to be just a bit harder, giving it a more (and I hesitate to use the word) "realistic" look.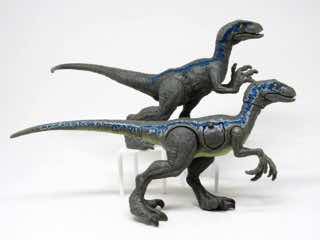 There's an app interactive "DNA" mark on the sole of one foot, and I made an interesting discovery in scanning it. There's a CG Blue that pops up, and her deco matches the figure. The different patterns and stripes are represented here, making this a distinct change from the "Attack Pack" digital model. She screams, she claws, but she looks different - I'm surprised Mattel bothered to make distinct, separate raptors.
This figure just adds so much more. There's a jointed neck that can swivel as well as bend up and down. The arms have ball joints, as opposed to the swivels of the regular figure. There's even a little lateral leg movement too - it's a nice bonus. You can pose her to play "dead" if you like, and she can stand a bit easier. She's 8-inches long snout-to-tail, and a hair under 4-inches tall at the skull.
The figure's selling point is a "battle damage" wound. If a figure claws at it or bites it just right, the spring-loaded wound activates and spins around. A flesh wound magically appears, giving you an honest-to-goodness play feature that actually adds some fun to the toy. You can "hurt" it, and then make it better again. It's easy to trip up with a well-placed hit, making for a fun time if you actually, you know, play with your toys.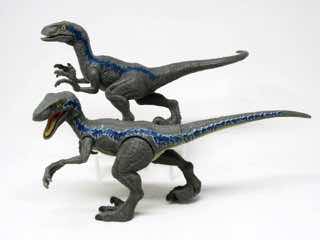 I grumbled when I saw this, saying "Oh, I don't need another Blue." I was futzing with the mechanism on the try-me packaging and decided I had to have it. The extra articulation was a nice bonus, but this is a fun figure and it's superior to the non-exclusive release. Just get this one, unless something even better shows up somewhere.
--Adam Pawlus
Additional Images

Click here to see more Mattel figures in Figure of the Day.

See more Jurassic Park and Jurassic World figures in Figure of the Day:
Day 11: Hasbro Jurassic Park III Dr. Alan Grant
Day 138: Kenner Jurassic Park Chaos Effect Compstegnathus Action Figure
Day 172: Kenner Jurassic Park The Lost World Chasmosaurus Action Figure
Day 346: Kenner Jurassic Park Ian Malcolm Action Figure
Day 366: Kenner Jurassic Park Ellie Sattler Action Figure
Day 372: Hasbro Jurassic Park G.I. Joe Heavy Gunner Action Figure
Day 533: Kenner Jurassic Park Chaos Effect Amargospinus
Day 620: Hasbro Jurassic Park Pachyrhinosaurus Clash Action Figure Set
Day 651: Hasbro Jurassic Park Allosaurus Assault Action Figure Set
Day 851: Hasbro Jurassic Park Paul Kirby Action Figure
Day 1,180: Hasbro Jurassic World Tyrannosaurus Rex Action Figure
Day 1,180: Kenner Jurassic Park Alan Grant Action Figure
Day 1,196: Hasbro Jurassic World 3 Dinos Action Figure
Day 1,198: Kenner Jurassic Park Tim Murphy Action Figure
Day 1,202: Hasbro Jurassic World Spinosaurus Action Figure
Day 1,212: Kenner Jurassic Park Chaos Effect Ian Malcolm Action Figure
Day 1,216: Hasbro Jurassic World Ankylosaurus Action Figure
Day 1,219: Hasbro Jurassic World Stegoceratops Action Figure
Day 1,228: Hasbro Jurassic World Tyrannosaurus Rex Action Figure
Day 1,425: Hasbro Jurassic World Hybrid Velociraptor Action Figure
Day 1,455: Hasbro Jurassic World Bashers & Biters Indominus Rex Action Figure
Day 1,462: Hasbro Jurassic World Hybrid Tyrannosaurus Rex Action Figure
Day 1,472: Hasbro Jurassic World Pachycephalosaurus Action Figure
Day 1,509: Hasbro Jurassic World Hybrid Armor Indominus Rex Action Figure
Day 1,526: Hasbro Jurassic World Owen "Alpha" and Velociraptor "Blue" Action Figure
Day 1,528: Hasbro Jurassic World Hybrid Armor Ankylosaurus Action Figure
Day 1,540: Hasbro Jurassic World Hybrid Dilophosaurus Rex Action Figure
Day 1,550: Hasbro Jurassic World Hybrid Carnoraptor Action Figure
Day 1,560: Hasbro Jurassic World Hybrid Rampage Indominus Rex Action Figure
Day 1,567: Hasbro Jurassic World Hybrid Stegoceratops Action Figure
Day 1,573: Hasbro Jurassic World Hybrid Pteramimus Action Figure
Day 1,712: Hasbro Jurassic World Hybrid Spinosaurus Action Figure
Day 1,721: Hasbro Jurassic World Hybrid Dilophosaurus Action Figure
Day 1,918: Mattel Jurassic World Mini Action Dino Ankylosaurus Action Figure
Day 1,938: Funko Pop! Movies Jurassic Park Dr. Ian Malcolm (Wounded) Pop! Vinyl Figure
Day 1,943: Mattel Jurassic World Velociraptor "Blue" Action Figure
Day 1,950: Mattel Jurassic World Super Colossal Tyrannosaurus Rex Action Figure
Day 1,954: Mattel Jurassic World Dilophosaurus Action Figure
Day 1,959: Mattel Jurassic World Battle Damage Triceratops Action Figure
Day 1,963: Mattel Jurassic World Extreme Chompin' Tyrannosaurus Rex Action Figures
Day 1,965: Mattel Jurassic World Battle Damage Velociraptor "Blue" Action Figure
Day 1,967: Mattel Jurassic World Robert Muldoon Action Figure
Day 1,972: Mattel Jurassic World Gallimimus Action Figure
Day 1,981: Mattel Jurassic World Metriacanthosaurus Action Figure
Day 1,984: Funko Pop! Movies Jurassic Park Dr. Ian Malcolm Pop! Vinyl Figure
Day 1,989: Mattel Jurassic World Tyrannosaurus Rex, Stygimoloch "Stiggy," and Triceratops Action Figures
Day 1,994: Mattel Jurassic World Battle Damage Pachycephalosaurus Action Figure
Day 1,999: Mattel Jurassic World Owen & Baby "Blue" Action Figure
Day 2,003: Mattel Jurassic World Gift Set 6-Pack Action Figures
Day 2,053: Mattel Jurassic World Legacy Dr. Ian Malcolm Action Figure
Day 2,098: Mattel Jurassic World Dino Rivals Destroy 'N Devour Indominus Rex Action Figure
Day 2,103: Fisher-Price Imaginext Jurassic World Dr. Malcolm & Dimetrodon Action Figures
Day 2,111: Mattel Jurassic World Dino Rivals Mussaurus Action Figure