Figment in Space Suit
Dragons in Space via Imagination

Disney Epcot Center PVC Figure
Item No.: No. n/a
Manufacturer: Disney
Includes: n/a
Action Feature: n/a
Retail: $3?
Availability: ca. 1982
Other: One of Many!

PREVIOUS
RSS
NEXT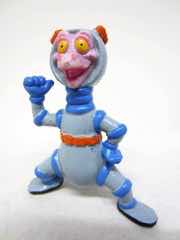 As a kid my parents were pretty excited to go to Epcot, and I took home a Figment in Space Suit PVC figure from the experience. I'm not quite sure why, but it's neat to look at as a bizarre curiosity out of time from around 1982. A dragon who is seemingly powered by imagination is wearing a 1950s or 1960s space suit - certainly of the era of Tomorrowland - but lacks a dome for his face. I imagine he'd be blown out the hole. The 2 1/2-inch figure is pretty charming, standing freely thanks to his tail and painted surprisingly well for a 1982 plastic figure.
I don't have a lot of PVC figures from the 1980s, but those that I do have are surprisingly nice when compared to regular retail action figures of that era. What they lack in articulation they make up for in charm or decoration. FIgment has Yellow eyes with a black dot in them, plus pink eyelids and nostrils. On top of that, he has a grey/blue space suit with painted blue rings for where the joints would probably go. He's given a fairly heroic pose, indicating that he carries some sort of can-do spirit. If you're a dragon in a space suit, I would agree - you've done something right in life.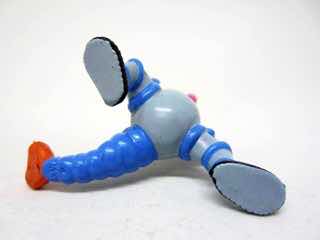 The mascot of "Imagination!", Wikipedia tells me, was something I remember viewing as something of an alternative Mickey Mouse at the time. Why, I don't know, I was shorter then. Today I'm mostly just taken by how many similar products existed at the time. Kenner did the same thing with Q*Bert, dressing him up in a headband, or on skates, or other trappings of the era. Presumably these things are supposed to reflect something of the buyer, like "I like sports!" or "I like music!" With Figment I assume what I must have been saying is "I really wish I'd be getting a space toy," and considering that this outfit looks a lot like The Outer Space Men figures I am mildly obsessed with, that may have been accurate. The figure is generally smooth and has an oily residue from age, having been wiped down prior to photography. I remain amazed at things like the painted mouth interior and tongue, which seems like a stretch by modern standards. That something like this existed 35 years ago is pretty impressive.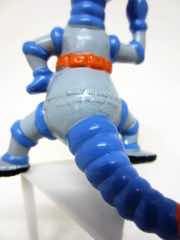 I've had this figure since the late 1980s, and this is his farewell tour. He's been in a box for years, he's pretty cool - but I don't need it. As I write this I'm trying to decide where he will ultimately go, but given that I've written nearly 2,000 reviews for this site and over 2,000 for Star Wars elsewhere, he ain't gonna stay here. I'd say get it if you like the design. He's charming, he stands well, and Disney did a magnificent job decorating him. He's just not doing me a lick of good anymore.
--Adam Pawlus
Additional Images

See more Disney items in Figure of the Day:
Day 945: Super7 x Funko The Rocketeer ReAction Rocketeer Action Figure
Day 1,889: Disney Epcot Center Figment in Space Suit PVC Figure
Day 2,124: Funko DuckTales Scrooge McDuck (Red Coat) Pop! Vinyl Figure