Rocketeer
23 Years in the Making

The Rocketeer ReAction Figures
Item No.: No. 03914
Manufacturer: Super7 x Funko
Includes: Helmet and Rocket Pack
Action Feature: n/a
Retail: $9.99
Availability: May 2014
Other: The first all-new design for Funko ReAction figures to hit shelves

PREVIOUS
RSS
NEXT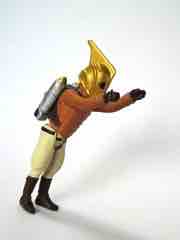 In the early 1990s and late 1980s I was utterly obsessed with Star Wars Kenner figures, so when The Rocketeer hit theaters the format made sense to me as a toy. Of course, the world moved on since 1985 and the 5-jointed 3 3/4-inch Kenner style is a strange choice for this Rocketeer figure. In 1991, we saw G.I. Joe begin its descent, Teenage Mutant Ninja Turtles on the rise, and it seemed the favored format for the mid 1980s to the late 1990s was the 5-joint 5-inch figure in Kenner's post-Star Wars style. It's strange to say this, but in many respects this figure (and indeed the future of ReAction) is marketed to guys who were big in to that old Kenner Star Wars line, like me. If you've got a Death Star Droid in your closet in a shoebox or a pile of yellowed Snowtroopers, this is a worthwhile purchase. It's a very satisfying, if simple, chunk of plastic.
The first thing I did after opening Cliff Secord here was to give him the Landspeeder Test. This is how I measure if a 3 3/4-inch 1970s-style figure is any good - can it sit inside a vintage 1970s or 1990s Landspeeder from Kenner? If so, it's a winner. If not, he had better be fat or wearing a robe. The Rocketeer figure passes, even with his jetpack on - that's no small feat, as numerous Hasbro 3 3/4-inch action figures struggle to fit behind the wheel of those vehicles. While the Rocketeer himself may be made using a different vocabulary from his 1991 contemporaries, the figure itself seems made with a pretty good understanding of the values of Kenner Star Wars - really, the main beef in my heart is that it's too good in spots.
When you get right down to it, this sort of thing is an art piece - the 3 3/4-inch, 5-jointed figure is kind of cheap at $10 because the customer isn't an impulse-buy child. It's an online sale, or a comic shop, or perhaps Barnes & Noble - someone with a little extra money who's willing to pay for novelty and charm, which this has in spades. Part of what made Kenner's earlier 3 3/4-inch toys memorable was that they were fun, and that they were kind of crappy. It's a fine line to walk, because you don't want a figure to suck, but the charms provided by Walrus Man's many errors are hard to replicate. In 2014 we have people that can replicate something exactly, but what Funko needed to do was to make something look de-evolved. The helmets of this era were big, bulky, and often loose - and this one is, too! Painted metallic gold, the helmet is just a little off from the how you might remember the movie. The backpack is silver, with gold caps. It looks more like a toy than the prop, which is great - it also has a tiny pink piece of bubble gum covering the hole like in the movie, but seeing that it's 4 different colors makes it a little too advanced for a 1980s or even 1990s toy. Painted accessories? What are we, rich?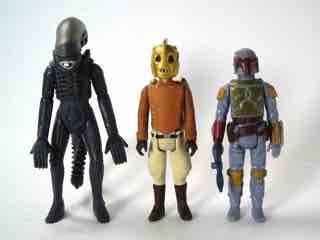 The helmet attaches awkwardly - and I love this feature. Two really big pegs stick out of the figure's back, connecting snuggly with the holes in the backpack. It's not elegant in the slightest, and those big, ugly pegs do feel like something Kenner might do (and indeed did do with Boba Fett from 1995-1997), but removable backpacks weren't a Kenner thing in the early 1980s that I recall - unless you had big, awkward, rubbery straps around their arms. This is an improvement, visually speaking.
The body sculpt is about right and the figure has more deco than I would expect for the style and price. Individually painted golden rivets on his torso were surprising, but the rivets painted on the gloves were nothing short of stunning. Funko's team did a nice job on deco, but by cutting a corner or two they could make it more authentic. The head is a spot that I'm sure will engage some debate because the eyes are pretty wonky - the likeness isn't there (this is to be expected) and on my sample, the eyes are crooked (this is not ideal, but hey, helmet.) The face proportions seem just off enough to feel like something Kenner might have done, and the head is cast in a barely translucent flesh color that absorbs some of the detailing. Again, this is something Kenner (and later Hasbro) would do, so I'm not sure if I should give them points for replicating one of their poorer details or if I should knock it for not simply making it better. If you take this figure out of the package, I can't imagine any reaction other than "this feels about right."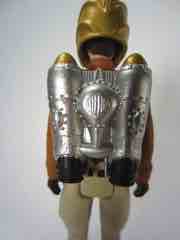 The packaging feels like it wanted to capture the authenticity of the era, but I don't think that it did - the backpack fell out of its tray and floats around, but that's not a 1980s detail I particularly liked. The movie poster as the 6x9-inch cardback makes sense, but that's also the thing a knock-off would do - grab a piece of art, slap on some text, and call it a day. Their Alien cardbacks were way prettier, as were the various Back to the Future and other lines we saw at New York Toy Fair. Given Kenner's 5-inch figures of that era, they tended to have huge bubbles with a big square or rectangle on the back - as such, the odd shape of the bubble's background and odd letter placement feels like a rush job, especially compared to some of the other stuff we're seeing come from Funko on the whole ReAction line. I guess what I'm saying is don't feel bad opening this figure.
Toy reviewers tend to pick apart things for what they aren't rather than examine what they are. The considerable charms of this toy come almost entirely from emotional muscle memory - manipulating this figure and its slightly-loose limbs is a lot like rifling through a small box at a flea market, looking for a Luke or a Chewbacca while your mom tells you to hurry the heck up because there's some cast iron horse nonsense she wants to look at one or two booths down. I have to believe that the older Gen X-ers must feel the same way about Mego toys as I do about the Kenner stuff, in that the character is almost secondary to the execution. This feels like a toy you should have had as a child, even though in no conceivable way would this character have ever been made in this format. I'm a sucker - I've pre-ordered one of everything Funko announced.
--Adam Pawlus
Additional Images

See more Super 7 and Funko x Super 7 figures in Figure of the Day:
Day 792: Super 7 ALIEN SDCC Exclusive Sales Samples
Day 821: Super7 x Funko Alien ReAction Ripley
Day 844: Super7 x Funko Alien ReAction Dallas
Day 852: Super7 x Funko Alien ReAction Alien
Day 857: Super7 x Funko Alien ReAction Kane in Space Suit
Day 861: Super7 x Funko Alien ReAction Ash
Day 945: Super7 x Funko The Rocketeer ReAction Rocketeer Action Figure
Day 945: Super7 x Funko Predator (Invisible, Bloody) Action Figure
Day 985: Funko Back to the Future Marty McFly ReAction Figure
Day 1001: Funko Nightmare Before Christmas Jack Skellington (Early Bird Figure) ReAction Figure
Day 1,005: Funko Universal Monsters The Mummy ReAction Figure
Day 1,008: Funko Back to the Future George McFly ReAction Figure
Day 1,008: Funko Back to the Future Doc Brown ReAction Figure
Day 1,029: Super7 x Funko Predator (Attack Mode) ReAction Figure
Day 1,037: Funko Nightmare Before Christmas Saly ReAction Figure
Day 1,038: Funko Universal Monsters Creature from the Black Lagoon ReAction Figure
Day 1,039: Funko Universal Monsters The Invisible Man ReAction Figure
Day 1,040: Funko Universal Monsters The Phantom of the Opera ReAction Figure
Day 1,041: Funko Universal Monsters The Wolf Man ReAction Figure
Day 1,042: Funko Universal Monsters The Bride of Frankenstein ReAction Figure
Day 1,059: Funko Predator (Masked) ReAction Figure
Day 1,068: Funko Universal Monsters Frankenstein's Monster ReAction Figure
Day 1,078: Funko Back to the Future Biff Tannen ReAction Figure
Day 1,082: Funko T800 Endoskeleton (Chrome) ReAction Figure
Day 1,094: Funko Universal Monsters Dracula ReAction Figure
Day 1,059: Funko Predator (Masked) ReAction Figure
Day 1,102: Funko Predator (Unmasked) ReAction Figure
Day 1,108: Funko Universal Monsters The Invisible Man
Day 1,108: Funko Universal Monsters The Invisible Man Clear Entertainment Earth Exclusive
Day 1,111: Funko Predator (Glow Version) ReAction Figure
Day 1,117: Funko The Terminator Sarah Connor ReAction Figure
Day 1,133: Funko The Terminator (Tech Noir Jacket) ReAction Figure
Day 1,138: Funko Pulp Fiction Mia Wallace ReAction Figure
Day 1,149: Super7 x Funko Alien Egg Chamber Action Playset
Day 1,183: Super7 x Funko Alien ReAction Alien (with Metallic Flesh)
Day 1,187: Funko Predator (Invisible) ReAction Figure
Day 1,199: Super7 x Funko Alien ReAction Ripley (Spacesuit)
Day 1,208: Funko Predator (Thermal Vision) ReAction Figure
Day 1,211: Funko The Fifth Element Leeloo ReAction Figure
Day 1,217: Funko The Fifth Element Diva Plavalaguna ReAction Figure
Day 1,222: Funko The Fifth Element Korben Dallas ReAction Figure
Day 1,227: Funko The Fifth Element Mangalore ReAction Figure
Day 1,236: Funko Gremlins Mogwai Stripe ReAction Figure
Day 1,244: Funko The Fifth Element Ruby Rhod ReAction Figure
Day 1,250: Super7 M.O.T.U.S.C.L.E. Set B
Day 1,252: Funko The Fifth Element Zorg ReAction Figure
Day 1,263: Super7 M.O.T.U.S.C.L.E. Set A
Day 1,267: Funko The Fifth Element Leeloo (Straps Costume) ReAction Figure
Day 1,272: Super7 x Funko Alien ReAction Kane (Chestburster)
Day 1,275: Funko Gremlins Billy Peltzer ReAction Figure
Day 1,277: Super7 x Funko Alien ReAction Kane (Facehugger)
Day 1,286: Funko Nightmare Before Christmas Behemoth
Day 1,288: Super7 M.O.T.U.S.C.L.E. Set C
Day 1,295: Funko Nightmare Before Christmas Mayor
Day 1,302: Super7 M.O.T.U.S.C.L.E. SDCC Promo Skeletor
Day 1,327: Super7 x Funko Alien ReAction Nostromo Crew (Dallas, Kane, Lambert)
Day 1,333: Funko Gremlins Cinema Gremlin ReAction Figure
Day 1,342: Funko Gremlins Gremlin Stripe ReAction Figure
Day 1,358: Funko Gremlins Bandit Gremlin ReAction Figure
Day 1,628: Super7 Masters of the Universe M.U.S.C.L.E. Series 2 Set C
Day 1,633: Super7 Masters of the Universe M.U.S.C.L.E. Series 2 Set B
Day 1,637: Funko E.T. The Extra-Terrestrial Elliot, E.T., and Gertie ReAction Figures
Day 1,639: Super7 Masters of the Universe M.U.S.C.L.E. Series 2 Set D
Day 1,639: Super7 Masters of the Universe M.U.S.C.L.E. Series 2 Set A
Day 1,656: Super7 Alien M.U.S.C.L.E. Set A
Day 1,676: Super7 Alien M.U.S.C.L.E. Set C
Day 1,686: Super7 Alien M.U.S.C.L.E. Set B
Day 1,693: Super7 Alien M.U.S.C.L.E. Set D
Day 1,801: Super7 Street Fighter II M.U.S.C.L.E. Set A
Day 1,817: Super7 Street Fighter II M.U.S.C.L.E. Set B
Day 1,834: Super7 Street Fighter II M.U.S.C.L.E. Set D
Day 1,840: Super7 Masters of the Universe M.U.S.C.L.E. Series 3 Set D
Day 1,846: Super7 Aliens M.U.S.C.L.E. Set E
Day 1,843: Super7 Masters of the Universe M.U.S.C.L.E. Series 3 Set E
Day 1,857: Super7 Street Fighter II M.U.S.C.L.E. Set C
Day 1,862: Super7 Masters of the Universe M.U.S.C.L.E. Series 3 Set C
Day 1,864: Super7 Aliens M.U.S.C.L.E. Set A
Day 1,877: Super7 Masters of the Universe M.U.S.C.L.E. Series 3 Set F
Day 1,881: Super7 Mega Man M.U.S.C.L.E. Series 1 Set B
Day 1,884: Super7 Aliens M.U.S.C.L.E. Set D
Day 1,894: Super7 Mega Man M.U.S.C.L.E. Series 1 Set D
Day 1,904: Super7 Mega Man M.U.S.C.L.E. Series 1 Set A
Day 1,914: Super7 Mega Man M.U.S.C.L.E. Series 1 Set C
Day 1,920: Super7 Halloween Series Nosferatu Glow in the Dark
Day 1,922: Super7 Masters of the Universe M.U.S.C.L.E. Series 3 Set B
Day 1,937: Super7 Masters of the Universe M.U.S.C.L.E. Series 3 Set A
Day 2,161: Super7 Masters of the Universe Transforming He-Man Action Figure
Day 2,211: Super7 Toxic Crusaders Glow in the Dark Toxie Action Figure
Day 2,235: Super7 Ultimates Voltron Action Figure
Day 2,237: Super7 Teenage Mutant Ninja Turtles Ultimates Raphael Action Figure
Day 2,253: Super7 Teenage Mutant Ninja Turtles Ultimates Foot Soldier Action Figure
Day 2,358: Super7 Killer Bootlegs Rhamnusia's Revenge Action Playset with Draco Knuckleduster and Phantom Starkiller Action Figures
Day 2,388: Super7 Teenage Mutant Ninja Turtles Ultimates Glow-in-the-Dark Mutagen Man Action Figure
Day 2,454: Super7 Metropolis Silver Maria ReAction Figure
Day 2,458: Super7 G.I. Joe Red Ninja ReAction Figure
Day 2,465: Super7 Godzilla Godzilla '54 (Glow-in-the-Dark) ReAction Figure
Day 2,480: Super7 Transformers Grimlock G2 ReAction Figure
Day 2,526: Super7 Vincent Price Master of Mayhem ReAction Figure
Day 2,530: Super7 Godzilla Mechagodzilla (Glow-in-the-Dark) ReAction Figure
Day 2,534: Super7 Planet of the Apes Mendez XXVI ReAction Figure
Day 2,546: Super7 Planet of the Apes Cornelius ReAction Figure
Day 2,554: Super7 Alien UCCSS Nostromo Action Figure Set 1 with Kane with Facehugger, Ripley with Jonesy, Ash with Removable Head
Day 2,562: Super7 Universal Monsters The Mummy ReAction Figure
Day 2,570: Super7 Universal Monsters The Metaluna Mutant ReAction Figure
Day 2,577: Super7 Transformers Hot Rod ReAction Figure
Day 2,590: Super7 Planet of the Apes General Aldo ReAction Figure
Day 2,594: Super7 Mars Attacks Destroying A Dog ReAction Figure
Day 2,598: Super7 Planet of the Apes Dr. Zaius ReAction Figure
Day 2,606: Super7 Universal Monsters Official World Famous Super7 Monsters! Creature from the Black Lagoon (Super She Creature) Glow-in-the-Dark
Day 2,610: Super7 Planet of the Apes Taylor ReAction Figure
Day 2,626: Super7 Planet of the Apes Zira ReAction Figure
Day 2,630: Super7 Universal Monsters The Metaluna Mutant ReAction Figure
Day 2,634: Super7 Planet of the Apes General Ursus ReAction Figure
Day 2,638: Super7 Universal Monsters Dracula ReAction Figure

See more Disney items in Figure of the Day:
Day 945: Super7 x Funko The Rocketeer ReAction Rocketeer Action Figure
Day 1,889: Disney Epcot Center Figment in Space Suit PVC Figure
Day 2,124: Funko DuckTales Scrooge McDuck (Red Coat) Pop! Vinyl Figure

Want to buy this figure? Check ReAction Figure availability at our sponsors:
Entertainment Earth