Tankor
02 Series #015

Transformers Generations Deluxe
Item No.: Asst. 37986 No. A6345
Manufacturer: Hasbro
Includes: Rocket, launcher, IDW Comic Book
Action Feature: Transforms from tank to robot
Retail: $14.99
Availability: June 2014
Other: 02 Series #015

PREVIOUS
RSS
NEXT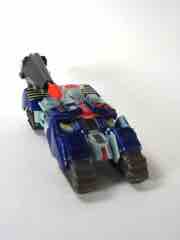 New toys of Beast Machines characters almost never happen. Tankor is one of the lucky few to get a transforming toy, with Cheetor being the only other character to really get any revisions since the Beast Machines line ended over 10 years ago. This time around he's a little bit smaller, a tad more expensive, and somewhat more closely matches his animation model and, of course, the comic book counterpart from Dark Cybertron and Robots in Disguise as a non-aligned "NAIL." The toy itself has a Vehicon logo, though, which makes it all the more exciting.
If you don't recall Beast Machines, it can best be described as a sequel to the insanely beloved Beast Wars series with better animation, fan-requested alt modes like vehicles, and it all takes place on a post-apocalyptic Cybertron. When fans first saw the pilot, reactions were positive and people were excited. This changed, but the toys seemed to do adequately and a lot of fans found a lot of good in there. Tankor turned out to be a reincarnated Rhinox, which was a bit of a surprise because all through Beast Wars there was rampant speculation that all the new characters were really just renamed guys from the 1980s cartoon. Ever since the toys debuted, fans demanded a larger, better, more show-accurate toy since we were treated to oversized Cheetors but, alas, it was not to be.
The comic book included with 2014 Tankor is sort of a mess - the story pages are all in the wrong order - but the gist is pretty much there. The Cybertronian civil war is ended, but factions are re-aligning, off-worlders are coming home, and Autobots and Decepticons alike are teaming up to fight off Shockwave, Nova Prime, and other dark forces looking to raise the dead and cause bad times for all. While most of the bonus comics are fun and charming, I might suggest ignoring this one in favor of the Dark Cybertron collected volumes.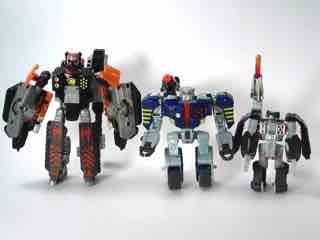 The 4 1/3-inch tall Vehicon warrior has about 21 meaningful points of articulation, depending on how you want to count his various pieces. The legs really aren't conducive to being moved, but you can swap them around for more "legs" or more "treads". The height doesn't change a bit, but it's a nice display option if you like such things. There are no 5mm peg holes for weapons, but the geared claws open nicely to grip certain accessories. The paint is great, but the choice of the metallic, pale blue plastic seems odd. A silver color or something with a smidgen less translucency to it would look a little better, but the bright reds and dark blues really do sing. I imagine a redeco of this figure would be even better, but this one is pretty good. Nothing pops off, and transformation is quite simple. Tuck the arms back pop the robot head up into the tank head, and then you can pretend what you get is tank-like. As alt modes go, it does look like the Beast Machines vehicle vaguely but may be one of the weaker, more gappy beings in the Cybertronian mototpool. Basically, you're buying this figure for the swell robot mode and an acceptable tank.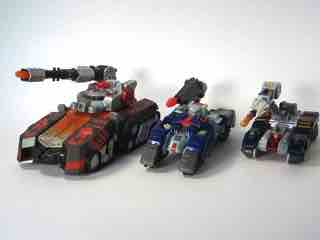 The shoulder cannon clips on to a bar on his back, or can be held in his claws if you want. You don't want. The red rocket launches when you pull back on the black tip of the launcher, but it barely sputters out a few inches. Tankor does have a swell red light-up eye port, much like the toys of the late 1990s and early 2000s (and even more recently) did. I appreciate that it's an incredibly bright color, so even if you don't have much light it still gives the figure a little life to him. Not like the dead-eyed eyeports where they painted over the back of the head so it's blacked out.
While more fun and less frustrating than Rattrap, this is a figure that should hit the nostalgia button pretty hard for fans who were into this around 2000. I remember how excited I was with the first Tankor toy, and then how much people on alt.toys.transformers didn't like how he wasn't accurate to the TV show. This more or less makes up for it, with some swell nods to the original toy like the little "saw blades" on his forearms that really look more like geared wheels. Nothing will likely ever top that first 1999/2000 Tankor for sheer gimmick insanity, but this new one will look nice on a shelf of unaligned Cybertronians. It's not big, it's not hefty, and the firing rocket doesn't even launch that far - but hey, it's Tankor!
--Adam Pawlus
Additional Images

Click here to see more Hasbro figures in Figure of the Day.
Click here to see more Transformers figures in Figure of the Day.

Want to buy this figure? Check Transformers availability at our sponsors:
Entertainment Earth