Turbo
Supercar Robo in BanDai's Machine Robo series

Go-Bots Carded Figure
Item No.: n/a
Manufacturer: Tonka
Includes: n/a
Action Feature: n/a
Retail: $3-$4
Availability: ca. late 1983
Other: The One, The Only, Turbo

PREVIOUS
RSS
NEXT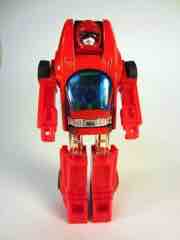 Since Hasbro steamrolled over the toy business in the 1990s and bought Tonka, Kenner, Parker Bros., and dang near everybody else, Turbo and his fellow Renegades and Guardians from Go-Bots are Cybernetica non grata at Hasbro. Several characters got an occasional reference in the line, including a couple of repaints in the US and a boxed set in Japan, but by and large these characters seem to simply not exist outside of being cannon fodder in crowd scenes in the comic books. I had a few of these guys as a kid and while most of my toys survived in good shape (as you have seen) the Go-Bots tended to show a little more wear and tear, while some like Scooter had pins that kept falling out of their knees. And let me tell you, I liked Scooter dammit.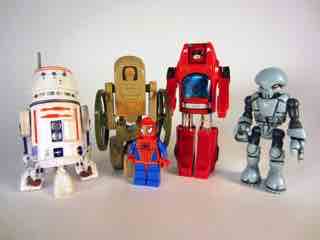 The figure is basically a smallish, Hot Wheels-sized car that changes very quickly into a robot. Pull the legs down, pull the arms out, and flip out the hood for a head with surprisingly full lips. Compared to most Transformers, the Go-Bots were cheaper, simpler, and their major cartoon characters were easily affordable for the era. While Optimus Prime and Megatron were $20 or more, you could scare up most of the core cast of Go-Bots with money to spare. These figures also had die-cast metal construction, but the smaller guys lacked the suite of accessories you normally saw on the more famous robots in disguise. When you get right down to it, most of the "important" Go-Bots were priced similarly to Minibots from Transformers and generally had a better compliment of accessories, in that some of them had accessories. Turbo was just a car, though.
The head is not unlike what you saw in other early to mid-1980s toy lines, in that you had eyes or sunglasses on most of these guys with either a face or some sort of plate for a mouth. Turbo's silver lips are painted quite nicely, and it shows what a difference paint can make when compared to bare colored plastic. The light really dances nicely here, and it gives the figure a lot more personality for just a few pennies, if that. Due to the transformation, the head can be posed to look up or down - admittedly a small detail, but it does help to add some personality to a rather stiff toy. I was particularly delighted to see a decal under the windshield with all sorts of 1980s-style sticker greeblies, which I don't think I've ever noticed before taking the image. It's a small thing, but it does wonders to turn him into a futuristic cyborg from Gobotron. After all, the Renegades and Guardians didn't sport faction symbols like Transformers, as those (and indeed the rubsigns) would have been used to market those figures as "true Transformers" implying that the pretty great Go-Bots and their lesser, sold-at-Walgreens counterparts were cheap knock-offs. History has not been kind to this line, but as Hasbro won, well, you know who gets to write history.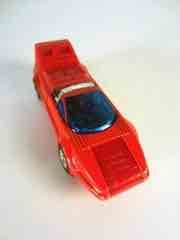 With rubbery tires and a silhouette that will fit on a Hot Wheels race track, this was a fantastic product for the price. Transformation took seconds, deco was light, but it was colorful and fun. It held up to storage in my toy boxes for years and while the arms are a little loose, everything else held up pretty nicely. I doubt you'll find many fans of robots that can change to a vehicle clamoring for cheaper and simpler toys, but there was something fun about being able to alter its form in less than a few seconds. Other robot toys have become more puzzle-like and arduous to play with in recent years, with parts that pop off. While I won't say the 1980s brought us the most durable figures ever, the simpler designs were a blast and generally seemed to delight kids of the time. I know I dug them.
--Adam Pawlus
Additional Images

See more Tonka figures in Figure of the Day:
Day 487: Tonka Go-Bots Breez Action Figure
Day 679: Tonka Legions of Power Star Legions Land Rovers featuring Lt. Rob-Bart
Day 967: Tonka Go-Bots Turbo Action Figure
Day 2,301: Tonka GoBots Road Ranger Action Figure

See more Go-Bots figures in Figure of the Day:
Day 487: Tonka Go-Bots Breez Action Figure
Day 967: Tonka Go-Bots Turbo Action Figure
Day 2,301: Tonka GoBots Road Ranger Action Figure