Cardinus
Crowdfunded Action Figure

Gothitropolis Ravens
Item No.: n/a
Manufacturer: Four Horsemen
Includes: 4 alternate feet, 2-piece staff weapon, optional belt
Action Feature: n/a
Retail: $33-$45
Availability: December 2014
Other: Kickstarter ended August 2013, initial delivery promise was March 2014

PREVIOUS
RSS
NEXT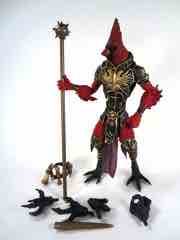 Generally speaking most Kickstarter toys have one exclusive-to-early-backer figure, but not Gothitropolis. The Four Horsemen took about eight extra months to deliver Cardinus and his friends, and during this time those who neglected to support the line on Kickstarter could pre-order figures at a slightly higher price. All of these save for one pre-sold out, so at this point it looks like if you want these figures and didn't pre-order them, you're out of luck. Given how long some of the Horsemen Glyos-compatible figures stuck around this is probably a wise move, but seeing how wonderful these figures are I'm sure more than a few of you are going to read this review with some anger and hope of schadenfreude. Despite delays, high costs, more delays, and the Horsemen flat-out saying figures may have problematic joints I experienced no problems with Cardinus (and as of my writing this, I'm still opening the other figures) save for the spare feet. The alternate claws had a stuck joint, but this was easily remedied by my favorite Boiling Water Trick.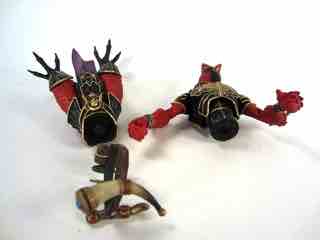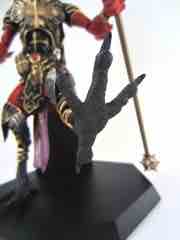 The 7-inch figure was first shown as a prototype (or at least, I first saw it) back in February of 2012 and this looks just about as good. It's smaller, of course, but it's no less gorgeous. Intricate gold trim, glossy black eyes, little purple jewels, and even a surprise (removable) belt were included to make this a stunning figure. It's just about the same size as Masters of the Universe Classics and various "Legends" and "Classics" and "Kingdom" figures you've bought, with better deco and articulation. It's a 21st-century Battle Beasts warrior, complete with nearly 25 joints depending on how you feel like counting. Each elbow is double-jointed. The wrists bend and swivel. The ankles can pivot and hinge, and of course with all this articulation comes the trapping of falling over because gravity on a figure of this size will cause gradual sagging. A figure that stands now may collapse within an hour if you didn't spring for the optional and superb $3 display stands. I bought 5 and I wish I bought more for all my other 6-inch figures, they're just that good. But I digress.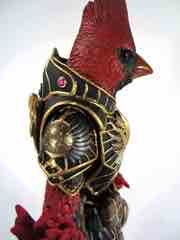 Cardinus splits apart at the waist so you can remove his belt if you like, and I think he looks better without it. It's gorgeous - there's a lucky human hand, pouches, a horn, and other little individually painted details that make this figure seem like a steal. It's just that the belt, like the extra claws, seem to add extra cost to the figure with minimal benefits. The figure's design is already nearly perfect, with various scenes etched in the costume. The belt blocks a view of a castle on the figure's torso, complete with the moon. It's really beautiful (particularly on the two-up prototypes) and even here, it's still great. It's just that it's a lot tougher to see with the belt in the way. The belt also blocks the view of the tail, which you probably wouldn't have really ever looked at anyway. It's not like you're going to gawk at these figures from behind, but if you do you'll notice two tiny gold wings which are supposedly removable so you can plug in a set of optional $18 pair of jointed wings. Pretty as they are, I opted out because nearly doubling the price of the figure didn't seem like a good idea to me and given the figures' difficulties standing I doubt they would have helped things.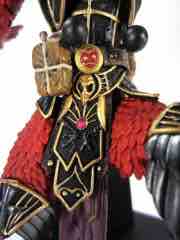 Sculpting a figure of this quality can't be easy, with the amazing detail on each feather and the hyper-realism of the clawed feet. Every step of the way, the figure looks beautiful and in some cases disturbingly real. The hands are a little silly - feathered fingers look like they stretch the limits of what a humanoid bird should look like - but the rest of the figure is so wonderful it won't bother anyone for long. Each hand has no problem gripping the included staff weapon, which has a mace on one end or an optional spear tip you can plug into the other. If you don't care for this weapon and happen to be a fan of Masters of the Universe Classics, their weapon packs just happen to be the same scale as these figures. They're great neighbors for your Eternians and Etherians. Or Anitherians.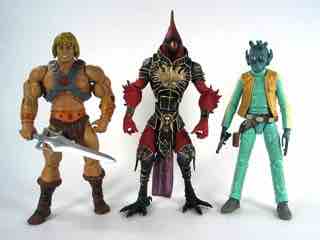 With 14 flavors of bird, Cardinus is one of many and possibly too much of a good thing. The paint, feet, and belt changes help the bodies look distinct even though they're all pretty much the same figure with a new head. Cardinus seems perfect for the holiday season, so here he is - and he's worth getting if the price is right. The few figures from this line on eBay so far have proven expensive and if the Horsemen really, truly didn't make any extras I may begrudgingly have to overpay for some more on the secondary market myself - I really wish I bought (and thought I bought) the Rooster. It's an impressive specimen, but obviously at those prices nobody should collect them all. You'd want to have at least a couple of these around if you've got a decent 6-inch action figure collection.
--Adam Pawlus
Additional Images


See more Seventh Kingdom and Gothitropolis figures in Figure of the Day:
Day 754: Four Horsemen Seventh Kingdom Raavia Action Figure
Day 759: Four Horsemen Seventh Kingdom Shield of Draumm Action Figure
Day 1,060: Four Horsemen Gothitropolis Cardinus Action Figure
Day 1,104: Four Horsemen Gothitropolis Flamingus Action Figure
Day 1,112: Four Horsemen Gothitropolis Minotaur the Duck Action Figure
Day 1,119: Four Horsemen Gothitropolis Phoenius the Phoenix Action Figure

Click here to see more Four Horsemen figures in Figure of the Day.