Autobot Drift
Better Than Expected

Transformers Age of Extinction Generations Deluxe Class
Item No.: Asst. A6508 No. A7813
Manufacturer: Hasbro
Includes: 2 long swords, 2 short swords
Action Feature: Transforms from Bugatti to robot
Retail: $14.99
Availability: May 2014
Other: M4 Series #006

PREVIOUS
RSS
NEXT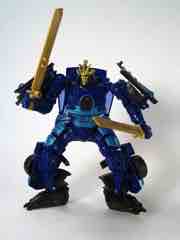 Hasbro sent me this Autobot Drift, I assume, just to make me mad. Because it's good. I am not a fan of the movie Transformers - the designs are weird, I didn't like the spring-loaded transformations for the first film, and I fell asleep during the first film and basically said "eh, I'll just stick to the part of the franchise I love." Age of Extinction grabbed my attention at Toy Fair with vibrant Dinobots - Slash in particular - but when I first saw Drift here I basically smiled inward and said "isn't that adorable. No thank you." And of course it showed up on my doorstep and it's a fabulous toy. Thanks for making me feel like a chump, Hasbro.
Packaged in robot mode, I should note, opening this figure was a rare delight. No twist ties. No rattan ties. No plastic wrappers to cut. You just rip off the cardback, take out the tray, and the robot comes out easily, flawlessly, and in one piece. I've had so many figures pop apart during the opening process that actually getting to the toy I paid good money for (not this one, this one was free) is a stressful hassle. From the very start, Drift aims to please - I rarely have a pleasant unboxing experience from an action figure. He sits in the plastic tray with no rubber bands. His swords are in his hands. He is born quickly - unlike Matty figures, there are no wacky decapitations involved. You just tear it open, pick him up, and it's done. I forgot that you could get this kind of an unboxing experience from a mass retail action toy.
The blue 5 1/8-inch Autobot virtually lacks any faction markings - I see one, it's dark black, and it may as well be invisible. Deco is light - the bizarre golden mask head may make you think of numerous Pretenders toys from over the years, and it wouldn't be a stretch to assume that the Bugatti might get a green and orange repaint with a skull head to be Bludgeon in the future. The joints are nice and stiff, with a bit of a click when you move it. It's chunky and fun, with just north of a dozen points of articulation. The wrists have an unusual non-swiveling joint that allows them lateral movement, and they have zero problem holding any of his four swords. You can even store them on his backpack if you like. Were this toy in the comics, or if we were told it was based on an abandoned G1 Pretenders concept, I bet I'd have been warmer to it at first, but once I got it in my hands I was actually mad at myself for how much I liked it.
Transformation is easy - the box says it's 16 steps, but I basically figured it out in one or two minutes without the instructions, and yes I am proud of that fact. It's not complicated at all, and nothing pops off or falls apart. For all I know this means it's off-model from the movie but it's not like I'm probably going to see it anyway. I can just enjoy the toy and hope that it doesn't end up as a character that talks like Nute Gunray and maybe gets repurposed as something interesting in IDW's More Than Meets the Eye comics. Maybe Cyclonus' ex-boyfriend or something. Where was I? Oh yeah - transformation's a snap, and the swords store easily in and under the vehicle mode.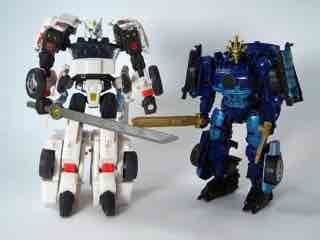 Car mode is nice - it's blue, it looks decent enough, I'm not a car guy so all I can say is that it does a great job hiding most of the robotey bits inside. The wheels are a little stiff - as is the norm lately - and a blue sportscar seems like a bizarre choice for an altmode, but the weird Samurai mask is one of the strangest robot head choices I've ever seen. If you showed me this toy and said it wasn't a Transformers release but instead a Kamen Rider villain or an abandoned Machine Robo revival concept, I'd have believed you. The car has no action features other than the rolling wheels, it's just a nice, licensed car.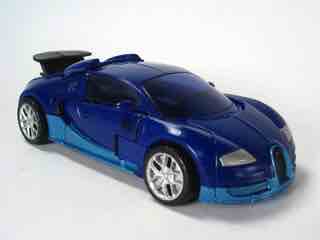 If you're a cranky old fart like me who doesn't want no movie toys dagnabbit I suggest you stick with that attitude. I would probably never have purchased this on my own, but the tolerance levels on the plastic is some of Hasbro's best, the swords aren't at all rubbery, and everything just looks good. As I mentioned above, it feels less like a movieverse toy and more like someone adapted an abandoned Pretenders shell concept inside a real-world car. It's so weird I can't help but love it. My only real complaint - history will prove me right or wrong - would be the golden swirly swords. There's something nasty known as gold plastic syndrome and while I personally haven't had a cracked Goldbug or Electro I do expect that this form of heartbreak isn't far off. I'd have loved it if Hasbro molded them in blue and painted the blades gold or some such, mostly because I always worry that my beloved toys will crack or break even if treated with the utmost care over the next few decades. I know that long-term survival probably isn't in Hasbro's playbook but after seeing flaking vac-metal paint on non-gold and non-silver Transmetals elements and the history of gold plastic, it's unfortunate Hasbro is bringing both of these back in this new line. Having said that, if you don't want to be reminded of your mortality, forget what I just said and buy Drift because it's the corniest toy you'll be ashamed that you love this year.
--Adam Pawlus
Sample courtesy Hasbro.
Additional Images


Click here to see more Hasbro figures in Figure of the Day.
Click here to see more Transformers figures in Figure of the Day.

Want to buy this figure? Check Transformers availability at our sponsors:
Entertainment Earth