Arcee
Series 02 #021

Transformers Generations Deluxe
Item No.: Asst. 37986 No. A7800
Manufacturer: Hasbro
Includes: 2 blasters, 2 swords, Dark Cybertron #12 (finale) comic book
Action Feature: Transforms from Robot to Cybertronian Cruiser
Retail: $14.99
Availability: November 2014
Other: A Fitting Finale to the 30th Anniversary

PREVIOUS
RSS
NEXT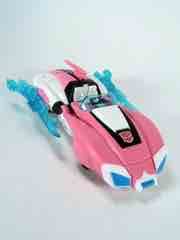 Toy lines of the 1980s were generally a pretty robust whole. What is, is - but that doesn't mean a few unreleased or unnecessarily scarce items didn't loom large over the entire brand. He-Man's He-Ro and Eldor were two, Star Wars' Vlix looms over many imaginations from the era, but Transformers largely brought the biggest characters of consequence to toys. Arcee has been on deck in one form or another for years, the first-ever transforming toy named Arcee at a retail store hit around 2004 and at the time that seemed like a huge step. Her "Generation One" design, first glimpsed in the original Transformers: The Movie was mercy killed a few times before this, an all-new design, made it out. The quality of the toy is almost inconsequential, the real story here is that one of the ghosts haunting the line has finally been put to rest simply by making this character. Now people can start complaining we got this instead of an IDW version, but I'm just happy we got her in any form.
If you're like me, your interest in Arcee has been running high for a while. She's been rumored for years, and is one of very few major characters from the cartoon to never receive a proper transforming toy. I think this figure exists as much as a warning shot - that Hasbro is releasing a whopping three girls in a historically boy's club of a line - as it is a "here she is now shut up" release. She's not perfect, but certainly good enough - especially when compared to some of the higher-dollar unlicensed toys out there that are Arcee-ish. None of them have her alt mode beat - it's wondrous.
The sculpt of this 5 1/4-inch high figure is pretty good but feels like it could have spent a little more time in the oven. Wide thighs and a giant backpack leave you wondering why they turned out this way, but the wider legs do look good in car mode. Proportions are pretty good, and coloring isn't quite G1-accurate with the cartoons. The lips could use a little more filling-out, and the black doesn't quite match what we saw on TV. TakaraTomy seems to have gotten this part a little better, but is it worth double or triple the price? I doubt it. The American issue leaves her lower torso largely white with a very low-dipping thong of sorts, and if you spin the figure around she's surprisingly shapely for an alien war robot. Did she learn nothing from Strika? So she's good, but not perfect. She's good enough, but not great. It's Arcee, and those of you with minor modeling skills can probably paint her up into something perfect. Or you can stick around and hope for a reissue.
Transformation is pretty easy - lots of bits fold in a simple way so you won't have to scratch your head down the road. The most clever bits are how the backpack, torso, and breasts all merge and separate between modes and I'm largely quite impressed by how they managed to flip around something that's so not blocky into a decent car. So many Transformers can be a huge pain to transform that I have to say, I'm really pleased that this one didn't have me shaking my fist at it like a crazy old man with kids on his lawn.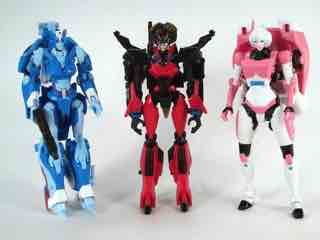 The car mode is gorgeous. I love the original movie designs and this is no exception. It's very close to the various interpretations you've seen before in the basic form, but things like the doors are absent. You do get the long pink spoiler, though, and this is something I assumed they'd leave out. Arcee's car mode has little itty bitty wheels that roll better than most Generations cars. Apparently she was at one point conceived to be a premold for a new Blurr, and I'm assuming that all got totally tossed out. As is she's decent 4 3/4-inch long little car from the far-flung future year of 2005, and just feels like a decent interpretation of the design. Obviously you can see a lot of kibble in either mode, but with the blue headlights and swell black stripes she looks better than she should.
To say that she's light is something of an understatement. This may be one of the lightest Transformers in recent memory, clocking in a few grams more than the first Hot Wheels car I snagged off my desk. Of course, there's still room for detail - under that windshield is an instrument panel with a steering wheel, computer screen, buttons galore, and other goodies. I'm sure customizers, or future sticker makers, will have a blast decorating this spot. I'm surprised Hasbro included it here, it's totally unnecessary but looks super cool.
Weapon storage is quite clever throughout. In car mode, you can store her guns underneath and never even realize that they're there. The twin bladed weapons are stored nicely on the side of the car, but you've got options. The unique (read: not great) shape of the grips mean you can store them in her fists, on her forearms, on the trunk area of the car, or where the gas tanks should go. I personally would have rather they left the blue bladed weapons out and put a little more work in getting the hands right, but that's me.
The weapons look good, and fit in some (but not all) 5mm-compatible hands of other toys. They do not fit well in her old hands - my sample is the "open hand" variant which has nonsensical stoppers at the bottom of the fist, preventing the weapons from sliding down and actually being held properly. The stoppers also get in the way of transformation - there are little pegs in car mode that seem designed to act as posts for positioning the arms, but the little stopper gets in the way. Awful, Hasbro, just awful.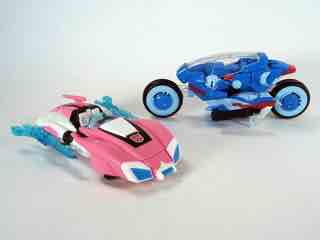 The guns are perfectly nice with a lot more paint than we're used to. They fit in either hand equally well, which is to say, not very. Generally speaking Transformers have no problems holding their own accessory - that's an action figure problem - so seeing it here is really irritating. If it were any other figure it'd be easier to deal with, but Arcee is sort of a big deal if you're in your 30s. It deserved to be a little more thrilling. At least the guns look nice, so when eventually TakaraTomy put out a better remolded version of the hands, or some third-party upgrader puts out improved forearms, you'll still have nice weapons to play with here.
I've been reading a lot of schools of thought about grading and rating lately, and one of the things I see is that nothing with a visible, easily fixed flaw deserves an A. Since Arcee has 4 accessories, a good vehicle mode, a good robot mode, and decent articulation, I'd say she's a solid B-. There's really no excuse for there being any difficulties holding her weapons, especially given that this was perfected during the first year of the line. She's got big thighs and a bigger backpack, but she has no problems standing unassisted and looks like Arcee should. I personally think I love the alt mode more than the robot, but you may disagree. It's a beaut, and if you're the kind of person who digs the original movie alt modes you owe it to yourself to get this at any price. It scratches an itch and since IDW, we get very few G1ey G1 alt modes. I honestly cannot call this a great figure. The nostalgia buzz is too great, it feels like an overthought, rushed, and ultimately flawed wonderfully lovely thing.
Oddly, the only major movie figure unproperly done in the Classics range is Ultra Magnus who only exists as an inner-bot right now. Rumors that probably aren't rumors say that he is coming, but we'll see. I'd love to see them take another crack at Rodimus too - preferably an IDW robot with a G1 cartoon car mode, but that's me. Arcee ticks a box, and there aren't many major characters left to really do right so treasure this one. I don't believe we'll see another G1 Arcee any time soon.
--Adam Pawlus
Additional Images

Click here to see more Hasbro figures in Figure of the Day.
Click here to see more Transformers figures in Figure of the Day.

Want to buy this figure? Check Transformers availability at our sponsors:
Entertainment Earth