Spider-Man
Web Shield!

Ultimate Spider-Man Basic Figure
Item No.: Asst. A3974 No. A3972
Manufacturer: Hasbro
Includes: Spider, web shield
Action Feature: n/a
Retail: $5.99
Availability: Summer 2013 (online), January 2014 (stores)
Other: New mold, 3 known repaints so far.

PREVIOUS
RSS
NEXT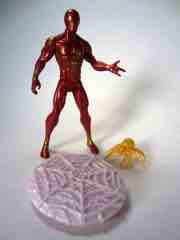 Figures like Iron Spider Armor Spider-Man exist in an unfortunate position in the toy line - they're designed for kids, but were given some pretty poor distirbution. Also, nobody cared - I'm a big fan of the whole cheapo $6 figure idea, although it's feeling like Hasbro has already abandoned the concept outside of Star Wars almost immediately. This figure is from wave 2, wave 3 is available online, and as far as I could tell nobody on eBay or any forums were clamoring for it. It's a shame, they're pretty nice little weird figures if you can get past the fact the outfits have been done a few times over.
Previously used with a different outfit, this is one of two figures to debut with this sculpt - the third is another Ultimate Spider-Man which I'll no doubt buy if I ever see in the wild. The figure is overly muscular, but fairly solid and quite stable - he has no problems standing around on your desk but totally lacks foot holes for display stands. (This is unfortunate.)
As with before, you get 5 joints. A ball-jointed neck is joined by swiveling arms and legs, with a pose that probably won't be conducive to fitting in any vehicles. Spidey isn't exactly a hero that needs a car, though, so really the average kid would probably improvise some rope web and swing Spidey all over the house. (It's what I would have done, anyway.) the figure is molded in a deep red with some metallic gold highlights. It's not exactly striking, but it is really cool to see Hasbro take a page out of the blind-box/urban vinyl world and just paint the living daylights out of a single mold in a kid line. The spider accessory is, as always, confusing and weird. The snap-on web shield is pretty slick and is well-hidden in the packaging.
I figure this line will be phased out soon, although I'd love to see this mold given more weird clear color treatments like Night Mission Spider-Man. That thing was awesome. This Iron Spider Armor will no doubt be more of a crowd-pleaser, but to be honest they could do a clear green Spider-Man with white hands, white feet, and a silver head and I'd be doing cartwheels. I appreciate they're doing deco from the existing canon, but there's nothing wrong with really weird figures. Iron Spider Armor (the word "Spider-Man" oddly does not appear on his name plate) is well worth the five or six bucks, but I assume most people who read columns like this have a dozen Spidey figures and don't need one more in their home. It brings little new to the table but its novel simplicity is charming and welcome.
--Adam Pawlus
Additional Images


Click here to see more Hasbro figures in Figure of the Day.
See more Spider-Man figures in Figure of the Day:
Day 39: Hasbro Spider-Man Super Poseable Spider-Man Action Figure
Day 40: Hasbro Spider-Man Stealth Ninja Spider-Man
Day 50: Hasbro Spider-Man Toxic Blast Venom
Day 65: Hasbro Spider-Man Dive Bomber Green Goblin
Day 91: Hasbro Spider-Man (Kid Series) Monster Claw Carnage Action Figure
Day 108: Hasbro Marvel Universe Spider-Man Action Figure
Day 137: Toy Biz Spider-Man Animated Super Articulated Spider-Man
Day 290: Hasbro Spider-Man Mighty Muggs J. Jonah Jameson
Day 300: Hasbro Spider-Man Mighty Muggs Venom
Day 311: Hasbro Spider-Man Mighty Muggs Spider-Man
Day 336: Hasbro Spider-Man Mighty Muggs Demogoblin
Day 427: Funko Marvel Universe Pop! Vinyl SDCC Exlusive Spider-Man Vinyl Figure Bobble Head
Day 605: Hasbro Ultimate Spider-Man Night Mission Spider-Man Action Figure
Day 717: Hasbro Ultimate Spider-Man Crime Fightin' Spider-Man Action Figure
Day 862: Hasbro Ultimate Spider-Man Web Strike Spider-Man Action Figure
Day 876: Hasbro Spider-Man Marvel Legends Infinite Series The Amazing Spider-Man 2
Day 877: Hasbro Ultimate Spider-Man Iron Spider Armor Spider-Man
Day 916: Hasbro The Amazing Spider-Man Movie Ultra-Poseable Spider-Man
Day 936: Hasbro The Amazing Spider-Man Night Mission Spider-Man
Day 1,484: Hasbro Captain America Civil War Spider-Man, Captain America, and Iron Man Action Figures
Day 1,501: Hasbro Marvel Legends Series Spider-Man
Day 2,109: Hasbro Playskool Heroes Series 2 Marvel Super Hero Adventures Clear Spider-Man
Day 2,201: Hasbro Spider-Man Bend and Flex Spider-Man Action Figure
Day 2,229: Hasbro Spider-Man Marvel Legends Retro Spider-Man Action Figure
Day 2,342: Hasbro Marvel Legends 375 Spider-Man Action Figure
Day 2,453: Hasbro Marvel Spider-Man Action Figure
Day 2,459: Hasbro Marvel Legends 375 Iceman Action Figure
Day 2,476: Hasbro Marvel Legends 375 Firestar Action Figure
Day 2,491: Hasbro Marvel Legends 375 Venom Action Figure
Day 2,544: Hasbro Marvel Spider-Man Epic Hero Series Spider-Man Action Figure
Day 2,548: Hasbro Marvel Legends 375 Symbiote Spider-Man Action Figure
Day 2,560: Hasbro Marvel Legends 375 Green Goblin Action Figure
Day 2,564: Hasbro Marvel Legends 375 Amazing Fantasy Spider-Man Action Figure
Day 2,572: Hasbro Marvel Spider-Man Epic Hero Series Venom Action Figure
Day 2,592: Hasbro Marvel Legends 375 Spider-Woman Action Figure

Want to buy this figure? Check Spider-Man availability at our sponsors:
Entertainment Earth