Firestar
One of Spider-Man's Amazing Friends

Marvel Legends 375 Action Figure
Item No.: Asst. F2648 No. F3822
Manufacturer: Hasbro
Includes: n/a
Action Feature: n/a
Retail: $9.99-$12.99
Availability: August 2022
Other: Once cheap, now fancy

PREVIOUS
RSS
NEXT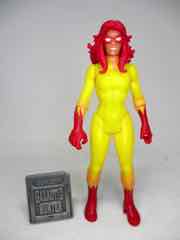 After I got Firestar, I finally went back to watch Spider-Man and his Amazing Friends - the 1981 series, one of few shows I remember watching as a kid before the VCR entered the house. (Other honorable mentions include Sha Na Na and The Muppet Show.) While the character debuted on that show before making the jump to comics, and this figure line is unquestionably modeled after the comic mask - the first episode of the cartoon had many of the Bronze Age costumes that Hasbro used for its Kenner toys at a costume party! Watching the old cartoons feels like a sneak peek as to what Hasbro would make in this line - Thor's outfit is a tiny bit different on the cartoon than the figure, but Loki's the same (minus the scaly armor) and Green Goblin is pretty darned close.
Click here to check availability at Entertainment Earth.
The 2009 Hasbro Marvel Universe Firestar [FOTD #103] was based on the cartoon much more closely - the big tell is the mask, which was upturned a bit more on the sides, and she had a large point above her nose. The 375 Firestar doesn't have that - also the 375 Firestar lacks painted lips, which the 2009 version has. I'd say the 2009 version also has slightly better coloring, but she's expensive now. The 6-inch Firestar has swappable heads, so one is more cartoony and the other is more comic-y. No matter the scale, you've got options.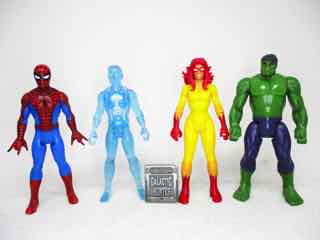 This Kenner-branded 3 3/4-inch figure is bright and cheerful, and speaks volumes of how the toy market works with repaints and the perception of women body types in the media. The figure shares a body and most of her limbs with Storm, Phoenix/Dark Phoenix, Black Widow, The Invisible Woman, and Elektra, with some more parts sharing with Storm and Carol Danvers Captain Marvel. The parts sharing isn't unique to women characters in this line, but in comics and superhero toys there's not a lot of variety in the physiques. You get the same figure with the same shoulder joints, neck joint, wrist swivels, and hip joints, plus there are separately molded boots so you can change up the figure design while continuing to reuse most of your molds. It's quite efficient, but the fact that men can be rocky, hulky, thin or wide, and women are only one body type says a lot about the culture from which these characters came. In the comics, even She-Hulk is similar in terms of proportion - just generally larger.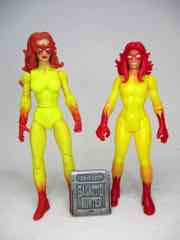 The Spider-Friends family dog Miss Lion was left out, but that leaves the window open for Hasbro to do a new 3-pack with a non-transparent white and blue Iceman with his ice bridges, another Spider-Man variant, and probably a few improvements on Firestar. Eyes and lips would be nice to match the cartoon, as would a new mask, but what you get here is certainly decent. Odds are a 1980s Kenner line would have leaned more to any comic version, and would have reused parts, and might have even been slightly off-model. What you get here pretty much nails it, except her costume is literally painted-on - so there's no bunched up fabric or visible collar or anything like that.
Adjusted for inflation, this figure is comparable to a similar product of the 1970s or 1980s. Hasbro cut some corners to keep costs down by molding much of the figure in color, except the transitional orange paint between the yellow and red elements of her costume and, of course, the white on her eyes and teeth. Originally I intended only to buy Spider-Man, then when I saw Firestar I went out to find an Iceman and then ordered the fire-powered mutant. And then tracked down Magneto, Carol Danvers, and Human Torch. And it just kept going. As a collection of figures it's pretty satisfying - you don't get everything, but it's colorful and mercifully not overwhelming. I wouldn't necessarily recommend collecting them all unless the price is right, but receiving Firestar, Iceman, and Spider-Man resulted in me buying 40 more figures and watching a ton of old streaming Marvel cartoons. It speaks volumes to the ridiculous marketing power old TV - especially old cartoons - has over modern adults when you see a figure and go "Oh, I loved that when I was in preschool, I should totally get that. And that. And all of those." It's sad to say that the very best thing that could happen for my enjoyment of this line would be to see it slow to 10-20 figures per year, and cap out around 100 before it gets overwhelming.
--Adam Pawlus
Additional Images

Click here to see more Hasbro figures in Figure of the Day.
Click here to see more Marvel figures in Figure of the Day.
See more Spider-Man figures in Figure of the Day:
Day 39: Hasbro Spider-Man Super Poseable Spider-Man Action Figure
Day 40: Hasbro Spider-Man Stealth Ninja Spider-Man
Day 50: Hasbro Spider-Man Toxic Blast Venom
Day 65: Hasbro Spider-Man Dive Bomber Green Goblin
Day 91: Hasbro Spider-Man (Kid Series) Monster Claw Carnage Action Figure
Day 108: Hasbro Marvel Universe Spider-Man Action Figure
Day 137: Toy Biz Spider-Man Animated Super Articulated Spider-Man
Day 290: Hasbro Spider-Man Mighty Muggs J. Jonah Jameson
Day 300: Hasbro Spider-Man Mighty Muggs Venom
Day 311: Hasbro Spider-Man Mighty Muggs Spider-Man
Day 336: Hasbro Spider-Man Mighty Muggs Demogoblin
Day 427: Funko Marvel Universe Pop! Vinyl SDCC Exlusive Spider-Man Vinyl Figure Bobble Head
Day 605: Hasbro Ultimate Spider-Man Night Mission Spider-Man Action Figure
Day 717: Hasbro Ultimate Spider-Man Crime Fightin' Spider-Man Action Figure
Day 862: Hasbro Ultimate Spider-Man Web Strike Spider-Man Action Figure
Day 876: Hasbro Spider-Man Marvel Legends Infinite Series The Amazing Spider-Man 2
Day 877: Hasbro Ultimate Spider-Man Iron Spider Armor Spider-Man
Day 916: Hasbro The Amazing Spider-Man Movie Ultra-Poseable Spider-Man
Day 936: Hasbro The Amazing Spider-Man Night Mission Spider-Man
Day 1,484: Hasbro Captain America Civil War Spider-Man, Captain America, and Iron Man Action Figures
Day 1,501: Hasbro Marvel Legends Series Spider-Man
Day 2,109: Hasbro Playskool Heroes Series 2 Marvel Super Hero Adventures Clear Spider-Man
Day 2,201: Hasbro Spider-Man Bend and Flex Spider-Man Action Figure
Day 2,229: Hasbro Spider-Man Marvel Legends Retro Spider-Man Action Figure
Day 2,342: Hasbro Marvel Legends 375 Spider-Man Action Figure
Day 2,453: Hasbro Marvel Spider-Man Action Figure
Day 2,459: Hasbro Marvel Legends 375 Iceman Action Figure
Day 2,476: Hasbro Marvel Legends 375 Firestar Action Figure
Day 2,491: Hasbro Marvel Legends 375 Venom Action Figure
Day 2,544: Hasbro Marvel Spider-Man Epic Hero Series Spider-Man Action Figure
Day 2,548: Hasbro Marvel Legends 375 Symbiote Spider-Man Action Figure
Day 2,560: Hasbro Marvel Legends 375 Green Goblin Action Figure
Day 2,564: Hasbro Marvel Legends 375 Amazing Fantasy Spider-Man Action Figure
Day 2,572: Hasbro Marvel Spider-Man Epic Hero Series Venom Action Figure
Day 2,592: Hasbro Marvel Legends 375 Spider-Woman Action Figure
Day 2,640: Hasbro Marvel Spider-Man Epic Hero Series Miles Morales Action Figure