Wheeljack
WFC-E6

Transformers Generations War for Cybertron Earthrise Deluxe
Item No.: Asst. E7120 No. E7156
Manufacturer: Hasbro
Includes: Blaster
Action Feature: Transforms from Car to Robot
Retail: $19.99
Availability: February 2020
Other: Repainted for Walmart's Netflix line, reissued in Kingdom, retooled as Exhaust

PREVIOUS
RSS
NEXT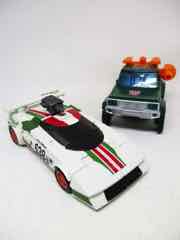 I shot Wheeljack two years ago next week - really, my pictures are all dated February 8, 2020! I remember these guys showing up just around Toy Fair 2020, which is basically the last time I saw anybody I work with and a small gaggle of friends. And since then, Wheeljack's been straight-up reissued, repainted with a just-different-enough-to-make-you-mad deco, and retooled as the Decepticon Exhaust. And there are rumors about Slicer but as far as I know those are just rumors. My point is, this has proven to be a popular figure. And rightly so! Even though it's lacking in accessories, it's one of my absolute favorite car modes with a spectacular paint job.
If you don't have this mold and can still get it cheap - the $20-$23 range - you should. It's definitely one of the very best "classic" takes on the Autobot mad scientist, and if he had another blaster or accessory I assume he'd continue to be the best for quite some time. Other than a need for upgrades, I love it, but I'm probably supposed to ramble on.
Click here to check availability at Entertainment Earth.
Packed in robot mode, the 5-inch figure is more or less exactly what you'd want. He's off-white, so hopefully he won't yellow much over time. He's got about 26 points of articulation with swivel wrists, rocker ankles, and a lot of other twisty parts in the arms and legs. Most of these exist just for the purposes of transformation, but it also makes the robot a lot of fun. It's not a perfect translation of the original toy or cartoon, but it's Wheeljack-esque. The head has the mask and ears, the colors are pretty close, and it doesn't trod on the very specific copyrighted car on which the original was based. He still has blue eyes, but they're somewhat dark since they're recessed in his sockets.
You only get one blaster, and it's really best left in his shoulder. It can also go in his fist, but it's small, and you're probably best served cannibalizing a weapon from some other toy unless Hasbro has an add-on pack.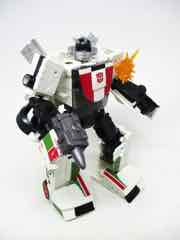 I don't love transforming this one - it's tough to do without clipping off parts of the car's windshield which store in the legs. It's a heck of a neat design but the tolerances are so tight, you're probably going to have some problems.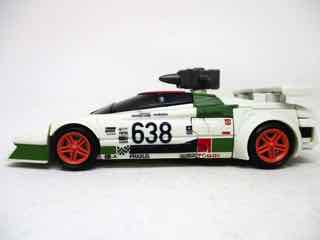 Once you massage it into a car, it's a pretty nice one - the rally marks are great, and so are the fake brand logos all over the car. The teeny-tiny logos are so impossibly small, it's amazing to see just how fine the detail work can get on a mass-produced figure. That or my eyes are bad. Some of the logos are a little hard to focus in on, but you can see "Modulator" and "Invenzione" among others like Cybertron Con, Praxus, Rally X, and goodness knows what else is here that may be an in-joke or something we're all better off not knowing about.
The car itself is pretty sturdy and has a few places to mount accessories, but other than rolling wheels doesn't do a heck of a lot. But it looks cool, and that's what matters.
After multiple flavors of Wheeljack - Combiner Wars, a 2010 Generations release, and other odds and ends, none of them is particularly definitive. Each one has cool features that make them hard to part with, and in this case it's the awesome rally marks on the car and a really nice robot mode. Someone could make something closer to the cartoon or give him a few extra accessories, but until that happens this is probably your best not-Masterpiece-level Wheeljack figure. If the next one was easier to transform, I'd be pretty excited to give him a shot.
--Adam Pawlus
Additional Images

Click here to see more Hasbro figures in Figure of the Day.
Click here to see more Transformers figures in Figure of the Day.

Want to buy this figure? Check Transformers availability at our sponsors:
Entertainment Earth