Syclodoc Glyaxia Command Sentinel
Yellow and Blue Soft Vinyl Warrior

Glyos System Series
Item No.: No. n/a
Manufacturer: Onell Design
Includes: Syclodoc and Armodoc heads
Action Feature: Pops apart, alternate head
Retail: $25.00
Availability: May 11, 2014
Other: A classic

PREVIOUS
RSS
NEXT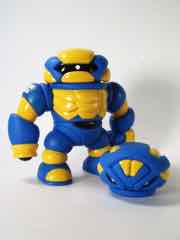 I took photos of the Syclodoc Glyaxia Command Sentinel in 2014, but felt I was posting too much Glyos. Is such a thing possible? I doubt it. We get so few drops these days, and vinyl figures - as opposed to PVC - are basically gone. These guys are really beefy and cool, and were surprisingly cheap for a low-run indie figure with good paint. $25! That ain't nothing.
I shot this figure right after it came in the mail, and I loved it - but sometimes you need a little time to dig in to these nifty figures. Normal, non-customized Armodoc (two-eyed figures) or Scylodoc (one-eyed, sometimes includes two heads) run about $50 on the secondary market now - or more. That's not terrible but for $25 you used to get this 4 1/2-inch tall, 5ish-inch wide bruiser.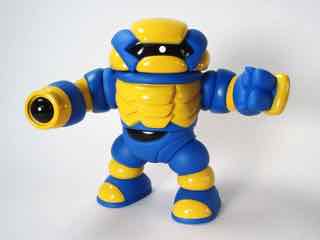 Molded in a bright blue vinyl, this figure is also coated in thick, glossy yellow paint that really looks amazingly good. Most figures get a thin layer of paint - Onell Design coats it so well, they probably undercharged us. Some older 1980s vinyl figures had the color of the plastic peek out, but not this one. It has no painted panel lines, but each yellow segment is vibrant and the big black eye has a white dot in the middle. Glossy black plastic is also used on a belt buckle and the arm cannon. Our hollow plastic friend is made up of 11 pieces that can be popped apart and reassembled. I don't recommend that you do this, as they're hard to get apart and even harder to get back together. You'll probably want to make sure the figure is heated a bit before you do this, so maybe just don't do it.
Incredibly sturdy, this figure stands well and won't fall over thanks to a good design with big feet. You can swivel the fist and cannon wrist, the head turns, and you can even swing the legs forward - but it's doesn't sit particularly well.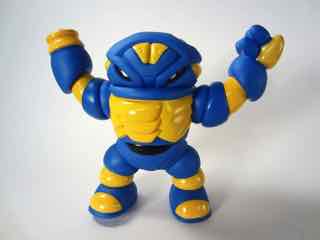 Syclodoc parts can be swapped with the Rig and other Onell Design vinyl releases, but those are far and few between these days. It's a great system and I always hoped we'd see a few more releases - maybe a four-legged creature of some sort, or something else wholly new. Onell Design put out a Rig, a winged Rig, and a Block - plus a few other pieces for customizing, and you can see some of them in the menu from 2014. Callgrim also had a soft vinyl bike, and Banimon had a really cool tank in this material as well. And we can't forget the ToyFinity Jumbo Mordle! I hope we see more big guys like this - not that the PVC guys aren't cool, but it's hard to not love a big, weird alien robot thing.
Since no new Armodocs have been sold in years, this and others like it can be found on eBay or indie toy message boards like the increasingly quiet Glyos Connect. I assume a new release of this mold would probably be a lot more expensive in today's marketplace thanks to labor and materials costs, so you may be best off just splurging for one of these guys. You can even pop the head off and store smaller figures in the body, pretending it's a suit. But, again, due to how hard it is to pop apart I wouldn't recommend it. Just put this big guy on a shelf or a desk and enjoy. It's fun.
--Adam Pawlus
Additional Images


Click here to see more Onell Design figures in Figure of the Day.
Click here to see more Glyos Compatible figures in Figure of the Day.