Autobot Pipes
WFC-K32

Transformers Generations War for Cybertron Kingdom Deluxe
Item No.: Asst. F0364 No. F0682
Manufacturer: Hasbro
Includes: Blaster
Action Feature: Transforms from tank to robot to accessories
Retail: $22.99
Availability: November 2021
Other: On/Off/On Model

PREVIOUS
RSS
NEXT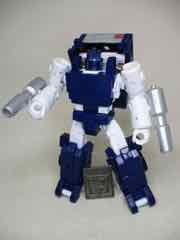 While not perfect, Autobot Pipes is good - and we like good! Way back in 2015, Hasbro released Combiner Wars Autobot Pipes [FOTD #1,362], about which I said "...this is a good toy. This is a bad update." I never warmed up to that Pipes, and only six years later Hasbro gave us a pretty ornate update for over twice the price. Pipes' inconsistent look on the TV show makes it hard to make a case for a definitive cartoon-inspired version, and that's seemingly what they're going for here. It's a good Pipes-tiche, but the arms are white (not silver.) Of course, that means the door is open to do a toy-specific Pipes down the road. And maybe we'll get one in six years, provided the fact that G1 kids are closer to retirement than they are to puberty doesn't put an end to an era of toy nostalgia that apparently cannot, will not stop.
Click here to check availability at Entertainment Earth
What you're getting is neither a perfect comic, cartoon, nor toy Pipes - but it's a good representation of the idea of him. With blue optics, he doesn't quite match the red of the cartoon or the toy, but it's consistent with most Autobots. The white arms don't seem to match the mostly-silver interpretations we've seen in the past, but at least the dark blue looks good. And you get silver cannons on his arms. Oh, and the 4 1/2-inch robot has 19 meaningful points of articulation plus other moving parts relevant to the transformation. It's pretty good. I'd love to say it's enough to make most fans happy, but there's a market for "gap fillers" that fill in hollow spots on these toys that can cost as much as the actual toy. Clearly, fans are never happy.
Many elements of Pipes are shared with Kingdom Huffer [FOTD #2,302], a really nice figure from 2021. Pipes has 2 new arm cannons, but you lose his claw shield and blaster. Pipes also has a new head and chest, with most of the rest of him being Huffer parts in new colors - and that includes the truck mode. It's no big loss, because that's what you more or less expect. The fact that the truck cab can rotate to give him a different silhouette is a brilliant design move, as it allows you to give him Huffer's bonnet. If you want. (I do not want.) At face value it's a nice robot, although I admit it's tougher and tougher to pay over $20 for a deluxe and say it's a good deal. I want a really good figure, and this is a really good figure - and if it ends up being the last Pipes I ever buy, I'll say it was absolutely worth the $23.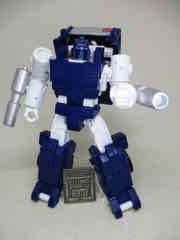 Transformation is a snap - you may not need the instructions! Everything twists and unfolds in a logical pattern that yields you a brick truck, with decent rolling wheels and white smoke stacks. There are a lot of places to connect weapons and Optimus Prime's container trailer, so if you collect this stuff the toy is a worthwhile addition to a toy box. It gets better with the more things you have around.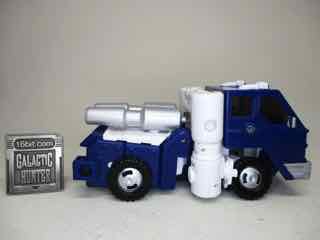 This truck itself is pretty close to the toy from over 30 years ago, but isn't quite the same. The cab's shape is a little different, the pipes are different, the grille is different, but it's still blue, cute, and small. The greeblies on top of the cab are white and not black, but other than that it's pretty darned close. Close enough. Or at least, close enough that I struggle to envision a situation where 6 years from now I will be eager to pay $30 for a deluxe replacement/update.
If you've enjoyed the updated Autobot Minicars as Deluxe toys since 2020 - and I have - Pipes is an essential addition to that sub-collection. He's also the first "Classics" Pipes that has some original tooling and that alone makes him a worthwhile purchase for me. Of course, it's possible you bought Amazon's Puffer and Road Ranger set and are satisfied with those Minicars. Me, I want 'em all - and that one has silver arms to boot! So if your budget allows, sure, get all four. They're all good for slightly different reasons. Just sell your Combiner Wars Pipes - you're never going to do anything with it ever again.
--Adam Pawlus
Additional Images

Click here to see more Hasbro figures in Figure of the Day.
Click here to see more Transformers figures in Figure of the Day.

Want to buy this figure? Check Transformers availability at our sponsors:
Entertainment Earth