G2 Universe Jhiaxus
Window Boxed Sans Window

Transformers Legacy Voyager
Item No.: Asst. F2991 No. F3058
Manufacturer: Hasbro
Includes: 1 red blaster, 1 clear smoke blaster
Action Feature: Transforms from robot to space plane
Retail: $31.99
Availability: August 2022
Other: Pretool of Armada Starscream

PREVIOUS
RSS
NEXT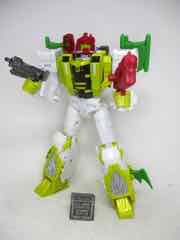 Toys like G2 Universe Jhiaxus are why you tolerate months (or years) of vintage toy remakes to the third power. This is exciting. From Marvel's Generation 2 comic book series, this character is basically a mutant Starscream who got a toy about 10 years ago - but it was orange, a retool of Armada Starscream, and looked very little like the comic character. On the other hand, this is a bigger guy with jointed fingers, weird wire sculpting, and comic-inspired yellow, gold, and green paint. And some red. It's good.
Click here to check availability at Entertainment Earth.
Articulation is good for a Voyager - heck, it's good for a Leader these days. You get opening fingers, swivel wrists, and about 26 points of articulation which makes him slightly better than the average 7-inch tall robot. Seemingly derived mostly from the comics - but maybe from the main image on TFWiki page - the figure is about as good of a replica of 2D art as a real 3D toy as you can hope to get. The jet chest is a little different thanks to some missing yellow outlines on the canopy, but otherwise it's pretty good. The toy has a G2 Cybertronian symbol that the comic didn't have, but otherwise it's totally the comic character colors. The head has the same weird scrunchy face, the treen wings are there, the silver shins are present, and the round, tubey legs are there. The sculpt isn't too detailed, and it does a decent job matching the major panels in the comic without overdoing anything. You'll love the targeting mechanism on the shoulder, you'll appreciate the folding green back bat-wings, and I assume you won't mind that the colors take zero liberties. Someone at Hasbro and/or Takara-Tomy said "we're going to make it right this time," and totally did. There are some extraneous 5mm ports on the arms and soles of the feet, but other than that, I don't think you'd be able to squeeze a significantly better figure out of another toy. A Masterpiece Edition would probably just cost more and be unnecessarily complicated, and a non-transforming toy would cost about as much but offer no additional features. This, as the comic cover said, is not your father's Oldsmobile Autobot G2 toy.
For fans of a certain age, "G2 toy" usually calls to mind excellent articulation, audacious gimmicks, and garish coloring. While this one doesn't have a laser rod or rotor launcher, you do get comic-accurate deco and a couple of big chunky guns you may find more useful as accessories to other figures. If you're like me and regret not buying Nonnef's G2 Sideswipe upgrade kit, it's nice to see Hasbro put out big, ridiculous blasters for their Autobots and Decepticons. The clear smoke plastic blaster with silver paint looks particularly sharp.
What's even better is that he can make use of the throne you got when you bought Studio Series 86 Starscream [FOTD #2,419]. He can sit in it better than Screamer or Megatron, which arguably makes it a great reason to go run out and buy one before they dry up. Most super-articulated modern toys for adult fans and collectors aren't designed to be played with, but this guy has enough going for him that it's more satisfying to fidget with and may delay him going into a bin or on a shelf for a few years.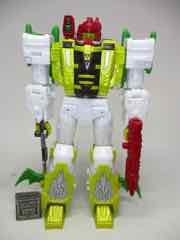 There transformation is fun and not too hard to figure out without instructions - but I did need to check on things, like the wing position and the configuration of the arms. Otherwise it's pretty easy, and easy is what I want. I'm an older fan, and I don't want to spend time memorizing instructions out of fear of pieces shearing off when I pick it up again after shelving it at some point.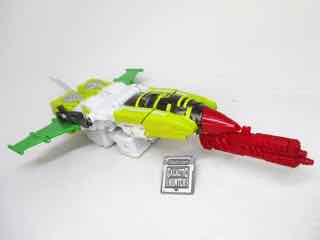 The comic jet was basically a torso with wings, and unsurprisingly this toy looks more or less exactly the same. It's bright and colorful, with a sillier, more fantastical design that fits in more with some of my other favorite toys. Earth-mode cars didn't appeal to me as a child, but I absolutely loved Hot Rod, Kup, Blurr, and other new made-up "future" designs. Retro-futurism like this is exactly the kind of thing that makes me happy.
If you read the old Generation 2 comic books, you no doubt pre-ordered this one. And good for you for doing it - it's a new take on a character that has had two acceptable orange toys that, while distinctive, are now looking like things I can sell and maybe live without. This one is just so much nicer. As Jhiaxus is a faction leader of some white and teal Cybertronian mobs, it would be absolutely great to see a few of those as toys down the road too! I'm glad they made a better version of him - which probably means a new Darkmount/Straxus is going to be highly requested, so they can hang out with your "Last Autobot" Ark, Scrounge, and maybe some day, a non-combiner Xaaron. When nostalgia lines deliver the goods to this level - fun, weird stuff for a very specific kind of fan - it probably means we're in a golden age that won't last forever. (See also, Star Wars and G.I. Joe about 10-15 years ago.) If you see him, buy him. If you don't like him, sit on him for a couple of years and use him to trade for something else - fans who miss this one will regret it and you're smart, so you can buy one now.
--Adam Pawlus
Additional Images

Click here to see more Hasbro figures in Figure of the Day.
Click here to see more Transformers figures in Figure of the Day.

Want to buy this figure? Check Transformers availability at our sponsors:
Entertainment Earth