Slammer
WFC-K33

Transformers Generations War for Cybertron Kingdom Deluxe
Item No.: Asst. F0364 No. F0683
Manufacturer: Hasbro
Includes: Blaster
Action Feature: Transforms from tank to robot to accessories
Retail: $22.99
Availability: November 2021
Other: He took a record of pretty music

PREVIOUS
RSS
NEXT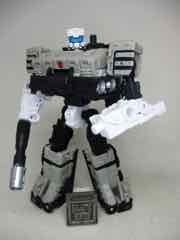 Hardcore old-school fans have been asking for Slammer since Metroplex got a new toy in 2013. We got Cog a couple of years ago, so this is a long-awaited missing piece. The original toy was basically just a little tank, so this one is an improvement with a robot mode and weapon modes. It also is a partsformer, which unfortunately has some loose connections. It's better for collectors than for kids, because it doesn't seem to want to stay together if you play with it.
Click here to check availability at Entertainment Earth
Within seconds of popping him out of the box, the tread backpack popped off and one of the arms came loose when I posed it. This is pretty much what you can expect from Slammer - it's a great looking robot that looks like a buffed-up armored Tailgate, with big blue optics and a face mask. It also reminds me a lot of Rook from Combiner Wars in its blocky silhouette, which I love, and the articulation is just as good as the other figures we've been getting in this line lately. You can even see lots of ample detail here, and a place to mount a blaster barrel on a 5mm peg on a hand. But the waist is wobbly, and the limbs are loose, and parts come off easily when you pick him up to pose it. Most other figures had slightly more friction to help keep them together until you wanted to pop them apart.
Since this robot is basically a new character, it's worth picking up for long-time fans just to add a new face to the G1 shelves, if not a new character. It would, however, be nice to see a running change with better pegs, or a redeco as a Decepticon (with better pegs.)
The transformation demands instructions, because you have to take him apart and rebuild him. It's a lot like Cog or the Micromasters bases from the last few years, with one big difference: worse parts tolerances. The 5mm ports and pegs are a little loose, so don't be surprised if things slide off while you're touching it.
Deco is more ornate than the original, with some nice stripes, silver, and grays and blacks breaking it up. It also has the item's product SKU stamped in red, right on the side, where it's plainly visible in tank mode. I hate that. Hasbro has had a lot of weird factory issues with ugly date stamps and SKUs marring an otherwise attractive toy, and I'd love for it to stop. Beyond that, it's a very nice looking little tank... but Warpath is a much better Kingdom tank toy.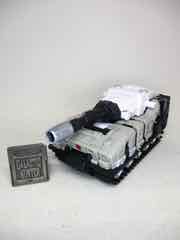 The tank mode is a brick. I mean, look at it. There's a tiny wheel that doesn't really spin, the turret needs to be kept in place otherwise the barrel will fall off thanks to the aforementioned tolerances. It looks pretty good, but it's not much of a toy. You can pretend to roll it around, but it can't really roll. The barrel can have a blast effect in it, but that's about it.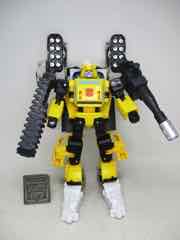 This item works especially well as a weapon mode - I threw them on Origin Bumblebee, expecting it to not work or be silly, but it turns out they're great! Tank treads look like a chainsaw, the cannon works great, you get shoe lifts, and there are back-mounted missile batteries with no extraneous easy-to-lose parts. Brilliant stuff. It may not be quite as versatile as the other figures-as-parts since 2018, but this just plain seems to work better. So I don't care. I like it.
So for those keeping track - sturdy weapon modes, sturdy-ish tank mode, and slightly loose vehicle modes make Slammer an acceptable (but by no means great) release. You've bought worse, but if you can't find this one without wasting tons of time and gas, maybe just go without it. I'm still having fun with it as an add-on to other toys, so on sale or with zero barrier to entry I'd say it's a worthwhile purchase. But I also would say as the toy collecting audience gets older, it would not surprise me to see this one relegated to a shelf you don't touch for a few years, too.
--Adam Pawlus
Additional Images

Click here to see more Hasbro figures in Figure of the Day.
Click here to see more Transformers figures in Figure of the Day.

Want to buy this figure? Check Transformers availability at our sponsors:
Entertainment Earth