Ractonite
WFC-K15

Transformers Generations War for Cybertron Kingdom Deluxe
Item No.: Asst. F0364 No. F0674
Manufacturer: Hasbro
Includes: Sword/tail
Action Feature: Transforms from robot to bones to dinosaur skeleton
Retail: $19.99
Availability: March 2021
Other: Styles and colors may vary - toy has red dino eyes, renders had blue

PREVIOUS
RSS
NEXT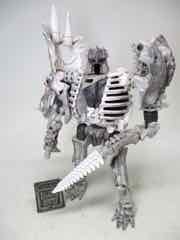 Trying something new can be a sin in a nostalgia line, but Hasbro's War for Cybertron line brought us a very short list of new faces like Ractonite. It doesn't look much like a traditional Takara-Tomy toy, instead looking like a mix of things from Bone Age to Dinozaurs to goodness knows what else. Elements of the design deviate from traditional Transformers in many ways, such as a total lack of fists - instead there are 5mm pegs to connect to the sword. Articulation is good, transformation requires dismantling the toy, but it's fun. It's big. It's different.
If you collect toys, you walk a fine line between wanting to get your expectations met, and getting a nice surprise. Anyone new to Transformers is likely expecting the cast of the 2007 movie or the characters from the 1984-1986 toys or cartoons - so a new guy, made of bones, in the less-popular Predacons faction is something of a risky proposition. Hasbro has been weirdly allergic to doing the G1 Dinobots, so seeing all-new dinosaurs made of bones strike me as a risk. But nt a disappointment.
Click here to check availability at Entertainment Earth.
The robot mode is all new, and therefore, perfect. (It's not, but you can't knock it for not matching a show at this point.) Articulation on the robot is similar to Paleotrex, who was similar to other toys from this line, but with some weirdness - extra elbow joints, for example. The shoulders are strange, but there's not a lot else like it. The dirty wash on the figure isn't bad, but it's not consistent. You'd probably love to see a solid-color version of this figure without the dirty deco, but as it is, it's good. Not a lot of it looks robotic outside a couple of joints and the head, making it a unique entry in this line. Typically there's a lot more in the way of robotic elements.
Since it's not compatible with a lot of other accessories, you have to take the robot at face value - a stocky samurai type with a head that looks a little bit like the Shredder. It's fun, and speaks to the importance of branding - I probably wouldn't buy this if it weren't part of a wave of new Beast Wars and G1 bots. (I'm old, I'm trying to cut back.) This is not a knock at its quality, but it does seem as if it might belong in another toy line. I'd like to see more of this kind of robot, but I do think we would have been better off had they given him real fists. Also some sort of C.O.M.B.A.T. effect compatibility.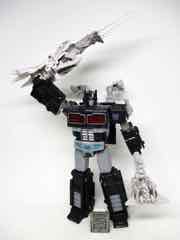 The transformation involves popping apart the figure into pieces, which you can reconfigure into a skeleton, or weapon-shaped bone assemblages. Some are cool, some are not, and I don't think they had enough time in the oven. Making a sword out of the skull and tail was a lot of fun, but some of the club-like weapons are fine... while the legs just sort of hang off another robot toy. It's not really fun. It would have been great had these been engineered to perfectly compliment one toy, while being compatible with everybody else. I don't really like the "power up" aspect of the Fossilizers.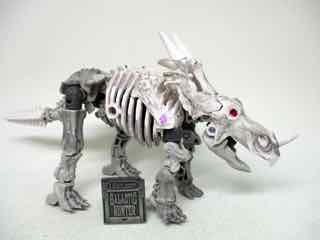 The skeleton is pretty cool - you get red eyes, a purple Predacon symbol, and a generally sturdy bony little guy. The skull has three removable, somewhat rubbery horns and an opening jaw. There's a 5mm peg that serves as a tongue, but there aren't many cool parts with which to connect. The frill is removable, and probably should have been glued down. Perhaps yours was - mine wasn't. The legs have some decent articulation, but on the whole what you see is what you get. Other than standard dinosaur articulation, there aren't many surprises here. I really would have liked some sort of fire-breathing element.
If you ever see this guy on sale, you should get it. Older fans who have remakes and the remakes of remakes will undoubtedly love it, while people who don't have a closet filled with hundreds - perhaps thousands - of robots in disguise will buy more familiar faces first. As much as I'd like to say "you'll be sorry" if you skip it, I have a feeling this is a toy best in the hands of army builders - as you can connect many together as a building kit - or people who have to get something genuinely new. If you just want to pick up something that's fun and weird, this is one of 2021's best.
--Adam Pawlus
Additional Images

Click here to see more Hasbro figures in Figure of the Day.
Click here to see more Transformers figures in Figure of the Day.

Want to buy this figure? Check Transformers availability at our sponsors:
Entertainment Earth